The pea shooter: a container for growing pea shoots!
Pea Shoots and bean shoots
Has the day of the humble pea shoot arrived? Plucked from recent obscurity their tendrils are spreading fast - like in
Nigel Slater's recipes
,
Hugh Fearnley's recipes
and BBC 2's
Edible Garden
programme.
For the city grower lacking time and space, this is all a good thing. The pea shoot is tailor made for small spaces: it grows easily and fast, it tastes delicious, it looks beautiful in a salad or risotto, it's hard to find in the shops, and it doesn't need much sun.
They're also one of the cheapest crops to grow. Did you know that you don't have to buy expensive seed packets to grow pea shoots? For a fraction of the price, you can use dried peas  from food shops. Buy organic if you can. I use organic 'marrow fat' peas. They don't sound promising, but they taste great - and at 95pence for half a kilo, they are about 10 times cheaper than the average seed packet.
As the pea shoot rises to fame, let's not forget that other bean shoots can also be delicious. Broad bean
shoots
are ideal for the vertical allotment: they grow quickly and easily and taste of broad beans  - yummy in salads and risottos. These offer an excellent alternative to conventional broad beans which are not very productive in small spaces. Again, you can use the dried broad beans sold in food shops. Other bean shoots can reputedly be eaten, too - black eyed peas will be tested and blogged on soon.
To grow, simply soak in water for 24 hours, then sow in a container and cover with a thin layer of soil, and keep moist. In warm weather you'll be eating shoots in just a few weeks.
I like them so much, I've designed my own 'pea shooter'. A long, shallow container (light and easy to move), to grow different shoots throughout the summer.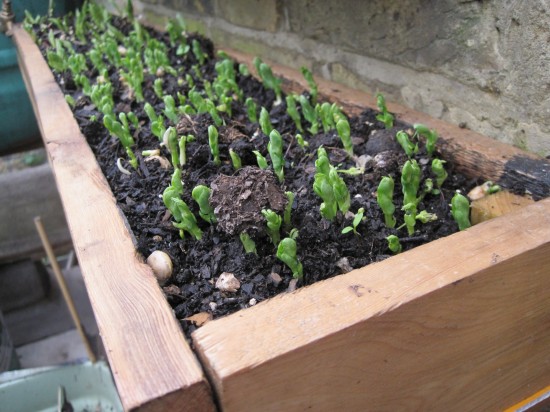 Enjoyed this post? You can get my tips, learning and reflections on urban container gardening by email.