Finding ways to make the most of a small growing space
If you want to grow food but don't have a garden or an allotment, then lack of space is probably one of your biggest challenges. But it's amazing what you can do with even a small outdoor space. Indeed,  lack of space can be a great inspiration to get creative.
Finding different ways to make the most of your space will be a regular feature of these blogs. Today - how I'm trying to make the most of my 9foot by 6 foot, NW facing balcony.
Last year the veggies rather took over, filling every available space, leaving little room to sit or enjoy this precious outdoor oasis. This year, I've redesigned,  trying to create more vertical growing space AND more space to lounge in the evening sun, read and eat outside. The design changes  include:
1. A large shelf, or 'salad bar' above the back door.  I don't want too much weight on this shelf and so I've chosen to grow salad here. It will grow OK in fairly shallow soil, as long as I work hard to maintain the fertility, and water regularly.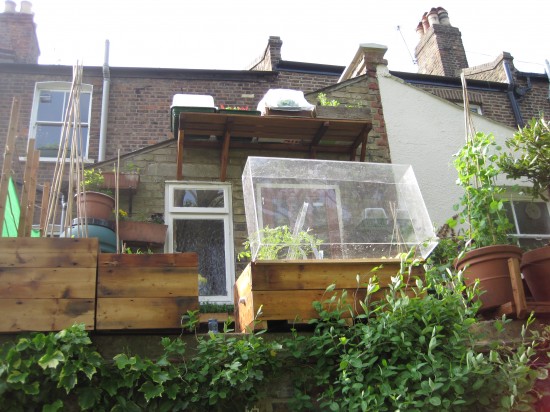 2. Wooden platforms for containers to sit on the wall - these increase the number and weight of containers I can have on the side walls. (Due to the weight of soil, it's unsafe to put much directly above roof joists, unless you've had the OK from a professional surveryor. Walls will usually take more weight - but do check with a professional if you're not sure).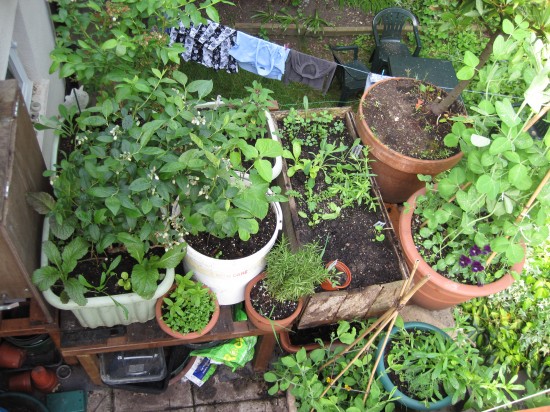 3. Small shelves in the spaces on the back walls to hold seedling trays, the
pea shooter
, and a couple of troughs for edible flowers.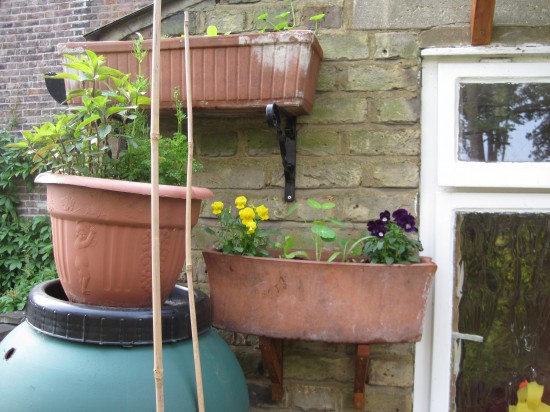 4. Building 4 large wooden containers with a self watering system - I'll write more about these soon.
All the wood used is reclaimed - mostly from skips in my road but some of the 2 by 2 from the excellent
Leaside Wood Recycling Project
, who'll also cut to size.
Enjoyed this post? You can get my tips, learning and reflections on urban container gardening by email.