How to eat a marrow?
Does your heart sink when you are given a huge marrow? Mine does. I recall bland, watery, stuffed marrows, and  I feel at a loss about what to do with them.
So when I got back from holiday to discover my courgette plant had put all its energy into a 3.6kg marrow, I was disappointed. However, I was also determined not to waste the huge beast.  This ignited a hunt for exciting marrow recipes.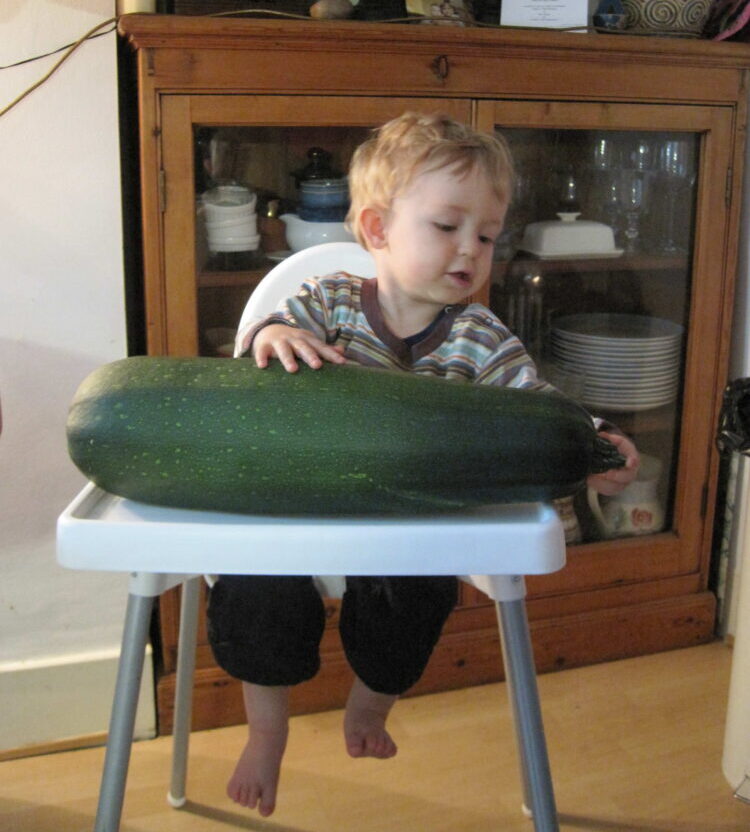 I can now report success! I've found that marrow can be pretty great when it's cooked the right way.
Half the huge marrow went to make Simon Hopkinson's
marrow and tomato masala
. The fleshy, juicy  chunks of marrow balanced perfectly with the sweet cherry tomatoes (also home grown) and Marsala source. One of tastiest dishes I've had for ages. Really. (See photo, top of post)
The other half of the marrow went to make a recipe, Syke's Marrow, passed to me by my mother.  The combination of tomatoes, marrow, rosemary and cheesy white sauce is yummy. It also freezes well.
Syke's Marrow
1 kg marrow Large tin tomatoes Large onion 2 cloves garlic 6 tbsp olive oil Splurge of tomato puree 1 pint bechamel sauce Good handful of Parmesan Good handful of fresh breadcrumbs 1 desert spoon sugar A few sprigs of rosemary salt and pepper
Crush the garlic with salt. Roughly chop the onion. Seed and slice the marrow into 2 inch chunks. Preheat oven to 180C.
Soften the garlic and onions in oil. Add the marrow, rosemary and seasoning. Saute briskly till well coated with the oil. Remove the pan from the heat and add the tomatoes and the tomatoe puree. Sprinkle with sugar, transfer to a gratin dish and set in oven for 45 mins.
Remove the marrow from the oven, pour over the Bechamel sauce (made in the usual way), sprinkle with Parmesan and bread crumbs, and return to the oven for 15 minutes until golden brown on top.
Enjoyed this post? You can get my tips, learning and reflections on urban container gardening by email.