Excellent yields from containers with water reservoirs
While planning the new growing season, I think back to learning from last year, and what might be useful to you if you are growing in containers. My most successful experiment in 2010 was the self-watering containers. The marrow below was grown in one and is included here as (unscientific) evidence in their favour - imagine  a marrow like this from a conventional container! The yields of runner beans (5kg from one 60cm x 60cm self watering container) and tomatoes (about 8kg from each 75cm x 35 cm self watering container) were good, too.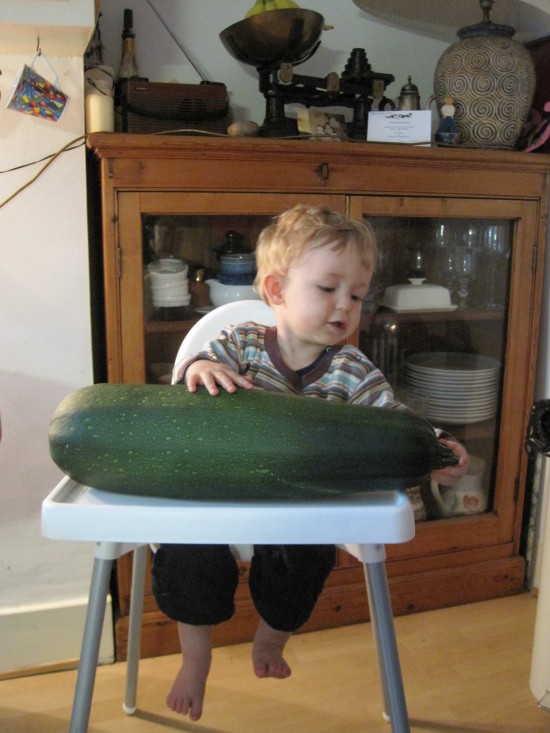 Why they work
Self watering containers work so well because:
On a hot day a growing tomato plant will consume a gallon of water. It's hard to provide this much water in a conventional container (unless you water 2 or 3 times), but easy with a large water reservoir. So your plants get the water they need to grow to their full potential.
Veg crops like runner beans get stressed by fluctuating water levels between waterings in a conventional container. A water reservoir removes this stress.
Water reservoirs encourage roots to grow down towards the water and for a strong root system to develop.
What to grow in them
You'll get the most benefit from growing water hungry crops in self watering containers like tomatoes, courgettes, squash and runner beans.
Home made or commercial product?
I experimented with home made self watering containers and a commercially made 'Earthbox' in 2010 (both holding the same volume of soil). Both yielded similarly well (in an unscientific experiment). You can see them growing (rather untidy) tomatoes in the picture below. I also added some simple reservoirs to conventional containers, which I blogged about
here
.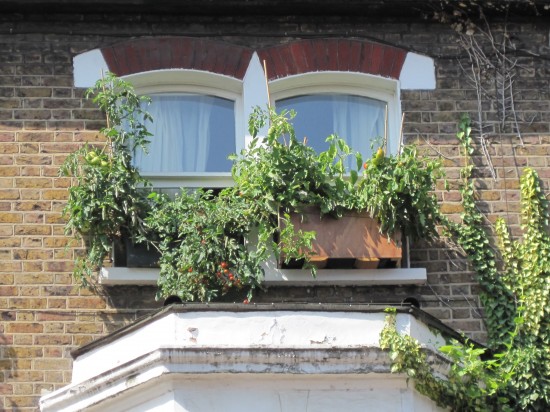 You'll find a plethora of instructions on how to make self watering containers on the web. The design I use most is described on page 36 of
this excellent PDF
from the
Rooftop Garden Project
in Montreal.  I also adapted this design for my wooden containers - using plastic boxes for the reservoir, and then an estate agent sign to separate the soil from the reservoir. Here it is under construction:-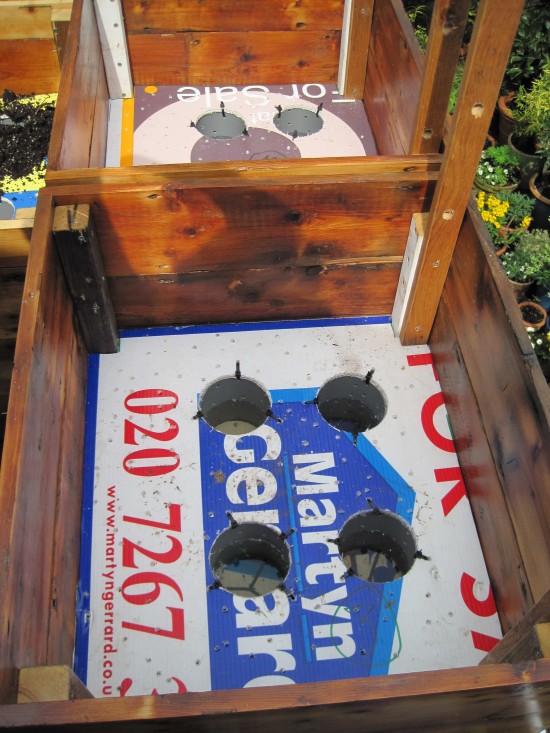 Earthbox or home made, the choice is not an easy one. The Earthbox costs £35 and is quick and easy to set up.  My home made self watering containers cost less than £5  each but took a whole day to make each one.
Which you go for depends on your time, DIY skills, tools etc - and also what sort of shape and size you want. If you want big boxes to fill a particular space, then home made wooden containers are perfect.  Equally, if you want to do it on a budget, home made is also best. However, for window sills, I like the Earthbox. It has a good capacity, and is ideal for growing vegetables (most other commercial self watering containers are designed more for flowers). It is also strong and light - which makes it easier than a wooden box to move (although it is still very heavy when full). The Earthbox also comes with casters - good if you have patio where you can move it around (But I have no use for casters and find it a bit annoying that they come bundled with the product).
True, Earthboxes are not a low cost solution, but I reckon they represent a good investment. They are strong, well designed and should last many years. On a sunny window sill you can grow £40 - £50 of tomatoes in one box, so it can pay for itself in a season. (NB I should maybe mention that I am not affiliated to Earthbox in any way!).
Enjoyed this post? You can get my tips, learning and reflections on urban container gardening by email.