Eight lessons from 2010
I love the way theres is always more to learning when growing. Here's eight lessons from the last twelve months (May 2010 - May 2011) from the Vertical Veg balcony and window sills.
1.The most valuable and productive crops were: salad (£330), tomatoes (£250), and herbs (£133). Runner beans (£47) and courgettes (£25) also produced good yields from just one large container each. The least productive crops included broad beans (low yield), sweetcorn (failed to mature properly), and beetroot (I can't seem to grow them!) and  potatoes (low yield from big container).
2. In the kitchen, the biggest success was the year-round supply of diverse salad leaves - so much tastier and more vibrant than any shop bought salad. Also, herbs whenever we wanted them (no more measly supermarket packs), and fresh homegrown tomatoes - few things can beat them!
3. The Salad Bar - a shelf above the back door - proved a simple way to gain extra space on the balcony. It produced a salad bag on most days of the year - I estimate over £200 worth in total over the year.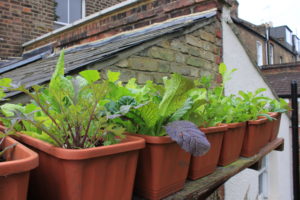 4. Experiments with
unusual crops
were variable. The Vietnamese coriander was vibrant, easy to grow and productive. The wasabi was fun, pretty in winter, but only gave us a few grammes of root and leaf. The giant 'bijou' mange tout were hilarious and delicious, but the golden mange tout were bland (both from Real Seeds). The salsola salad failed to germinate, while the purple saisai (leaf radish) was easy, pretty and assertive to eat  - in the right sort of way. Most of the oriental leaves were also a success: Chinese cabbage, serifon, tatsoi and Chinese broccoli all grew quickly and tasted great. The most extraordinary crop was fat baby achocha - alien like to look at, fast growing, productive, and not at all bad to eat.
5.
The pea shooter
was a great use of space - producing regular crops of delicious pea and bean shoots at minimal cost.
6. Perennial Veg. Keen to find some perennial veg that grow productively in containers I experimented with mallow, sorrel, salad burnett and various seeds from the Agroforestry trust. Most seeds from Agroforestry failed to germinate and the mallow was OK to eat but nothing more. The salad burnet looked pretty but wasn't very productive. The sorrel, however, was a winner. Delicious leaves that just keep coming - a great container crop. I'm keen to find other good perennial veg for containers - any suggestions gratefully received.
7. Pests. I try to prevent pests by creating a healthy living container soil (worm compost is a major part of this), also by growing a wide variety of crops and keeping them all well watered. It's impossible to say how much these steps contributed to healthy crops, but there were few serious problems in 2010.  The biggest problems were leaf miner in the chard and borage, and pigeons snacking on winter crops.
8.
Self watering containers
can help you to get higher yields from crops that like plenty of water - like tomatoes, runners and courgettes.   
Enjoyed this post? You can get my tips, learning and reflections on urban container gardening by email.