Watering: How to stop hanging baskets drying out?
If you're looking to fill gaps or take advantage of higher sunny spaces in your growing space, hanging baskets can be a good solution. They can also look great. The big issue with hanging baskets is that they dry out quickly. This is a problem when growing vegetables - as most like plenty of water!
Here are a few tricks I've discovered that I hope will help you grow crops successfully in hanging baskets: -
Bigger is better
Choose the largest hanging basket you can find - and that can be secured safely and securely to your home. The larger it is in volume, the less quickly the soil will dry out (and the more nutrients it can hold for your hungry veg).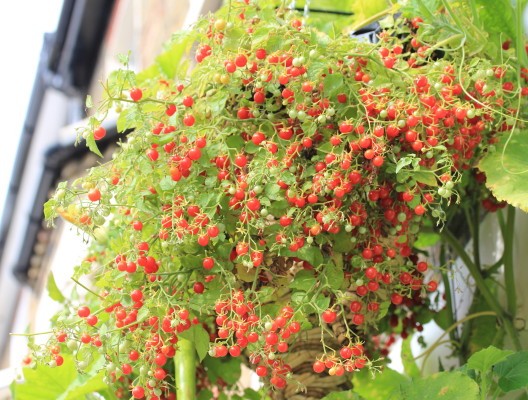 Line with plastic
Before filling it with compost, line the inside of the basket with plastic - put plenty of holes in the bottom of the plastic for drainage. This will help reduce evaporation from the sides of the basket.
Use a soil mix that retains water
Add something to the compost to help it to retain water. You might add 20 - 40% vermiculite or perlite (these are natural substance made from volcanic rock - they work well but are high energy to make and usually costly if you buy in small volumes). Worm compost also retains water well (and it's free if you make it yourself and it's sustainable!).
Cover the top layer of the soil
Put a mulch (mulch is a gardening term for a layer of something on top of the soil) over the top of the hanging basket to slow down evaporation of water from the surface. I cut out a disc of plastic from an old compost bag to cover this one - but you could use grass clippings, pebbles, or old leaves or cardboard.
Use a plastic bottle waterer
Cut off the bottom of an old 1/2 litre plastic bottle and drill a couple of small holes (about 1/8 inch diameter should do) in the lid. Put the bottle, lid facing down, into the compost. When watering, simply fill the cut off end of the bottle with your watering can - and the water will slowly drip out of the holes in the lid.
Choose your crops carefully
Even a large hanging basket will not hold a lot of soil so choose what you grow carefully. Small bush tomatoes designed for hanging baskets (eg cherry cascade) can work well if you have a sunny spot, as do chillies and nasturtiums. In less sunny spots (4 hours a day), I've seen cranberries doing well (and looking great!). Alternatively, you can grow crops that are happy with less water. There's not a huge choice but herbs like rosemary, sage and thyme are more resilient to drying out occasionally than most.
Feed regularly
Most crops, particularly fruiting crops like tomatoes, will need regular feeding to get a good yield. This is because the small volume of soil in a hanging basket will not hold a lot of food - so you need to add it. Use a liquid tomato feed on fruiting crops. For other crops, try liquid seaweed or worm tea.
Check regularly for watering
Last and most important:  check regularly for watering. Do this by putting your finger an inch or two into below the surface of the soil. It should feel damp (like a wrung out flannel) not dry or or soggy. On hot or windy days, hanging baskets can often need watering twice a day.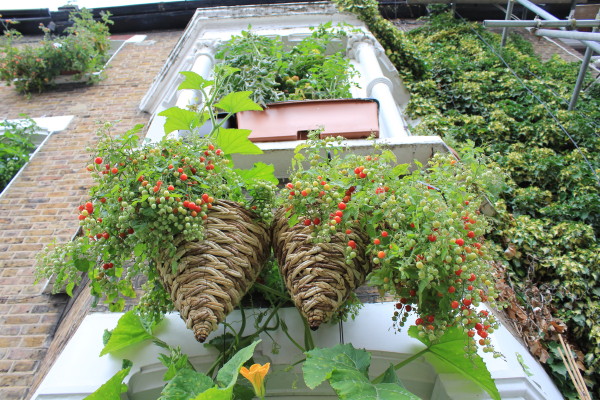 Although hanging baskets are not the easiest containers to grow food in, these tricks can go some way to overcoming the problem of them drying out. You don't need to implement them all (except the last two - choosing crops carefully and regularly checking) but the more you put into practise, the easier it will be.
Enjoyed this post? You can get my tips, learning and reflections on urban container gardening by email.