How to grow pea shoots
Pea shoots are great for small spaces - they grow fast, taste delicious and are rich in Vitamin C, A and protein. Growing pea shoots is easy. They are perfect to try if you're starting out. Seeing (and eating!) the fruits of your labour in just in two or three weeks is rewarding and motivating. Plus, pea shoots are also a good choice for shady spaces (they only need one or two hours sun a day) or to grow inside over winter  - just sow a stray or two and keep next to your brightest bright window. Here, in eight steps (with video below), is how to grow them.
How to grow pea shoots
1. Soak
Soak the peas in water for 24 hours (dried peas sold for cooking will normally grow fine and are much cheaper than buying seed packets).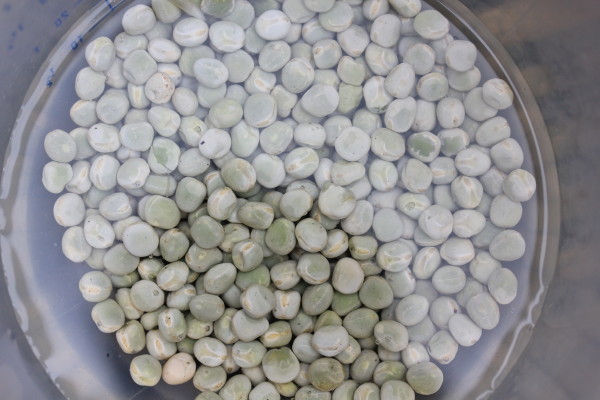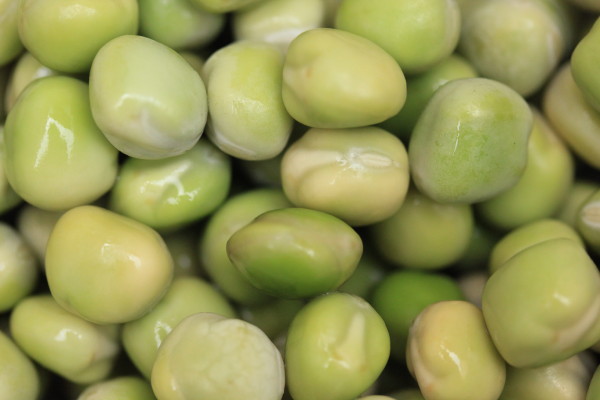 After 24 hours the peas have expanded - and are already looking more alive! They're now ready for sowing.
2. Select a container
Chose one 2- 3 inches (6-9 cm) deep. An old tray from a market stall will do fine - just make sure it has holes in the bottom to allow water to drain out. The trays sold in gardening stores for seed growing are about the right size, too.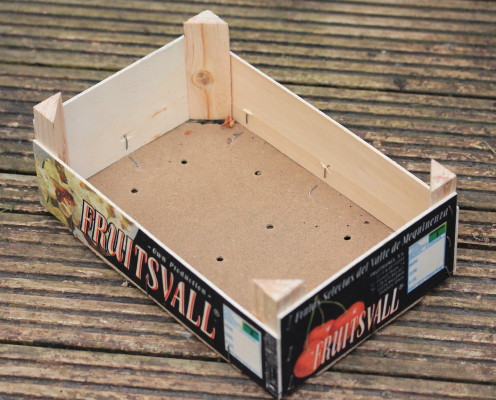 This tray came from a fruit stall. Any tray 2 - 3 inches deep (deeper is also fine) will do the job. Make sure it has a few holes in the bottom for water to drain out of - drill some if needed.
3. Fill container, then water
Fill your container with compost, about 1/2 to 3/4 inch below the top. It's always a good idea to use the best quality compost you can find. But having said that, pea shoots are pretty unfussy - and almost any compost seems to be OK. Then give the compost a good water.
4.Sow
Sow the seeds on top of the compost. You can sow them very closer together - I try to leave a gap the size of a pea between each seed. (If you wanted to grow full sized pea plants, you'd sow the seeds further apart. But as we're only growing shoots, we can get away with close spacing).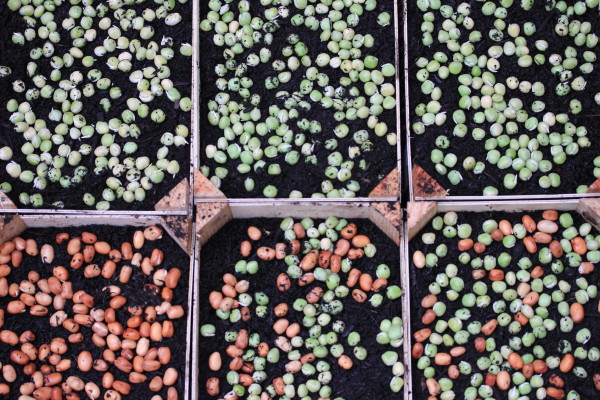 Sow the seeds close together - you might want to arrange them more neatly than this! The darker seeds in this picture are fava beans (small broad beans) that can be grown in the same way.
5. Cover
Cover the seeds with a layer of compost - about the thickness of a pea. Water the surface lightly again.
6. Check daily for watering
That's it! All you need to do now is keep the compost moist - check it every day in hot weather, every couple of days in cooler weather, and water when needed.
After about a week (longer in cold weather) the pea shoots will begin to emerge![/caption]
7. Harvest and enjoy!
In two to three weeks (a bit longer in cold weather) your crop will have grown 3 - 4 inches tall. YOUR PEA SHOOTS ARE NOW READY TO EAT! Harvest by pinching off each shoot just above the bottom leaves. Some of the pea shoots may regrow to give you a second harvest.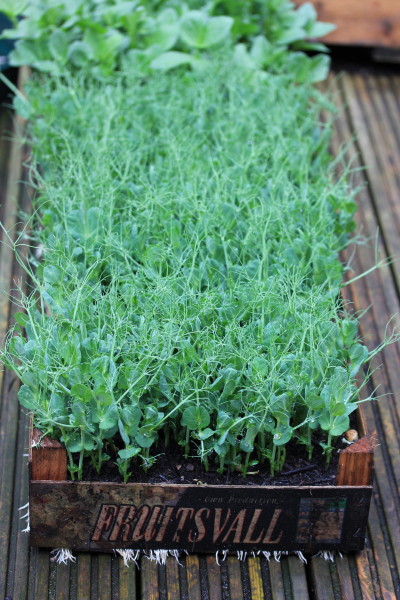 And after two or three weeks they'll be ready to eat! You can normally harvest pea shoots off a box like this over a week or two. And you'll get about half a pound (quarter of a kilo) off each box! 
8. Recycle your compost
When the crop has finished, put the roots in your wormery or compost heap if you have one. Worms seem to like them very much!   Here's a video on how to do it. http://youtu.be/EsWn_6IaOLE   As well as tasting delicious pea shoots are highly nutritious, containing seven times more Vitamin C than blueberries. If you enjoy growing pea shoots, why not try growing fava bean shoots? They are just as easy and tasty with a nice bean flavour. Or take a look at some of the other best crops to grow in containers and small spaces.
Enjoyed this post? You can get my tips, learning and reflections on urban container gardening by email.