How to Grow in Winter in Containers
August (and early September) is the time to plan and start sowing seeds for your winter crops. If you haven't grown in winter before, here are three reasons to give it a go!
Harvesting food from your small space in the coldest months is hugely rewarding - and some leaves actually taste better when grown in winter.
Empty pots can look a bit bleak and sad. But filled with leaves they can brighter and more cheerful.
The plants' roots will help prevent nutrients running out of the soil over winter.

Some protection like a cloche (I found this perspex lid in a skip) will help your plants survive in the cold. Some corps will survive fine without cover, depending on how cold your winter gets, of course. This photo was taken during 2010, a cold winter in London - and nearly all the crops that weren't covered, the kale and mooli etc, also survived OK.
When do you need to start?
For successful winter growing, most seeds need to be sown in late summer / early autumn. This is because the plants need to be well established by the time cold weather arrives. Small plants will be more fragile and more easily killed by frost. The suggested sowing dates below are a rough guide only for the northern hemisphere - in colder parts you might need to sow a little earlier, in warmer parts you might get away with a little later if the winter is mild.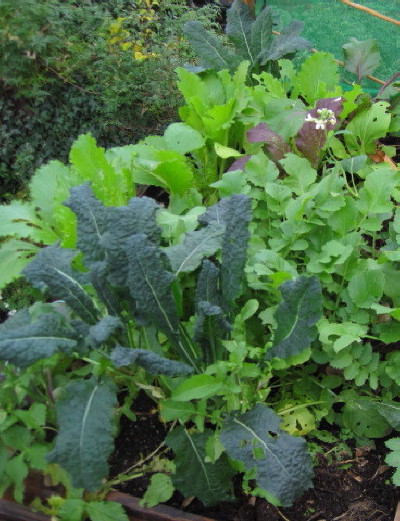 Cavelo nero, mooli, green in the snow and red giant leaves on my balcony in November - established enough to survive a cold snap
How much can you actually harvest during winter?
You'll get good harvests of leaves in late autumn. Growth during the coldest months may stop or be be very slow. But, if you pick carefully (just a few leaves from each plant), you'll find you can still eat occasional fresh salads or stir fries in December and January. Another big plus is that your winter plants will have a head start in the early spring. With a root system firmly established they will put on fast and strong growth as soon as the weather warms. This will give you a good supply of leaves much earlier than if you start from seed in the spring.
Winter salads
The easiest, fastest growing (relatively speaking!) and most productive crops you can grow in winter are salad leaves. There's a wide choice, including:
Land cress: has a strong, assertive flavour, a little like water cress. Sow by late August / early September for winter leaves - it's perennial so will produce leaves all year round.
Winter purslane or claytonia: a succulent winter leaf, packed with vitamin C. Attractive round leaves, that also produce pretty and very unusual white flowers in the spring. Sow late August / early September.
Pea and broad bean shoots: one of the fastest growing and easiest crops to grow in winter. Sow up to the  end of October / Early Nov for Dec / Jan harvest.
Lambs lettuce: mild flavoured leaf – a good contrast to some of the stronger ones. Sow late August / early September.
Winter lettuces - some varieties are hardy enough to survive winter - arrowhead lettuce is one good variety to try. Sow in August or early September.
Rocket – good winter crop - and less prone to bolting than in the summer. Sow in  late August or September.
Asian leaves including: mustard red giant, green in the snow, and mizuna. Sow in late August or early September).
Sorrel: strong, lemony leaf, lovely in salads in small quantities. Sow in August for winter leaves. This is another perennial that will produce leaves year round once established).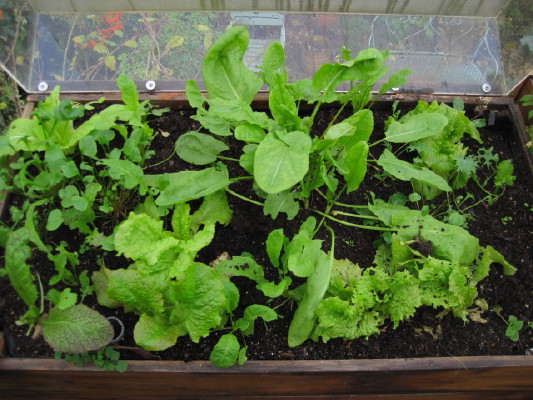 A selection of winter salads including sorrel, winter lettuces and winter purslane - many taste particularly full flavoured in winter (perhaps because they grow slower?)
Other winter leaves
Cavelo nero – tall and stately, this can look great in containers, and the leaves are actually more tender and tasty after a frost. The big leaves are  best cooked, but smaller leaves can also be used in salads.
Kale - home grown kale can be tender and tasty, well worth experimenting with - I'm currently trying a heritage variety called asparagus kale.
Bright lights chard - a bright and cheerful winter crop - and one that often recovers to grow very well in the early spring.
Spinach - is less prone to bolting if grown at this time of year. Sow in August.
Coriander - coriander does surprisingly well in cold weather, I've had my best crops from early September sowings. It doesn't bolt at this time of year - and although it goes nearly dormant in the coldest months,it usually comes back strong in the early spring.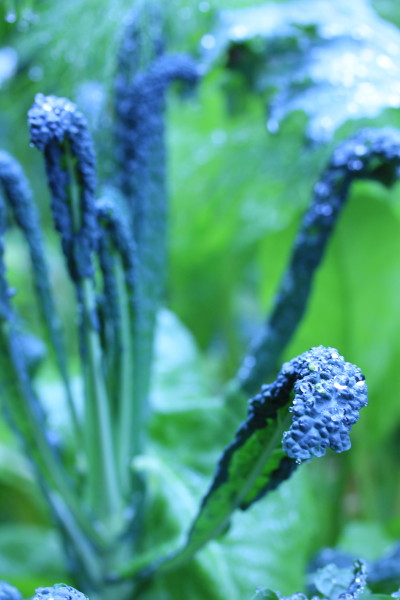 Cavelo nero can look very fine in containers in winter. And it seems to be very hardy - I've had mine buried for a few days under snow several times!
Root crops
Mooli: a large white radish - you can eat the leaves as well as the root. Sow in late August.
Turnips: sow in August for late autmn / early winter crop - eat the leaves as well!
  What's your favourite winter crop?   
Enjoyed this post? You can get my tips, learning and reflections on urban container gardening by email.