6 easy steps to sprout heaven
It's easy to Sprout! 
All you need is an old jam-jar and some seeds (like lentil, pea or chickpea) that you can buy from any supermarket. It's super easy. Sprouts grow well all year round - and are the perfect thing for midwinter when few others things can be sown. They also make a great first growing project.   A mix of rose radish, chickpea, pea, mung bean and lentil sprouts
Why sprout?
Sprouts can be grown at any time of year in even the smallest home, and on the smallest budget.  What's more they're packed with vitamins and nutrients, good for your health and fighting off those pesky winter colds. A huge variety of seeds can easily be grown to eat as sprouts including radish, pea, chick pea, mung beans, alfalfa, fenugreek, sunflower, lentil, and broccoli. Each has its own unique flavour. Add them to sandwiches, salads, soups and stir fries or eat them on their own.  It's fun to experiment.
Fantastic value
You don't need to buy the small, pricey packets of sprouting seeds either. Many dried pulses like mung beans, lentils or chick peas from the supermarket or health food shop will sprout just as well at a fraction of the cost. If buying sprouting seeds online, look out for the larger (500g) packs as they are often much better value.  I get most of my seeds to sprout from SkySprouts (affiliate link) whose seeds I've always found excellent quality - they are  offering 10% off your first order to Vertical Veg readers - use the code: verticalveg at checkout.
How to make your own sprouter
Sprouters are readily available to buy or its super easy to make your own. In my experience, a DIY jam-jar sprouter is actually easier to use and gives better results than many commercial sprouters. Make your own sprouter in two simple steps: 1. Find a decent sized glass jar, preferably with a lid. 2. Drill small holes in the lid - 3mm is fine  or punch them with a hammer and nail. If you prefer, you can dispense with the lid altogether and simply drain the water off through your fingers.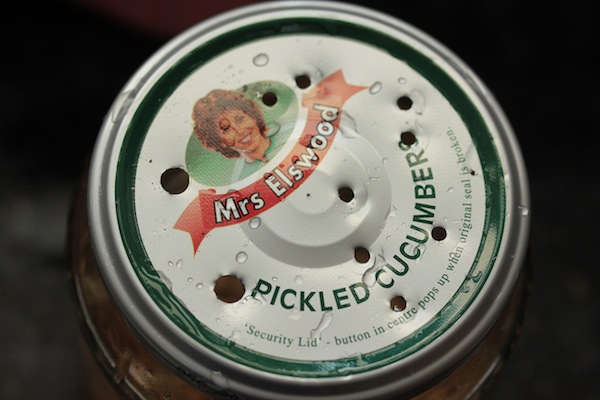 Drill approx 3mm (1/12th inch) holes in the lid. In this one I also drilled a couple of large holes (5mm) to drain the water faster - hold the larger holes at the top so that the smaller sprouts do not fall out of them.[/caption] That's it. Your sprouter is finished and ready to go. Now here is how to use it...
How to grow sprouts, step by step
1. Put some seeds in the bottom of the jar and cover with water to soak for twelve hours. You can add just one type of seed or a mix of varieties, it's fun to experiment. The seeds will expand a lot as they grow. Half to one inch (1cm - 2cm) of dried seeds will usually fill a jar. It varies between seeds - radish expand more than sunflowers, for example - you'll quickly learn.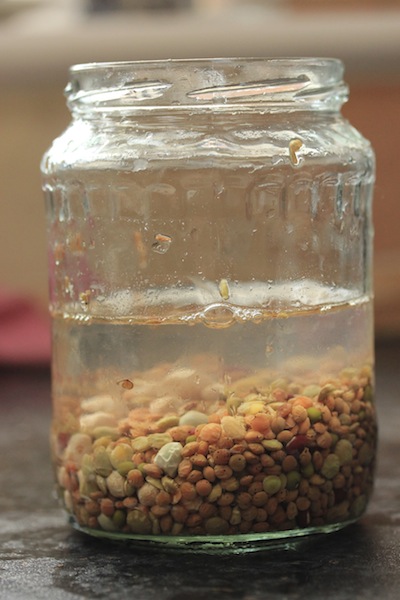 Soaking the seeds for twelve hours helps speed the germination process.
The seeds will swell to double their size, too.
2. After twelve hours rinse the seeds in water. Ideally the water should be at room temperature - not too cold and not too hot. Then drain the water out of the holes in the lid, leaving the seeds damp but not swimming in water.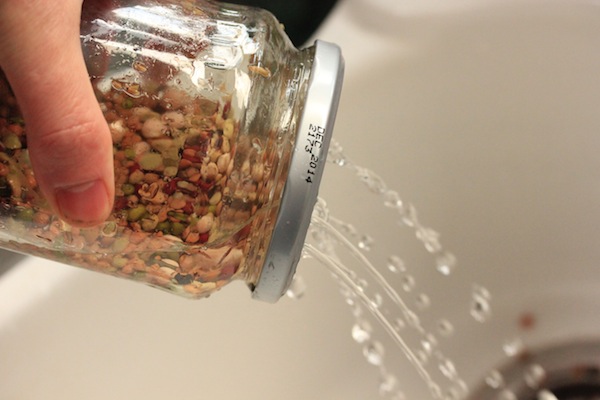 Rinse the sprouts in water and drain. Try to avoid rinsing them in very cold water as this can slow the sprouting process.
3. Repeat the rinsing process at least once every 12 hours until the sprouts are ready - usually about 2 to 4 days.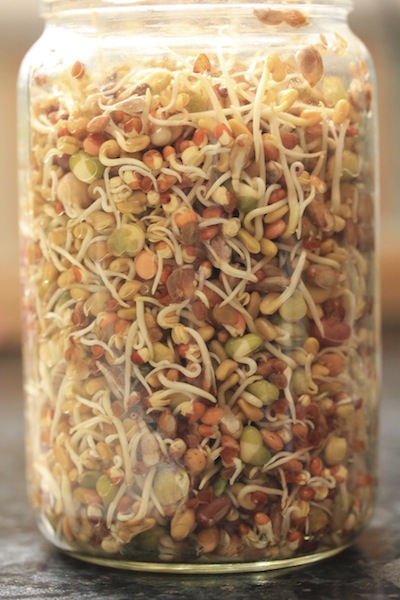 After three days, these sprouts are nearly ready to eat. As you can see they're already trying to escape from the jar - so I probably put a few too many seeds in this jar in the first place.
4. Eat the sprouts straight away. Or transfer them to a plastic bag in the fridge where they keep well for several days (my family has happily eaten them at least a week later).
How do you like 'em?
If you grow or buy sprouts, I'll be fascinated to hear how you like to eat 'em in the comments below - which varieties do you like best and what's the tastiest ways to eat them?
Microgreens
If you enjoy sprouting, why not try growing peashoots and other microgreens? They are easy to grow, delicious and nutritious. Here's how to grow peashoots. 
Health warning
In the main, sprouts are a super healthy food, and make an excellent addition to most balanced diets. However, please be aware that, like some other foods (oysters, eggs for example), sprouts can occasionally carry Ecoli and Salmonella food poisoning (inside the seeds). The chances of buying contaminated seed is very low. However small, you should be aware there is a risk, particularly if you do not enjoy strong health.    
Enjoyed this post? You can get my tips, learning and reflections on urban container gardening by email.