What to do in February
With spring just round the corner, it's easy to get itchy sowing fingers in February. Some things, like chillies and Jerusalem artichokes, can be sown this month, but generally it's best to try to resist the sowing urge until a bit later in the year.  Most plants grow stronger from later sowings. This is a also good month to get everything you need ready for the growing season - and it's another good month to buy and plant fruit trees and bushes. Below you'll find tips on what to so and do in February.
This month
What to sow inside
What to sow outside
Other jobs this month
What to harvest
The advice here is good for growing in most of the Northern hemisphere, including the UK. The best sowing dates will vary slightly from region to region - try to get a seed sowing calendar for your area and use it conjunction with the information below.
1. Sow inside
Light levels are low outside in February due to a combination of short days and a low sun. Seeds need plenty of light to grow healthily so it can be tricky to raise healthy seedlings inside (where light levels are invariably even lower than outside). Put them in the brightest window sill you can find. If you find you struggle to raise strong sturdy plants from February sowings, try them later in the year. Or invest in a good quality grow LED light. Another option is simply buy your chillies and aubergines as plants later in the year :)
Aubergines, chillies and peppers - need to grow for about 20 weeks before they fruit. Starting them in mid February improves the chances that they will be fruiting in the hottest months of the year. However, it's often possible to get a good harvest from later sowings (depending on the variety - look for early fruiting ones) until the end of March.
Tomatoes - can be sown until mid April. They grow fast and big inside - and if you sow too many, too early, they will quickly take over your home! However, sowing one or two plants towards the end of February can be a good way to get a few early tomatoes. But wait until late March or early April to sow the bulk of your tomato seeds.
Chilli, aubergine and tomato seeds germinate more reliably in the warmth (25 - 30°C  / 77-86°F is best, 16°C / 60°F is the minimum). A heated propagator (a container with a perspex lid and a heat source underneath) helps but is not essential.  Any warm place - above a radiator or above the back of the fridge - will help. Move them into the light as soon as they germinate.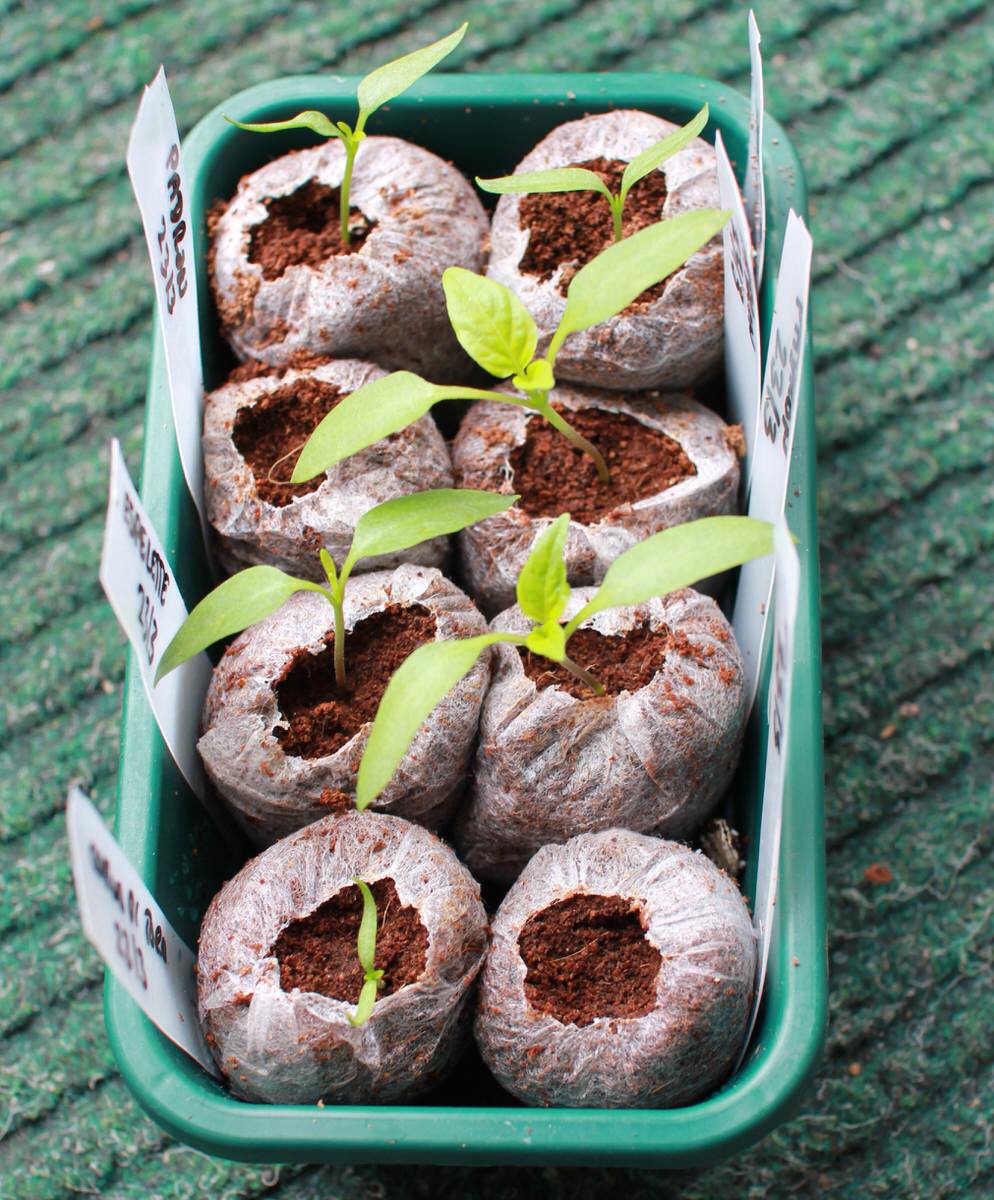 2. Sow or plant outside
Although it is still cold in many parts, a few seeds and plants can be started outside now. If the soil in your pots is frozen, wait until it has thawed before planting.
Fruit Trees and Bushes:  Now, while they are dormant and just before spring, is one of the best times of year to plant fruit in containers.  The best value way to buy fruit trees is 'bare rooted' and these are usually still available from some suppliers this month.  I always recommend buying fruits from a professional fruit nursery. They can advise on a variety suitable for your climate and to grow in a container. The variety and the root stock does make a big difference to success.
Broad beans - can be sown outside from now until April.  Broad beans do not yield well in containers (they are better choice for allotments). But if you love them (like I do), you may find it hard to resist growing a few.
Jerusalem artichokes are a tall (6 foot and more) and bushy crop, with edible tubers. The tubers are delicious and nutritious - and an excellent prebiotic (good for your gut microbes). They grow well in a bucket sized container and bigger.  Grow them from a tuber, just like a potato (the tubers you get from supermarkets / farmers markets work fine). You can plant them now, or wait until March / April.
Garlic.  Best planted in the autumn, but if you missed the chance, you can also try it this month. Get the cloves in the ground before the end of the month.
Potatoes can, in warmer areas, be sown outside at the end of this month if you can protect the tender shoots from frost with a cloche or a fleece. Wait until March or April if you live in a cooler part of the UK (like I do).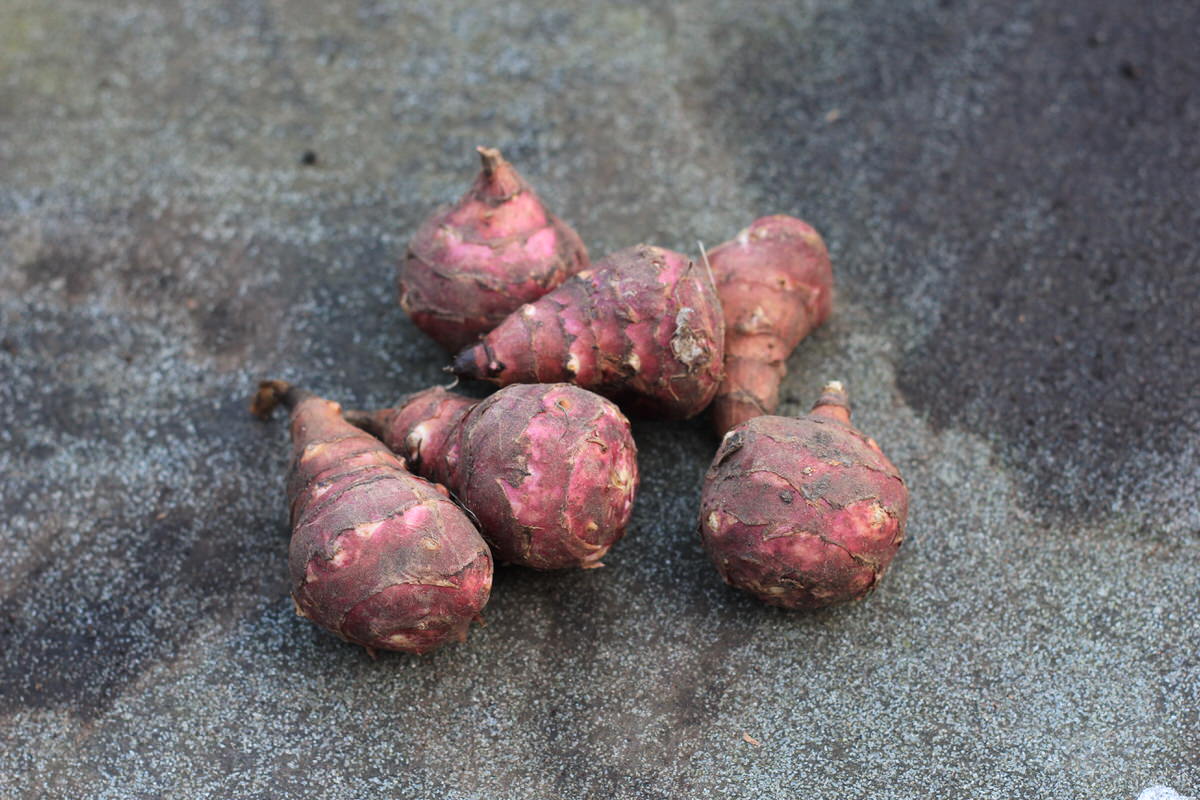 3. Other jobs for the month
This month is a a great chance to get everything ready for the season, to plan what you want to grow, when you need to sow it and to buy any seeds or fertiliser that you need.
If you'll need sticks or canes to support your peas or beans, keep an eye out for
coppiced sticks.
They will give your growing a more natural look.
Back in the day people also used to wash and clean all their pots at this time. But this isn't necessary - and  was probably mostly used as a way to keep gardeners busy in the winter!
4. What to harvest this month
If you are growing plants over winter,  you'll still need to harvest tentatively at first, but you'll be able to pick the occasional small bowl of leaves (the chard at the top of the page was picked on 1st February). I often grow some shoots and bean sprouts inside to supplement the leaves from outside.  However, as the days warm and lengthen later this month, you'll notice that established plants will start to put on a growth spurt. Often you'll be able to start picking a lot more towards the end of the month. As well as leafy veg like chard, kale, rocket and mustards, you may also be able to pick a few herbs like rosemary, sage and bay. It's also a good time to dig up and eat any Jerusalem artichokes you planted.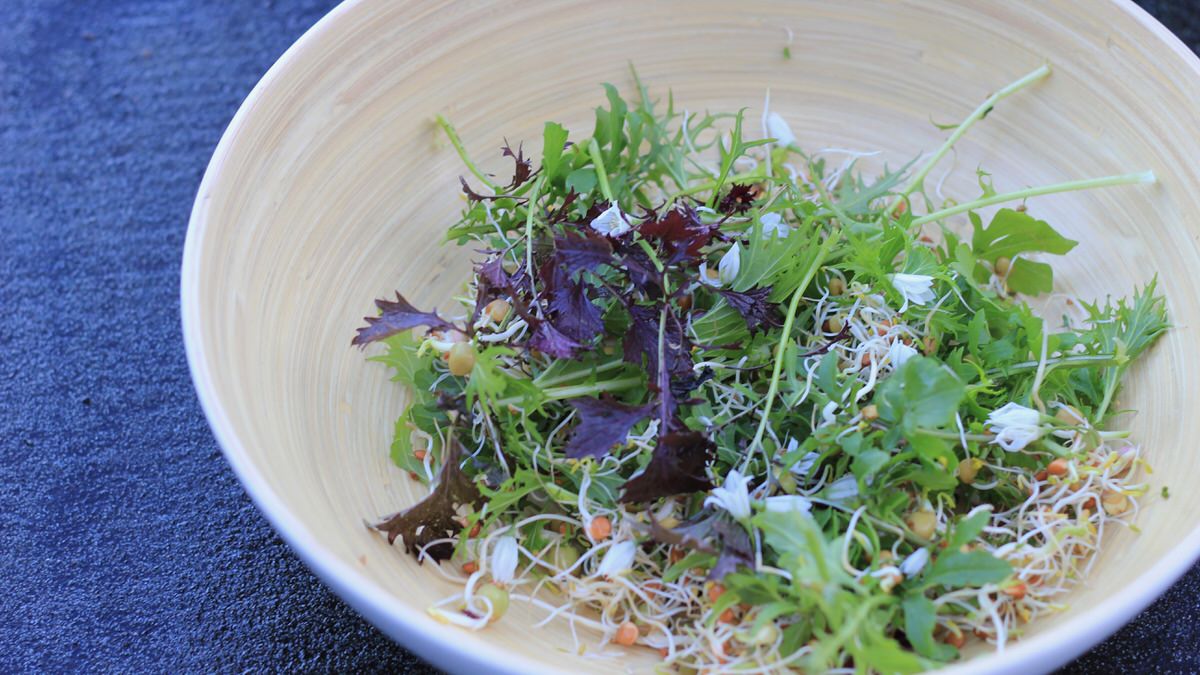 Enjoyed this post? You can get my tips, learning and reflections on urban container gardening by email.