What to do in March
March is an exciting month in the container garden. As the days warm and lengthen, it's time to get everything ready to go.  There are also some seeds you can sow now (see below). 2022 has been a warm year so far which can make it tempting to start everything earlier than usual. It is always interesting to experiment - and you can be successful - but bear in mind that the weather may change. Snow at Easter is not unknown! In general, most seeds (apart from those listed below) are easier and less risky to start in April or May. You also need to be careful not to start too many plants inside or your kitchen and bedroom can quickly become overrun (I speak from experience).
Although the timings here are based on container gardening in the UK, they will also be relevant for many of those growing in other parts of the Northern Hemisphere.  In cooler or warmer regions, the timings will be similar but a little late or earlier. Look out for a seed sowing calendar for your area and use it in conjunction with the advice here.
This month
Get your containers and compost ready
Crops to sow outside
Crops to sow inside
Hunt out slugs :)
Protect your seedlings
What you can harvest now
Common questions

Do I have to start sowing seeds this month? (Quick answer, NO!)
What potato varieties are best for containers?
What is 'hardening off' and why is it important?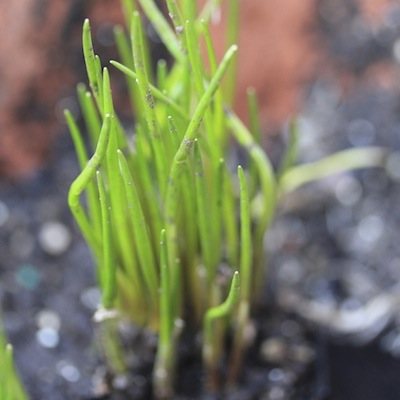 1. Getting ready to grow….
From next month onwards, more plants can be moved outside into their final containers. Now's a good time to take stock of your containers and compost supplies so that everything is ready. Remember that you you can
reuse old compost
 to grow most of your crops. You'll just want to add some worm compost or a general purpose fertiliser to replenish the nutrients that were depleted by last year's crops.
2. Sow outside
The following crops will survive light frosts and early sowings can be sown outside this month (I tend to wait until the end of the month for most of them). 
Many salad leaves, including: Asian leaves, rocket, sorrel, spring onions, lettuce.
Peas and broadbeans
Swiss chard and leaf beat
Kale
Carrots (sow in modules or direct in their final pot - they don't like their roots disturbed).
Beetroot (sow in modules or direct in their final pot - they don't like their roots disturbed).
Turnip
Potatoes, towards the end of March. Cover them with a cloche or some horticultural fleece, as the growing tips are sensitive to frost.
Jerusalem artichokes
Indoor sowing vs. outdoor sowing
The above seeds (not potatoes or artichokes) can also be sown inside if you prefer. The advantages of starting them outside are that they grow stronger in the light and are better adapted to outside conditions.  But there is also a risk. A late cold snap, can stress seedlings and 'check' (ie slow) their growth. For example, hard frosts can cause chard seedlings to bolt (flower) prematurely.
The other drawback is that seeds sown outside can be slow to germinate in the cooler temperatures. One way round this is to germinate them inside (ideally in a place that is not too warm) and move them outside once they come up. Try to move them outside on a warmer day, not in the middle of a cold snap!
A third option is to start seeds inside and move them outside on warmer days to benefit from the extra light, and bring them back in again at night. This way they get the best of both worlds - warmth inside, light outside. This can work well but is more work. It also takes up more precious indoor space.
There isn't really one best option, so it's really a case of experimenting and trying different things. I like to sow seeds outside as much as I can, but I do occasionally germinate some inside. If I have a surplus of seeds (seed packets often have far more than I need) I often start a few trays outside early with an open mind. If they do well, great, but if not, I just sow another tray.
4. Sow inside
You can sow the following inside, moving them outside once the weather gets warmer  (consistently over 10°C / 50°F). Mid to late March is a good time to start sowing tomatoes, but you can leave  it until mid to late April if indoor space is limited. Peppers, chillies and aubergines, on the other hand, need a longer growing season and are usually best sown before the end of the month. However, there are a few very quick maturing varieties chillies and peppers, which are ok to be sown until mid-April.
Tomatoes and tomatilloes

Peppers and Chillies
Aubergines
Bear in mind that tomatoes, in particular, grow fast and get big quickly. This is an issue when indoor space is at a premium. They quickly take over! One solution is to sow a few tomatoes this month (for an early crop) and the rest next month.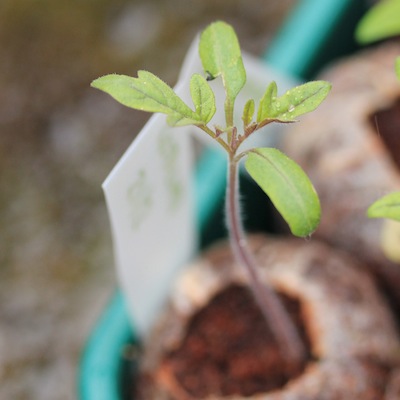 4. Slug humt
Slugs are particularly damaging to seedlings. It's dispiriting to wake up in the morning to find all your seedlings have been eaten (I speak from experience, unfortunately).
By finding and removing as many slugs as you can find now, you will help keep your seedlings safe. It also helps to start keep slugs numbers under control at the atart of the season. It's impossible to get rid of slugs completely and there is no need to, as a few slugs won't pose too many problems. However, large populations need to be avoided as they make succesful growing very difficult.  Have a hunt under pots and in any other cracks or areas they can hide. Go outside after dark one evening, ideally in wet weather (this is when most slugs are visible and active) armed with a torch, and collect up all the slugs you can find. You can move the collected slugs to a local park, feed to the birds, or give to a friend who has chickens. You can also cut them in half and add them to your wormery. This might sound cruel but it is much better than using slug pellets that kill other life indiscriminately - and you'll be recycling their nutrients in the wormery, too.
5. Protect your seedlings
If you've sown some of your seeds outside, you can protect them form the weather with a cloche or by laying horticultural fleece over them if a cold snap is predicted. I confess that I am lazy these days and rarely cover any of my pots. I have too many pots and it's fiddly and time consuming, and most things seem to survive OK without. But, if you do protect them, they will grow faster and stronger, and survive cold snaps better. It's worthwhile if you have time and can be bothered.
You can protect your crops with cloches, for example upturned water cooler bottles or hoops covered in plastic . These can also offer some protection from slugs.  Or  buy 'horticultural fleece', which you just lie over your crops. Tie it on to the pot so it can't blow off. 
6. What you can harvest this month
Salads. If you sowed winter salads in August / September last year, you will notice that they begin to grow faster again as the day lengths get longer and the temperature warms. Salad leaves are often at their most flavoursome at this time of year.
Kale, chard and spinach. Established plants will grow strongly this month, too - and excellent harvests are often possible later in the month.
Jerusalem artichokes. Harvest any remaining tubers early in the month before they sprout again.
Herbs. Bay, thyme, rosemary, sage and other evergreen herbs can continue to be harvested sparingly this month.
The first rhubarb is often ready to harvest at the end of this month.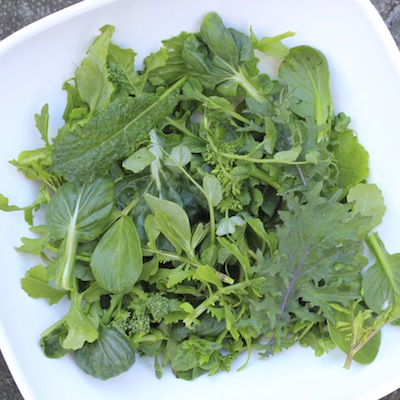 7. Common questions
Do I have to start sowing seeds now?
No. You can happily wait until April or May. Seeds will be more willing to grow then and you'll still have time to start most things off. It's a lot easier to grow from seed later in the year so if you're new to growing you may want to try this... or at least don't be hard on yourself if your early sowings don't all work out.
The exceptions are tomatoes, chillies and aubergines. Because of how long they take to mature, sow early in the year.  Alternatively, you can always buy these as small plants in April or May instead. This is sometimes the best strategy, particularly if you don't have space or a good light windowsill to raise plants inside.
What variety of potato does best in containers?
'First early' and 'Second early', are the fastest potato varieties to grow (ready by June if planted in March) and are the best choice for containers.  They give you the delicacy of new potatoes , and, because you can harvest them in June, free up big pots to grow other crops in (like courgettes or runner beans) over the productive summer months. Main crop' potatoes are slower to grow and need larger containers. They produce higher yields later in the year. They need larger containers. 
Read how to grow potatoes in containers here. 
What is hardening off and why is it important?
Hardening off is the term for acclimatising plants that are started inside to the colder temperatures and more turbulent winds outside. It's best done gradually - or the change in climate stresses plants and sets them back.
Simply put plants outside for a few hours each day on warm days, bringing them it again at night. Slowly increase the amount of time they are outside. Avoid putting them out on very windy days unless you can protect them from the wind.
Even hardy plants (those not sensitive to frost) that are sown inside will often benefit from being hardened off.
Most plants benefit from hardening and I recommend it. But it is not always essential. If you need to move plants outside without hardening off, try to move them during a warmer, less windy weather spell if you can.
The added benefit of moving seedlings outside during the day is that it gives them a healthy dose of outdoor light. You can read more about the value of this and how to avoid spindly seedlings
here
.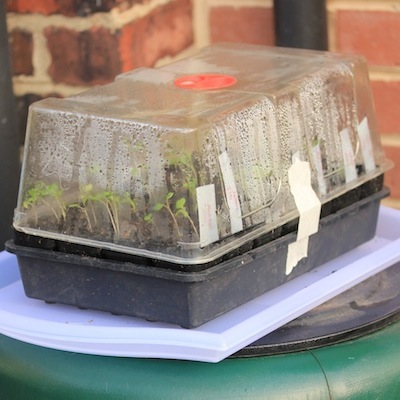 Your turn
What are you doing this month in your container garden? I'd love to hear in the comments. 
Enjoyed this post? You can get my tips, learning and reflections on urban container gardening by email.