What to do in April
As temperatures warm and days get longer, seeds are easier to sprout and seedlings grow in front of your eyes on sunnier days. If you're new to growing, this month or next month are good times to start on your first growing projects.
Advice below is based on the UK climate. It's relevant for most other Northern hemisphere countries, but exact sowing dates will vary slightly. Look for a seed sowing calendar for your region and use with the tips below.
This month
What you can sow outside
What you can sow inside
Other jobs: slug and snail hunt, "potting up" tomatoes,  rejuvenating old compost, acclimatising seedlings to outdoor conditions, starting a wormery.
1. What you can sow outside
Sow the following outside - either direct in their final pots or in modules or seed trays. It's a good idea to get some crops started now, but there is still a risk of cold weather this month that might damage or set back seedlings. It often works well to some now and some later in the month (and later sowings often catch up).
Snap peas, mangetout and broad beans.
Root veg: spring onions, radish, beetroot and carrots. Start these in modules or in their final container as the baby plants don't like their roots disturbed.
Salads: lettuce, rocket, and most other salad crops.
Oriental greens: pak choi, mibuna, mizuna, mustard red giant etc. The best time to sow Oriental greens is after the summer solstice when they are less prone to bolt (flower early). But you can still get a good crop now, particularly if sown early in the month.
Leafy veg: kale, swiss chard, and leaf beat.
Potatoes: sow 'first early' potatoes now to get a crop before the end of July. This will give you time to grow another crop - like runner beans or a courgette - in the same pot over summer.
Herbs: including coriander, chives, parsley, sorrel, lovage, dill.  Dill, coriander and chives have flowers that attract beneficial insects as well as tasty leaves.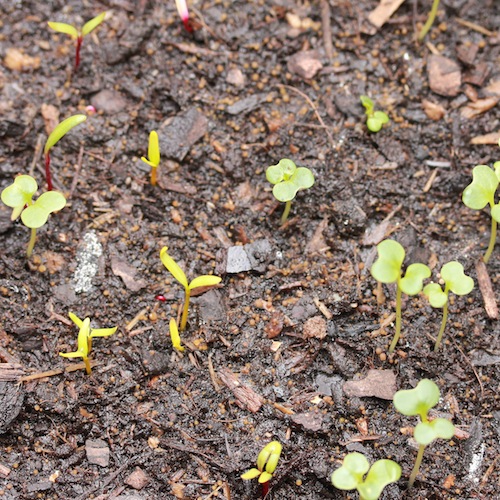 2. What you can sow inside
Although it's getting appreciably warmer this month, you still can't sow tender plants outside until the risk of frost in your area has passed ('tender' plants are killed by frosts). In the UK this is usually the end of April / mid May, depending on where you live (if you live in the UK, USA or Australia, find
the date of the last frost in your region here
).
Tomatoes: you still have time to start tomatoes from seed - sow them as soon as you can - and by the end of the month at the latest.
Runner and French beans: for an early crop, sow some inside now to move outside after the last frosts. Starting beans inside helps protect them from slugs (slugs just love bean seedlings!).
Courgettes, squash, cucumbers: sow these indoors this month for an early crop. These grow big quickly so check you've got enough space to accommodate them inside until the risk of frost is over.
Herbs: including basil and green perilla (a tasty Japanese herb, a nice alternative to basil).
You need a space with good, bright light to raise healthy seedlings inside. If your indoor space is not very bright, you can germinate seeds inside and then move the baby seedlings outside on warmer days. If you do this, try to give them plenty of shelter (a seed tray with a plastic cover - a "propagator lid" - works well if you have one). Alternatively, you can sow most of these crops outside next month once the risk of frost is over. (May is a bit late to sow tomatoes, though - but you can always buy a plant if needed).
3. Other jobs
Do a slug and snail hunt
Before putting your precious seedlings outside, hunt for lurking slugs and snails. Look under pots, in cracks, behind any foliage or stones. Slugs can quickly decimate seedlings so it's a good idea to start the season with as few as possible.  Take them to the park, give them to a friend with chickens or recycle them in a wormery.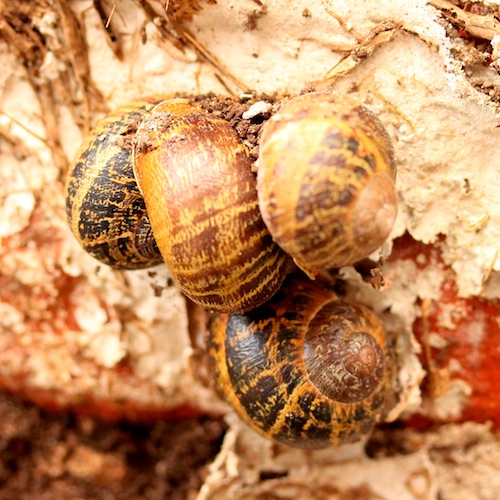 Potting on
When a seedling grows too big for its pot, it needs to be moved into a bigger pot in order to maintain healthy growth. This is called 'potting on'. How do you know when a plant is ready to 'pot on'? A tell tale sign is when you see the roots of the plants beginning to appear through the holes in the bottom of its pot. Move tomatoes, aubergines and chillies into larger pots filled with good quality multipurpose or potting compost.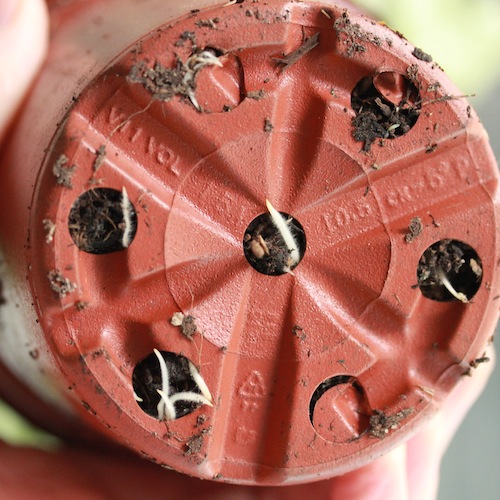 Acclimatising plants to the outside
'Hardening off' is the term for adapting the plants raised inside to the colder, windier, more fluctuating weather conditions outside. Move plants outside for a few hours each day on warmer days, remembering to bring them in at night.  Don't put them out on cold or windy days unless you can protect them with a cover or cloche.
Rejuvenating old compost
You can re-use old compost to grow in again this year. The nutrients in the old compost will have been depleted so you'll need to add some fertiliser, like some worm compost or chicken manure pellets. You can read more about
how to re-use compost here
.
Start a wormery
If you're thinking of getting a wormery, spring is one of the best times to do this. It takes time to get a new wormery established. If you start one now, you'll get lots of wonderful worm compost in time for next year. You can buy a wormery or it's easy to make your own,
here's how
.  
Enjoyed this post? You can get my tips, learning and reflections on urban container gardening by email.