Ten of the best crops to grow in containers
When growing in small spaces, you want a lot from the crops you grow. You want them to give you plenty to eat, to taste amazing, and ideally to look great, too. After experimenting with over fifty different vegetable crops, here are ten I've found to be amongst the very best. (Herbs and fruits to follow another day). What are yours? I'd love to hear what your favourite veg to grow in containers are in the comments at the bottom.
No.10 Tromba Squash
Tromba squash tastes like courgettes / zucchini but climbs fantastically (great for small spaces!) and has eye catching almost phallic fruits. Grow these at the front of your home to catch the eye of passers by!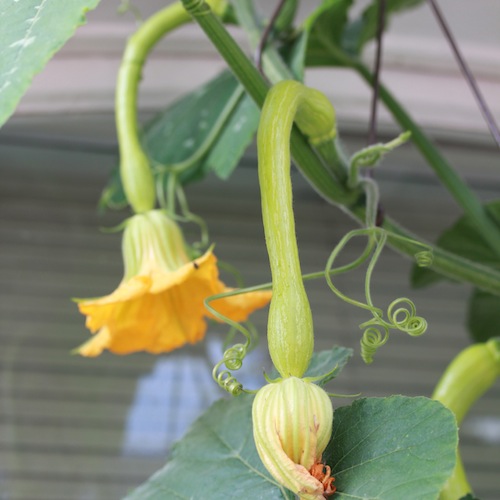 Tromba (or tromboncino) squash is a great alternative to courgettes in container - as climber it takes up much less space.
 

No. 9 Nasturtiums
The queen of the edible flowers - so bright and cheery in the container garden and adds flavour, zip and colour to salads. The small leaves are edible, too and the round leaf shape adds pleasing variety to salads.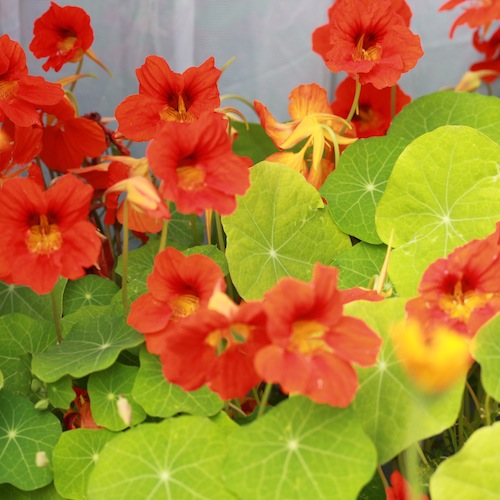 Nasturtiums will brighten any home
No. 8 Chillies
If you like chillies and have a sunny space, chillies are a top choice. They look great and home grown chillies have an added taste dimension. One plant can give you 50 - 100 chillies - so self sufficiency in chillies is a realistic proposition! Any you can't eat can easily be dried for eating over winter.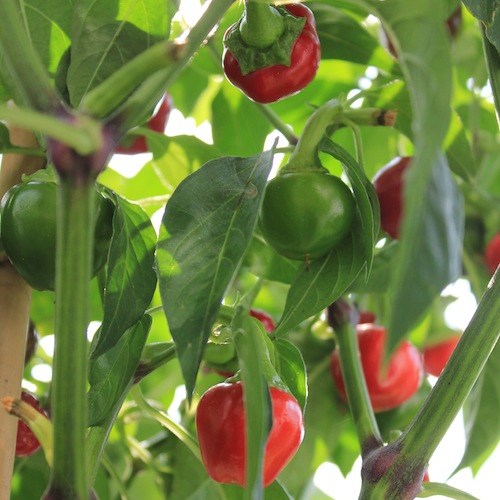 A super productive and pretty crop - as long as you have a sunny, warm spot. 
No. 7 Oriental greens
Asian leaves are the almost perfect crop for small spaces. They grow super fast, don't need a lot of sun, and can be eaten in either salads or stir fries. Try Chinese cabbage (super fast growing), tatsoi (a variety of pak choi), mizuna (prolific), mustard red giant, Chinese broccoli or choy sum. Or buy a mixed pack of Asian leaves. Oh, yes, and you can grow them all year round, too.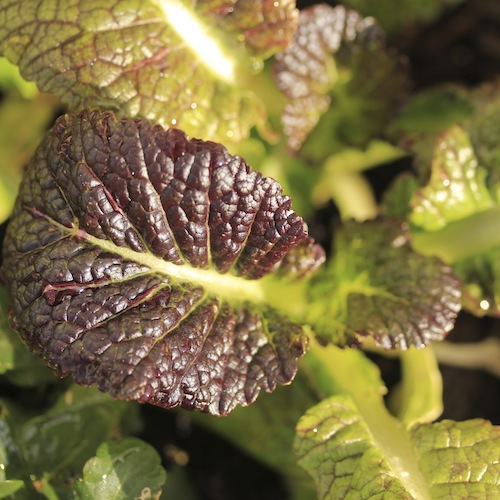 There ars so many fantastic fast growing, tasty oriental greens including pak choi, mibuna, mizuna, Chinese cabbage, Chinese broccoli, serifon and mustard red giant (pictured).
 

Number 6: Runner beans
One of the most productive crops - several kilos of beans can be grown in one pot. The orange or white flowers add beauty and the tall height of the plants add stature. For tender, tasty beans pick when small. Likes a constant water supply so grows best in a container with a water reservoir.
Runners taste best if picked small - and picking encourages them to produce more.
Number 5: Cavelo nero (Tuscan kale)
With its plumes and rich green colour this is one of the most attractive container crops. It's so hardy it will survive the coldest of winters here in the UK. Sow in August for a supply of leaves over winter or spring for a summer harvest. The leaves can be cooked or eaten in salads - and are full of taste and vitality!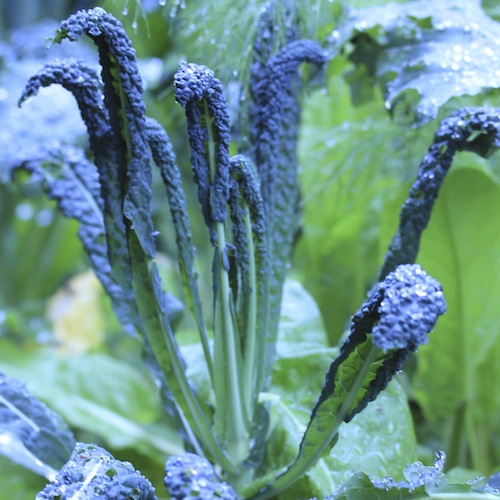 There's lots of good reasons to grow crops in your pots over winter - not least that they look so much better than bare earth. Cavelo nero is a great choice. 
Number 4: Bright lights chard (or rainbow chard)
With it's mix of bright red, yellow and white stalks, this looks spectacular in a container. It grows all year round, the small leaves look beautiful in salads, and the big leaves taste delicious cooked - the stalks, in particular, taste similar to asparagus. Underrated. In London I used to grow this above the front door to brighten the street!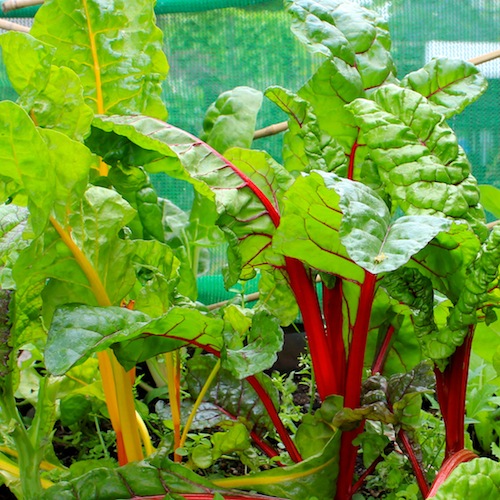 Bright lights or rainbow chard - keeping picking the outer leaves and you can harvest one plant for months.
 

Number 3: pea and ful medame or broad bean shoots
You can grow £4 - £5 ($6 - $8) worth of pea and bean shoots in one seed tray in just three weeks. They taste delicious and look beautiful as a garnish or even as the main ingredient of a salad or stir fry. They can be grown successfully in the tiniest space and only need an hour's sun a day. Winner! Read how to grow them here.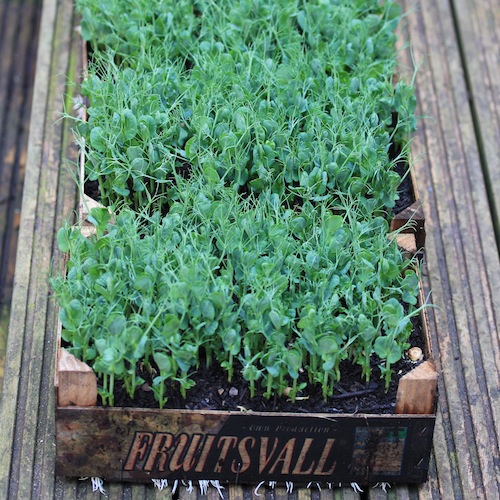 Pea shoots are fast and easy - old fruit trays like this make the perfect container.
 

Number 2: tomatoes
Tomatoes are one of the most productive crops you can grow in containers - 5kg (10 lbs) - off one plant is common. Each plant crops for a long period, giving you fresh tomatoes over several months. And last but not least, home grown tomatoes are a taste sensation! Do you have a favourite variety for containers?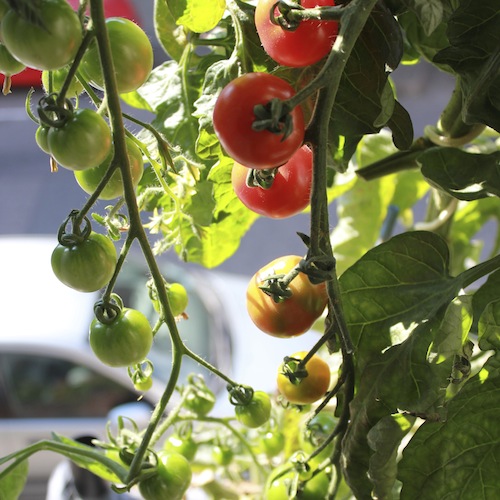 Few things taste as good as a home grown tomato. Grow them in good soil in a good sized pot and they are hugely productive, too.
Number 1: mixed salads
Salads are the ultimate crop for small spaces: fast growing, productive and bursting with flavour. Pop outside and pick one five minutes before lunch - it doesn't get fresher than that! You don't need much space (or even sun!) to be self sufficient in salads. I grew over 14 kg (30lb) -equivalent to 140 supermarket packs - in one year on my small balcony.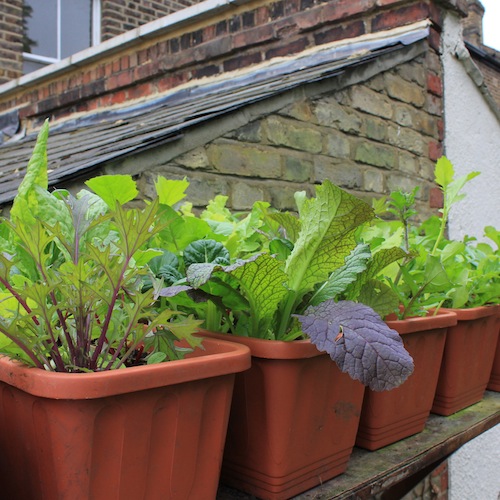 You can be self sufficient in salads with just a few pots like this. The secret is to keep sowing them in seed trays so that you always have a supply of baby plants to move into your containers when the old plants get tough or bitter.
Enjoyed this post? You can get my tips, learning and reflections on urban container gardening by email.