How to make your own container with water reservoir
Using old recycling boxes and pvc piping
Step by step instructions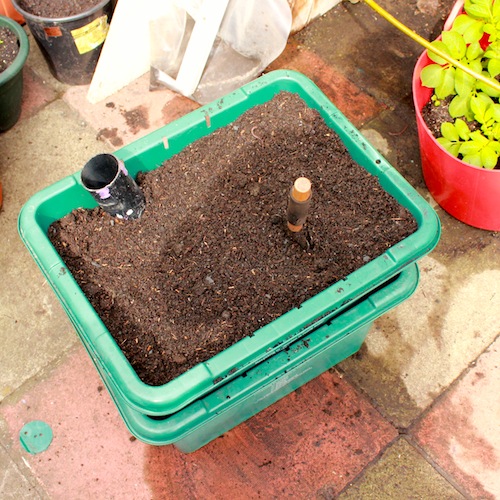 In this post you'll learn how to make a long lasting, high performance container with water reservoir.
Level of difficulty: moderate
Water reservoirs make watering easier
and
dramatically improve yields.
You can add reservoirs in various ways. One simple way is to
add a reservoir to an existing container
. Or with a little more time and effort, you can create a far superior system using two plastic boxes and some PVC piping.
Old recycling boxes are perfect for this project because:
They are large (usually 40 – 55 litres), ideal for hungry vegetables like squash, tomatoes or potatoes.
The plastic is UV treated - it will last and not disintegrate in the sun.
The plastic is strong - and can withstand all the drilling.
The main drawback of recycling boxes is what they look like - see below for ideas on how to make them more attractive. If you don't have recycling boxes, you can use the same method with other plastic containers or buckets.
To make one self watering container you need:
2 old recycling boxes (In the UK you can often source supplies of old, used recycling bins from council recycling centres if you ask them.)
30cm (1 foot) PVC drainage pipe for the wicking feet – ideally 11cm (4.3 inches) diameter  (often found in local skips)
50cm of pvc pipe for the filling pipe – anything from 3 – 8 cm (1 – 3 inches) in diameter (again frequently found in skips).
13 plastic cable ties.
2 small sachets of Sugru or a silicone sealant.
And the following tools:
A power drill with a 6mm (1/4 inch) drill bit, a 12mm (1/2 inch) drill bit
A hole saw large enough to cut a hole for your wicking feet (you can cut the hole without a hole saw but it makes the job much easier).
A hacksaw for cutting the plastic pipe.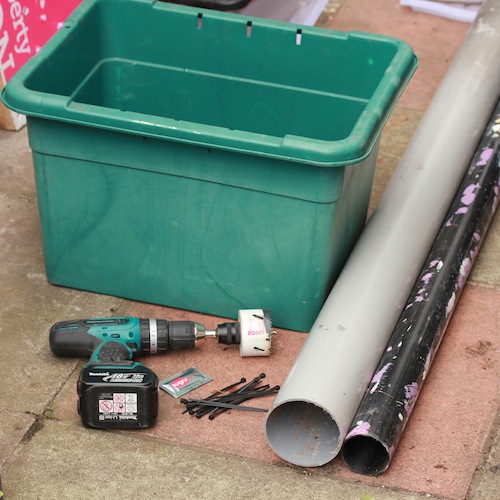 Step by step instructions
1. Waterproof your reservoir.
One of your boxes will become the water reservoir. As recycling boxes nearly always have holes in the bottom, you'll need to fix these. The easiest and neatest way is to use
Sugru
, a cool new product that is easy and pleasant to work with. Just press it into the holes, making sure these are clean and free from dust, then leave overnight to dry. Alternatively, you can use a silicone sealant.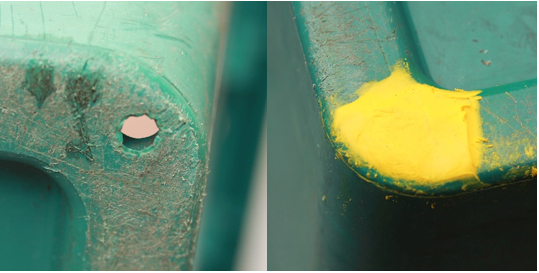 2.Make your wicking feet
Drill plenty of 6mm (1/4 inch) holes in the drainage pipe. It's easier to drill these before you cut the pipe. Then cut off two 15cm lengths using a hacksaw or mitre saw. These are your 'wicking feet'. They will sit in the water reservoir and water will enter through the holes and then wick up into the main container.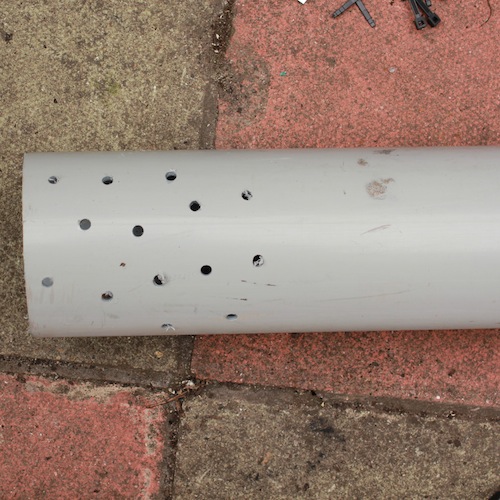 3. Prepare your soil holding container
First, using a hole saw the same diameter as your  wicking feet, drill two holes in the bottom of one of the recycling boxes (not the one you just waterproofed!) – see picture below – and keep the two round offcuts (you'll need these in the next step). If you do not have a hole saw, you can rent one from some hire shops. Alternatively, you could try and cut the hole with a hand held key hole saw. I do not recommend trying to cut hard plastic with a sharp knife like a Stanley knife – the knife can slip too easily (I know someone who had a serious accident this way).
Then drill three equidistant 5mm (1/4 inch) holes round each of the large holes – you will use these holes to attach the wicking feet with ring ties.
Then drill a bunch of further 5mm (¼ inch) holes in the bottom of the box – these holes will enable air to travel into the soil and reach the roots of your plants.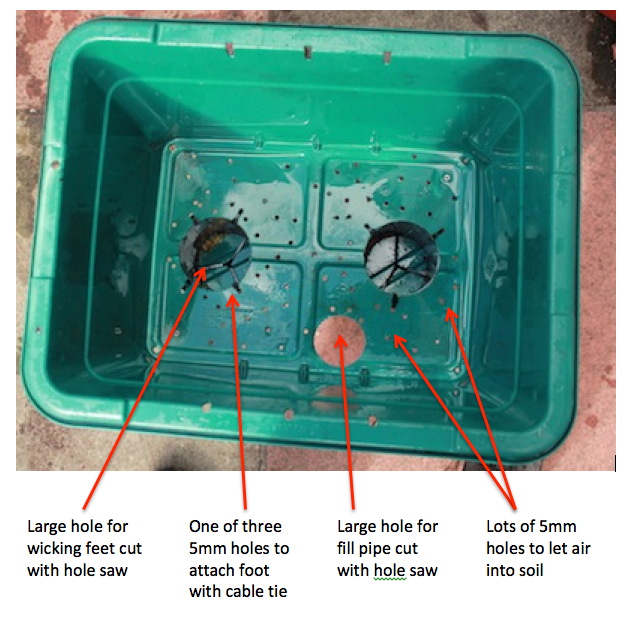 4. Attach the wicking feet
Attach the round offcuts to the bottom of your wicking feet using three ring ties. This will prevent soil falling out of the bottom. Drill three holes at equidistant intervals round the bottom of the pipe to thread the ring ties through.
Attach the wicking feet to the bottom of the container using three more ring ties for each foot. Drill three equidistant holes at the top of the foot to thread the ring ties through.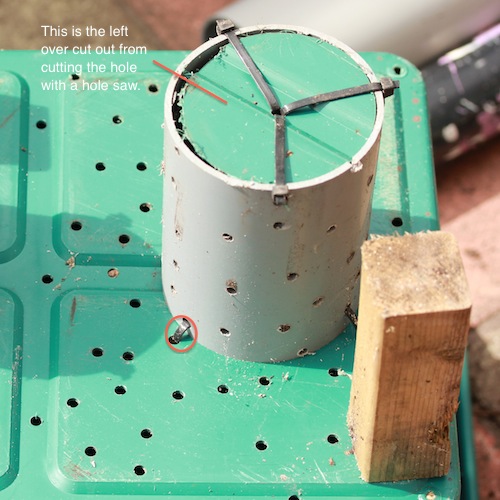 5. Make the overflow hole
Drill a 1cm (1/2 inch) overflow hole 12 cm from the bottom of the water reservoir. This will ensure that there is always an air gap between the bottom of the soil and the water – this helps get air to the roots. The overflow hole also prevents the possibility of overwatering.  This makes this type of containers great for community projects.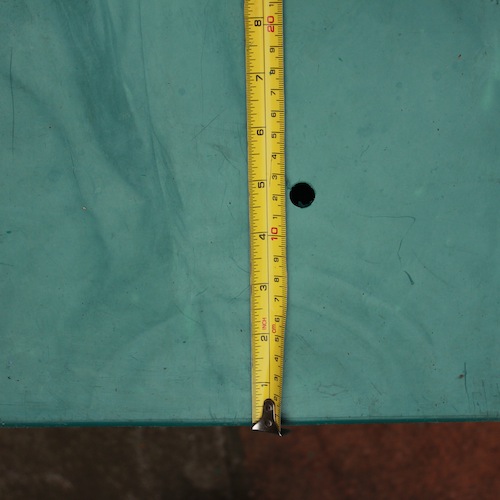 6. Add the fill pipe
Using a hole saw, drill a hole in the bottom of the soil holding container to slot the fill pipe through (see image under 3. above). Cut the fill tube to the right length – you want it sticking out of the top of the soil at the top – and cut the bottom at an angle to help prevent it getting blocked.  I've used 8cm diameter PVC piping (that's what I found) but any piping 3cm (1 inch) in diameter or wider does the job fine.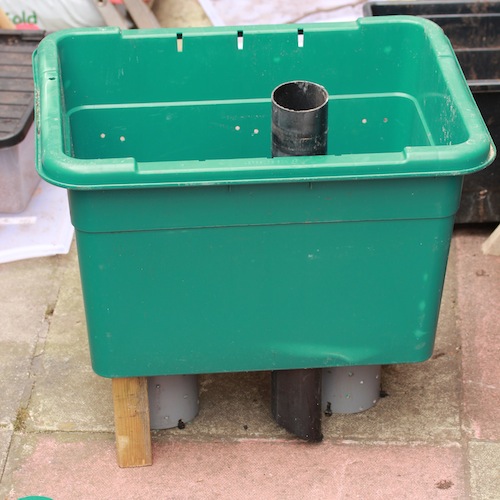 Slot the reservoir underneath and you've now finished building your container!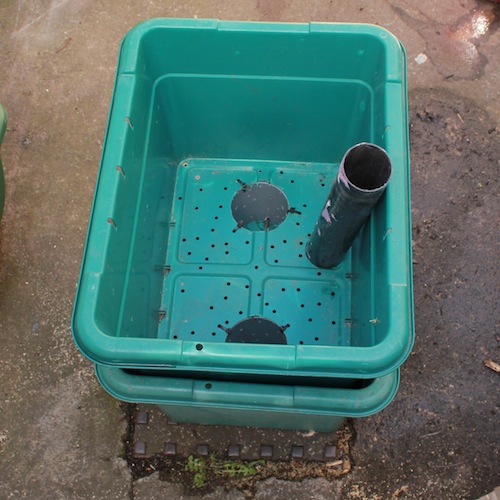 7. Fill it with compost
Fill the wicking feet first. Use a soil based compost (this wicks water better) and firm it down lightly to make sure there are no air gaps in the feet.
Then fill the remainder of the container. I like to use a mix of 50% soil based compost and 50% peat free compost.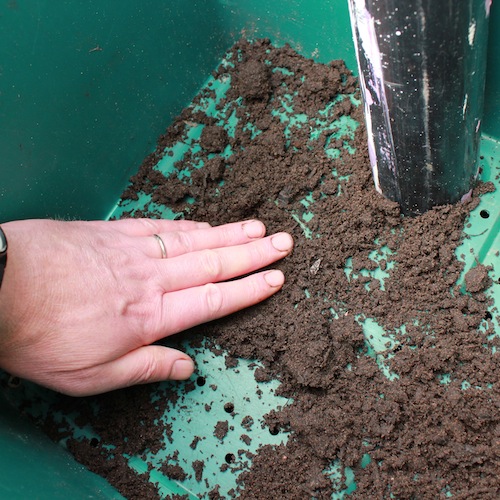 Make it beautiful
Use your creativity to make your containers look beautiful. For example, you might:
Arrange them in attractive formations, circles perhaps or on bricks (or old pallets) to create different levels.
Hide the container behind a façade – perhaps old scaffold boards, floor boards or willow hurdles.
Grow some trailing plants (eg nasturtiums) to hide the containers.
Decorate the containers with leftover paint.
If you make these, please do send images of your handiwork – all the best will be posted on this blog and / or  the
Vertical Veg Facebook page
. 
I'd like to thank Alternatives and the Rooftop Garden Project for their invaluable guide where I first learnt how to make these. If you are using a different type or size of container, please refer to this guide for the formula on how to calculate the number / size of wicking feet you need.
Enjoyed this post? You can get my tips, learning and reflections on urban container gardening by email.