What to do in May
May is a busy and fun month in the container garden: y
ou can sow most crops directly outside now, seeds germinate more easily, and everything just grows!
This month
What you can sow now
Other jobs for May
Tying up peas.

Making wigwams for runner beans

Planting out, pinching out and supporting tomatoes
Planning watering for the year
Feed wormery more as weather warms
Keep a beady eye out for pests
Earth up potatoes
1. What you can sow now
You can sow most crops this month - the main exceptions are those that take longer to mature, like aubergines, chillies and tomatoes, as they may not ripen and produce fruit by the end of the season. (If you haven't sown these yet you might be able to get a crop by choosing a fast maturing variety - or the easiest solution is to buy a plant).
Most of the crops listed below can also be sown in June and July. So if you don't have time (or space) to sow them this month, you can delay them for a few weeks. If you have lots of pots you can have fun making a plan of what you will sow when in order to
maximise the productivity
of your space.
Runner and French beans: sow outside in the final pots or inside (to protect from slugs) in large modules. Climbing varieties of French beans will usually give you a higher yield from containers than bush varieties. Sow until early July.



Soaking runner beans in water overnight before sowing can speed up the germination process.



 
Courgettes, cucumber, squash, fat baby achocha: sow in small pots (one per pot) and transplant once the second pair of leaves have developed or sow straight into their final pot once all risk of frost has passed. Sow until end of June.
Peas, mange tout and broad beans: sow outside in their final pots - until mid July. (Tip: broad beans that are sown later in June can be less prone to black fly).
Carrots, beetroot, turnips, potatoes, spring onions, radish: sow outside in their final pots - until end of  July.
Salads: cut and come again salads (like lettuce, rocket) may bolt and become tough and bitter to eat as the weather warms. Good watering and a slightly shady spot can delay but not prevent this. To get round this, keep sowing salads so that you have a constant supply of seedlings to replace tough, old specimens when needed. I sow at least one tray of salads every month - seedlings that are not needed in the pots are harvested and eaten!  Until mid-September.



If you sowed salads or oriental leaves earlier in the year they should be ready to harvest now. If you pick off the outer leaves, you can usually harvest them over several weeks. But when they bolt or get tough, you'll need to replace them with new plants.

Oriental leaves: oriental leaves like pak choi and mizuna can be sown now. They grow fine even if they can bolt (flower) and go to seed quite swiftly at this time of year (the increasing daylength causes this). Picking off (and eating) the flowers can extend the time the plant produces leaves productively. Tip: if you wait and sow these leaves after the mid summer solstice (when days start to shorten), they will be less prone to bolting. Until mid-September.
Chard, kale, spinach: keep sowing. Until mid-August.
Herbs: now is a good time to sow basil, parsley, chives, dill, lovage and shiso. Some herbs are tricky to grow by seed. They're better to buy as plants or grow from cuttings. These include mint, rosemary, thyme, lemon verbena, tarragon and Vietnamese coriander.
2. Other Jobs for May
Tying up peas
Peas need more support than some crops to climb successfully. 'Pea sticks' - sticks with lots of small branches - are an attractive solution if you can find them - not always easy in a city! Or you can buy pea netting or make a wigwam with sticks or canes. If using a wigwam, you'll probably find the peas need regular tying up to prevent them falling over (be particularly sure to do this if strong winds are forecast).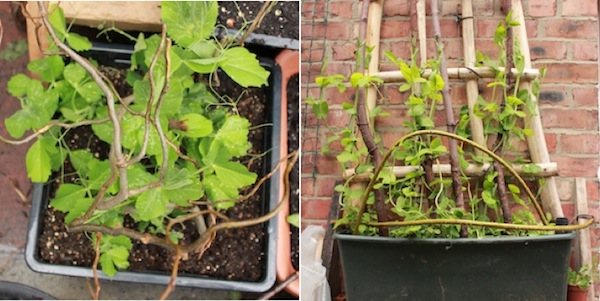 Make runner bean wigwams
Runner and French beans are enthusiastic and strong climbers. They need a good strong support - like a wigwam - to climb up - and they'll be off! You can have fun making a beautiful wigwam. 
Locally coppiced bean sticks
 add a a nice rustic feel if you can find them, or you can use canes which are widely available.
Planting out, pinching out and supporting tomatoes
Move tomatoes to their final pots outside once all threat of frost has passed in your region. If you're growing vine tomatoes, you'll also need to pinch out the side shoots (these appear at the junction between the main stem and each leaf). You'll also need to create a solid structure to support the vine. You can use a simple cane (if you can secure it firmly), build a tomato cage, or, a personal favourite, use strings attached to a wall above the plant. In my London flat, I attached the strings to eyes screwed into the brickwork at the top of my windows and then wound the tomatoes round the strings as they grew. This worked great, supporting the tomatoes, even in strong winds.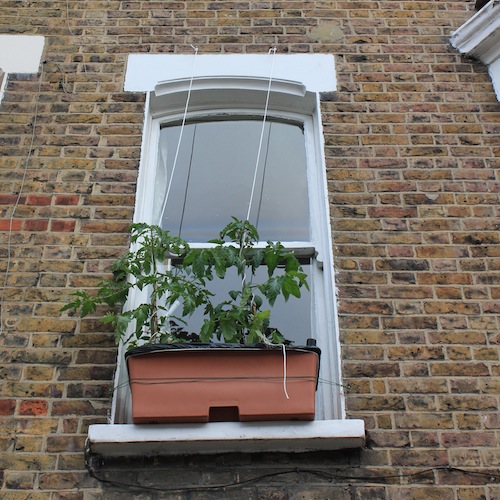 Planning watering for the year
Now can be a good time to think about how your plants will be watered over the summer, on days, weekends or weeks you are away. You might set up an automatic watering system, ask friendly neighbours, or book friends in to house sit while you are away. Or just grow stuff that will all be ready to eat before your holidays!
Feed wormery more as weather warms
If you have a wormery, you'll be able to feed it more waste food as the weather warms. If you can find a supply of well rotted manure, now is also a good time to add an inch or two to the top of your wormery. The worms love it (it introduces all sorts of beneficial bacteria) and it will encourage them to breed. If you find the worms are eating more than you can feed them (unlikely but possible particularly if you have several wormeries), you can often find additional food for them in the city -  scraps from your local cafe for example.
Keep a beady eye out for pests
If you can catch any infestation of pests early, you can often keep them under control by simply squashing them with your fingers. Here are some aphids I found guzzling on my aubergines.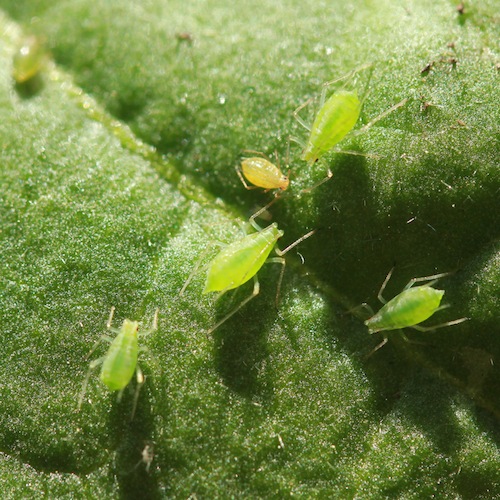 Earth up potatoes
As your potatoes grow, add more soil, leaving about a foot of leafy growth sticking out at the top. This will encourage more potatoes to form.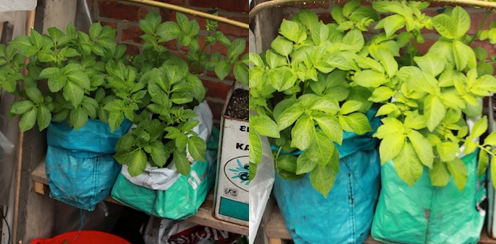 Enjoyed this post? You can get my tips, learning and reflections on urban container gardening by email.