What to do in September
September is usually one of the best months for harvests in the container garden (check out
this graph showing month by month harvests
from my old balcony).
Cooking a meal with freshly picked, home grown ingredients is so rewarding and the flavour can be knock out. Here are some curries I made last night with homegrown beans, tomatoes, aubergines, chillies and courgettes.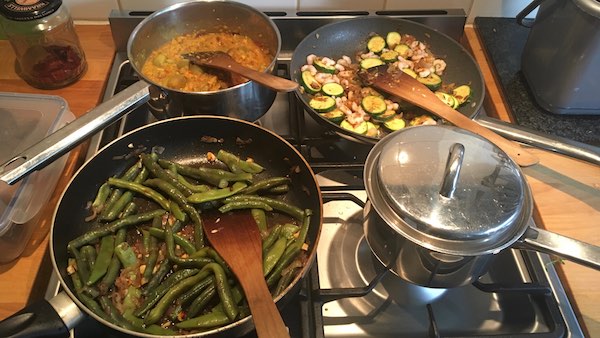 As well as picking the bounty, other jobs this month include:
Saving seeds
Sowing for winter
Cutting back, removing tomato blossom.
Keep feeding fruiting crops.
2. Saving seeds
Now is seed saving time for many crops.
If you've never saved seeds before, it's probably a lot easier than you think. And it is hugely rewarding to have some home saved seeds to grow next year and to give away or swap. Do try it.
The important thing to know is that some seeds are easier to save than others. The easiest are crops that self-pollinate. This is because you only need to grow one plant to save healthy, high quality seeds.  Self-pollinators include tomatoes, French beans, lettuce and chillies.
Cross-pollinating crops are more difficult to save healthy seeds from. You often need to grow a dozen plants or more (not often practical in a small space) - and you need to isolate them to stop them crossing with other varieties. Cross-pollinators include rocket, carrots, squash and beetroot.
Tomatoes are excellent one to start. Check out this video I made a while back with Peter Brinch of
Open Pollinated Seeds
on how to save tomato seeds.
https://youtu.be/cGC6PeEUaNQ
Only save seeds from healthy plants. And be aware that seeds saved from F1 hybrid plants will not grow true (how do you know if your plant it is an F1? It should say on the side of the seed pack).
Patrons
of Vertical Veg can watch more videos on seed saving with Peter Brinch in the
Masterclasses
- including how to save seeds from beans, chillies and rocket.
3. Sowing for autumn and winter
The slightly cooler weather makes it a good time of year to sow
pea shoots
and
fava shoots
for delicious autumn salads. Other good microgreens to sow now include rocket, landcress, sorrel, sunflower, and mustards.
It's also still not to late to
sow crops for late autumn, winter and spring
. The faster growing winter crops like rocket, pak choi, mustards, Chinese cabbage can be sown this month - the sooner the better. Put them in a nice warm place if possible to help them off to good start.
4. Cutting back and pinching out
As in
August
, keep cutting back foliage to expose tomatoes to ripen, and remove large leaves (eg from courgettes) that cast shade over other crops.
Pinch out the growing tips on tomatoes and remove tomato blossom or small baby green tomatoes that are not going to have time to develop and ripen. This allows the energy of the plant to be channeled into ripening the existing fruit.
5. Feeding
Tomatoes, squash and other fruiting crops will still benefit from regular feeding with a potassium (K) rich feed like comfrey tea or a tomato liquid feed.
If you have a wormery, adding a mulch (a thin layer) of worm compost around your hungry crops - tomatoes, courgettes / zucchini, squash, runner beans - will help give them a final boost.
Enjoyed this post? You can get my tips, learning and reflections on urban container gardening by email.