What to do in November
As we descend into November, temperatures cool, days get shorter and light levels drop. Growth in the containers slows - and can even grind to a halt if it gets very cold (winters are becoming increasingly variable - and it's hard to know what to expect at this stage). This is a quieter month in the container garden, but there are tasty crops to pick and some useful jobs to do:
Care for winter crops.
Get your wormery ready for winter.
Sow broad beans and garlic
This month, the main harvests usually include delicious salad ingredients, like rocket, sorrel and pea shoots; herbs like parsley, rosemary, sage and mint; and the last tomatoes. Pickings will start getting a lot smaller - but you can still add lots of flavour to a salad with just a few home grown leaves.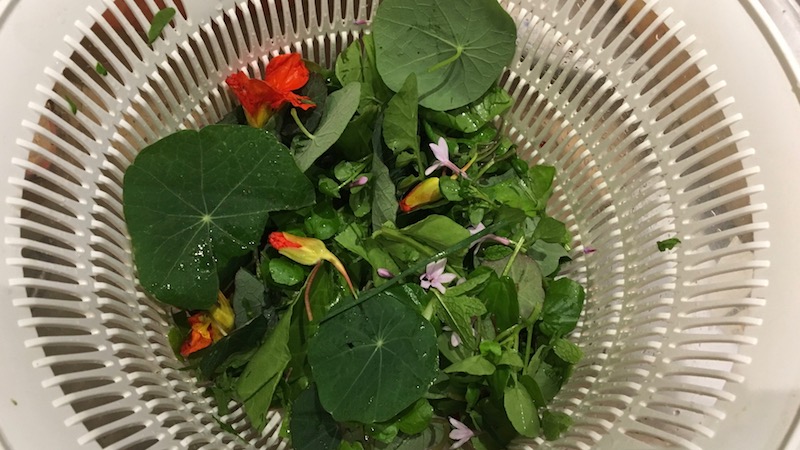 1. Care for winter crops
If you planted some winter crops these should be well enough established now to survive the cold snaps. Remember to remain vigilant about slugs (they don't usually hibernate for a while), and to water the containers during dry periods (it's easy to forget when its cold). To get the best growth out of your winter crops, you may want to create some protection, like cloches. But they'll often do fine without (see October).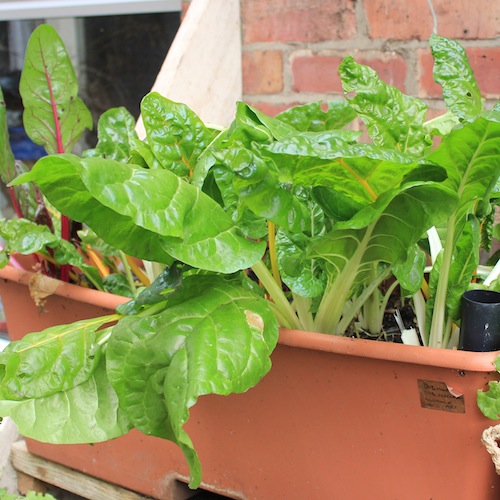 2. Prepare your wormery for winter
Worms work best at temperatures between about 12 and 24 degrees Celcius (53 - 75 Fahrenheit). Below this, they become less active and will require less food (and no food at all when it is freezing). Take care not to overfeed them. The extra food will become rancid and smelly - yuk. It's also important to make sure that you keep your wormery at least two thirds full. When its cold your worms will retreat into a huddle in the middle - and the more biomass (ie stuff!) you have in your wormery, the more insulated your worms will be. So keep it topped up during the winter, and restrain from harvesting the worm compost until it gets warmer in the spring. Worms can survive outside in winters in most temperate climates - but if your wormery is in an exposed, windy place, it's a good idea to move it to a warmer, more sheltered space if you can. A garage or shed is ideal - but as most of us don't have this luxury, any protection from the wind will help. Some people advise wrapping your wormery in insulation (like an old carpet) to help the worms survive the winter.  I've kept four different wormeries (both wood and plastic) alive over ten years through winters in London and Newcastle, without finding this necessary. However, if your wormery is exposed to cold winds, I'm sure this would help.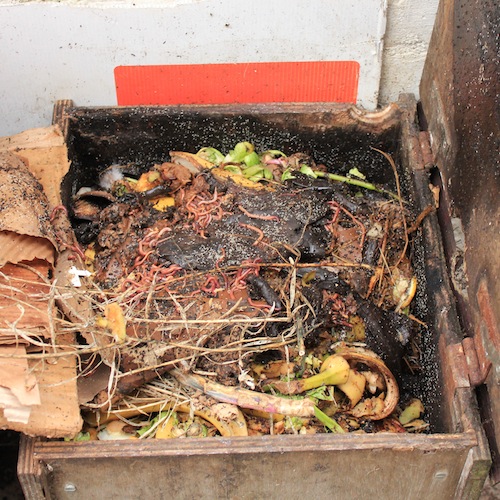 3. Sow broad beans and garlic
Broad beans are not the most productive container crop - they take up a lot of space for a small harvest. But if you love broad beans (like me!), you may want to grow a pot or two. By sowing them now, you'll get an earlier crop next year, they'll be more resistant to blackfly, and you'll add greenery to your pots over winter. Sow a variety of broad bean suited to winter growing, like aquadulce. Garlic is a slow growing crop but has the advantage that it doesn't take up a lot of space in a container - and few bulbs for fresh garlic are always a treat. It's smell may also deter pests. Now (or early spring) is a good time to sow it. You can take a chance and sow it from a clove of garlic you've got hanging round in your kitchen - if you do this, you need to be aware that it may get diseased or the variety may not be suited to your climate. A more reliable option is to buy planting garlic suited to your climate from a seed merchant or garden centre - or, even better, plant the cloves from a garlic plant you grew successfully this year!
Your turn
What are you doing in your container garden this month - have you put your feet up for the winter or are you growing a whole range of winter crops? Whatever you're doing, I'd love to hear!      
Enjoyed this post? You can get my tips, learning and reflections on urban container gardening by email.