Why its great when things don't work out
Do you sometimes look at all those images of lush containers on Pinterest and Facebook and wonder why your own containers are, um, not quite so perfect?
Of course, unlike on Pinterest, in the real world, lettuces DO (almost always) get eaten by slugs, seeds DO often fail to germinate, and tomatoes DO regularly get blight.
But because images of crop failure are rarely shown on social media, maybe you feel that you 'can't grow' when it happens to you? The truth is that these things happen to EVERYONE, even the most experienced growers.
It's the best way of learning
I do wish that more pictures of pest damaged or unhappy plants were shared and talked about. (Note to self: need do more of this myself!). Why? Not just because it would give a more realistic impression of what really happens in growing, but also because we often learn more when things go wrong than when they go right.
The trick to learning from growing mistakes is firstly not to worry about it – one failure (even, to be honest, lots of failures) - does NOT mean you can't grow so don't let it make you lose heart. Secondly you need to enjoy getting curious about it. Why did that crop not do well and what would you do differently next time? Even if you don't find the answer immediately, thinking about it, asking others about it, and experimenting will, in my experience, always deepen your knowledge.
When I started growing, I had precious few successes. I have a few more now, but I enjoy my fare share of learning each year, too. Here are some of the things that did not go as planned last year.
Learning from 2013
Being too relaxed about slugs
Because I was growing in a new concrete space, there were few slugs when I started. I got blasé about this and got out of the habit of the regular slug patrols. Big mistake. The slugs multiplied and made a big dent in my salad production this year - probaby reducing it by 50%. Learning (again!): keep on top of slug patrols!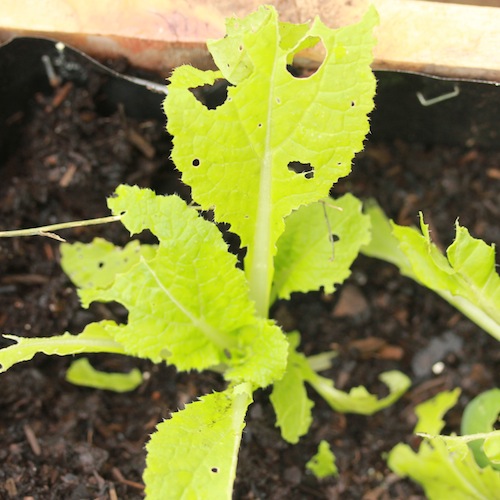 Failing to keep sowing
I sowed my carrots and chard early in the season. Often this is a good strategy for an early and productive crop. But the late cold weather stressed them, checking the carrot growth and the chard bolted. They never really recovered, and I had nothing to replace them with. Learning: if there is cold snap in spring, re-sow any crops that might have been damaged as soon as warmer weather returned.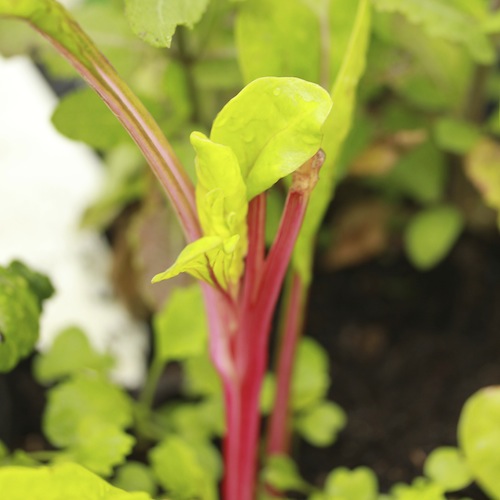 Strawberries prefer water from below
I made a strawberry planter out of plastic bucket. To begin with it worked well and I even managed to share a nice picture of it on Facebook J. However, towards the end of the season the lower strawberries started to go yellow and look unhappy. I later learnt that strawberries do better if they are watered from below than above – so I'll need to redesign my strawberry planter for next year.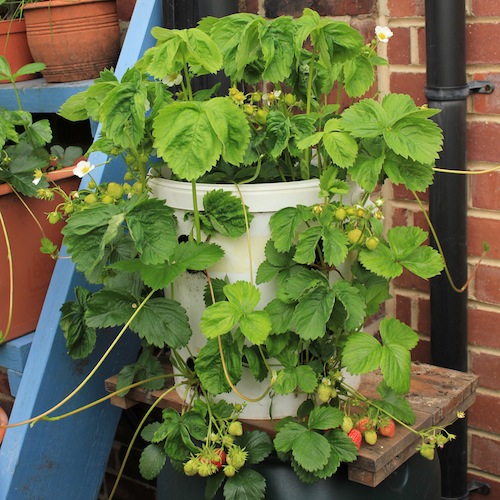 Lack of sun (again)
I started my runner beans in a spot that got just a couple of hours sun (I knew as they climbed they'd start to get more). But as a result they started to grow weak early in life. Weak plants are more prone to pests. These were attacked by aphids that the plants just couldn't shake off (despite my sons best efforts at squashing them!). Luckily, as the sun got higher, the beans got stronger and eventually produced quite a good yield – but nothing like their potential. Learning: don't grow beans in the same spot next year!
Your turn
Did anything not go as expected in your growing last year? Please use this excuse to celebrate and share pest eaten crops, wilting lettuces, forgetful watering and everything else we can learn from! 
Enjoyed this post? You can get my tips, learning and reflections on urban container gardening by email.