How to re-use old compost - ten useful ingredients
Traditional gardening books often tell you to replace the compost or soil in your pots each year. But if you have more than just a few pots, emptying and refilling all your pots will be a time consuming, messy, difficult job. It will also be expensive. And it just seems a waste to throw it away. So a common question is: 'is it possible to re-use the soil / compost in pots'? The answer is most definitely YES. It will last for several seasons, at least, and perhaps even indefinitely. Learning how to re-use it is really useful if you are growing in containers, so the aim of this article is to help you on your way.
What you need to know...
There is quite a lot of detail and information in this post. If it seems overwhelming, you only really need to remember three things:
Some crops are easier to grow than others in old compost (see list)
After a season of growing, the nutrients (ie plant food) in your pots will have been largely used up. To re-use the soil, you'll have to add more nutrients (see below for options).
The 'structure' of your growing mix will start to break down over time. For plants to grow healthily, you might need to add something after a year or two to help rebuild this (see below for what you might add). Some media retains its structure over time better than others.
I'll now talk a bit more about each of these, then I'll run through what you can add to rejuvenate your old potting mix. You'll also find more tips on rock dust and biochar in the video with horticulture expert Ben Raskin below.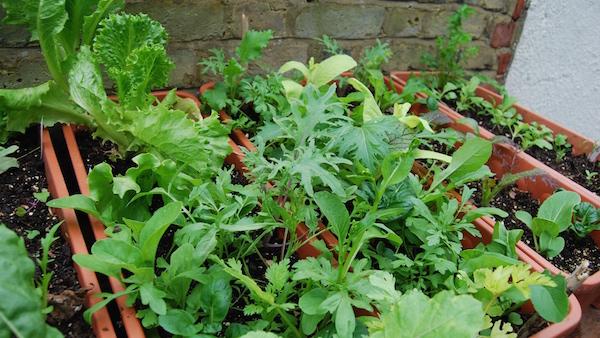 Salads are one of the easiest crops to grow in old compost - these are in a mix that is several years old.
1. Which crops are easier to grow in old soil?
It's possible to grow any crop in old compost, but some are easier to grow successfully than others. This is because some have quite precise and demanding nutrient needs, while others are less fussy.
Easier crops
Easier crops to grow in old compost include
most of the leafy vegetables (lettuce, chard, kale, rocket and most other salads),
most root vegetables,
beans and peas,
most herbs
squash and courgettes (zucchini).
Harder crops
You can grow the following in old compost but it may be harder to get a good yield;
tomatoes and aubergines
chillies and peppers
strawberries
Crop rotation in pots
Rotation is not as important in containers as it is in the ground, but it is still a good idea not to grow the same crop in the same soil for more than one year (particularly for fruiting and rooting veg). Two reasons for this: first, it avoids pests building up in the soil; second, different crops take different nutrients out of the soil.  
2. Why you need to add nutrients and how to do it
By the end of a season most of the nutrients in your pots will have been used up - particularly if you were growing hungry plants like tomatoes. (Simple tests I've done on my used compost confirm this). This means that to grow healthy plants in used compost, you'll need to add nutrients. There are a wide range of organic ingredients and fertilisers  you can chose from (some of the most useful are described below).
What is best to use?
There is no one right or best ingredient – it depends on what you can find locally or make yourself. You can use just one like worm compost. Or you can use a mix of several. (If you can find them, using a variety is good as each one will add a different mix of nutrients to the soil).
How much to add?
It is hard to be precise about quantities to add as it depends on several things. These include: the size of pot, how old or depleted the existing soil is, what was grown in the pot last season, and what you plan to grow next season (for example, fruiting vegetables like squash will need more food than leafy vegetables like salads). In addition, most organic ingredients like manure or worm compost will vary considerably in strength and what nutrients they contain – so giving anything other than a very rough guide is not possible. In general, though, it is better to add too little than too much as you can always add more nutrients during the season (either to the top of the pots or as liquid feed) but you can't take them away.
It's not difficult!
Rejuvenating old compost is not really a precise science – it's more trial and error. Don't let this put you off. Experiment, observe the results and you'll soon learn what works for you. It might be hard to get superb growth using old compost, but getting good, healthy crops is not so hard.
Note taking / labelling
When you do experiment, label or make a not of what you did. It's easy, in my experience, to have a very successful pot and then forget what you added (Or maybe that's just me!).
Soil life
If you want to grow organically, it's also a good idea to think about how you will add and support soil life in your containers. Soil life is vital because it will break down the organic materials in your soil to release nutrients for your plants.  
3. How to maintain the structure of old compost
After a season or two, the structure of your growing mix can start to collapse. This is due to the organic particles in your mix decomposing and breaking down. When this happens, the air gaps in the soil, which are so important to enable the roots to breathe, begin to disappear. To fix this, you'll need to add something to improve the structure again - and add air gaps back into the soil. A variety of things will help do this. Medium or coarse grade vermiculite or perlite are two (add between 5% and 20%). Both are natural ingredients (made from volcanic rock) and both work well. However, they're also high energy to make and costly to buy, particularly in smaller quantities. Two other options are biochar and green waste compost, more below.  
Things you can add to rejuvenate old compost
i) Worm compost
Worm compost is the urban container gardener's best friend! It's one of the most useful and best ingredients you can have to rejuvenate old compost. It's usually rich in the major nutrients, trace elements and is teeming with soil life. I thoroughly recommend a wormery if you have space for one!
How to use it:
Add between 10% (for salads) up to 50% (for squash or tomatoes) to old compost. Take care not to add too much though as it can be very rich (and you can always add a layer on top later on). If you have lots of containers, you may find you can't make as much as you need - but even a little can make a big difference.
Where to find it:
Make your own. You can buy a wormery or it is easy to make your own.
The wormery on my old London balcony - a brilliant source of nutrients when growing in small spaces © Sarah Cuttle / Vertical Veg
ii) Home made compost
If you have a little more space, maybe a patio or backyard, you can make your own compost. Some composters are particularly designed for small spaces – one I've heard good things about is the Green Johanna from Sweden.
How to use it
Like worm compost, but it is less rich so add in slightly higher percentages.
iii) Bokashi
Bokashi is a Japanese method of composting. It uses EM (Effective Microorganisms) and needs even less space (the size of a bucket) than a wormery. It is faster than composting (it takes just two weeks), and can be done inside or outside. It can be a good alternative to a wormery if you don't like worms!
How to use it
The end product of bokashi is pickled, partly composted vegetables. These can be used a bit like worm compost but are less versatile because what comes out o f the bin is not really a 'finished product'. They must be left in the soil for a few weeks to settle before growing in. You can mix 10 – 30% pickled, bokashi veg into a container (then leave for several weeks before planting) or add to the bottom of pots before filling with old compost. As the pickled veg breaks down it will release nutrients and lots of beneficial soil life to your pots.
Where to find it
You can buy bokashi buckets online or make your own out of buckets with lids. You'll also need to buy bokashi bran. If you're in the UK, check out the friendly folk at Bubblehouse worms for a supply.  
iv) Manure
Manure is another useful ingredient for reinvigorating used container soil - particularly if you can't make your own worm compost, or aren't making enough - or if you have located a convenient local supply! It is teaming with soil life (= good!) and has most of the essential nutrients plants need in moderate quantities. However it does vary considerably in quality. To use manure safely and successfully, you need to check a) it's well rotted (as a general rule, it needs to smell like garden soil rather than animal poo) and b) it hasn't come from animals farmed inorganically or fed antibiotics. If you can, try to find other growers who have tried it – and if you're still not sure, try a small quantity first before adding it to all your containers.
How to use it:
You can mix well rotted manure into old compost, or put a layer at the bottom of your pots (works great in bigger pots), or add a layer to the top of your pots half way through the season (gardeners call this "mulching") - great for hungry crops like squash. If you are not sure how well rotted it is, I would either leave it in a bag (I used to have bin bags of it under my pots on my balcony) to rot for longer or put it at the bottom of a big pot where it can slowly break down. Depending on the manure and what you are growing you might add between 15% (for less hungry crops like salads) and 50% (for something hungry like a squash plant).
Where to find it in the city:
Surprisingly, it can be easy to find in some cities. Look for City Farms. Many are run on organic principles, produce excellent manure, and make it available to the public for a small donation. Also check out riding stables, police stables etc but be aware of the animal feed / drugs issue.  
v) Green waste compost / municipal compost
More cities around the world are collecting household green waste (grass clippings, prunings etc) and converting it into compost, which is often sold back to the general public. Some cities also add in food waste. The resulting compost varies in quality, but can be excellent. If you can find a supply, I urge you give it a try. (More info on municipal compost here). Green waste compost is often fairly rich in nutrients – ideal for rejuvenating old compost. It typically also contains quite large particles - these can be sieved out if you like. Or you can leave them in – as these can help add structure and air gaps back into your growing mix.
How to use it
Mix 15 - 50% into your old compost, depending on how rich a mix you want to make. Or you can add a layer to the top of your containers (the nutrients will slowly work their own way in). It is usually low in soil life – so you should also add something like worm compost or manure if you can.
Where to find it:
Contact your local recycling centre or local council. Community growing projects will sometimes get it delivered in bulk and either give it away or sell it an affordable price. Some gardening shops / centres also sell it.
vi) Shop bough compost / grow media
As a more reliable (but more expensive) option to green waste compost, you can also buy new multipurpose or potting compost from the shops or online. Use it in a similar way to green waste – mix it in to add nutrients to your old compost or add a layer to the top of your old compost.
vii) Chicken manure pellets
These contain the main nutrients that plants need and are particularly high in nitrogen. Because plants need nitrogen for leaf growth, these pellets are excellent to rejuvenate old soil that you want to grow leafy veg like salads or kale in. Very, very handy this! Use it in moderation (or not at all) for fruiting crops like beans or tomatoes: add too much and you'll get very leafy plants without many fruits!
How to use it
The guidelines on the packaging are a good place to start. In general I add about a handful or two to each window box size container. Excellent for salads.
Where to find it
Available in most gardening shops, often sold in buckets. Make sure it comes from organic reared chickens.
viii) General purpose organic fertilizer
Bought fertilizer can be very useful – particularly if you haven't got a supply of any of the above ingredients. And, even if you have, it can be useful (in moderation) to help raise nutrient levels. For reusing old compost, you'll want a balanced fertiliser. How do you know if a fertiliser is balanced? Look for the "NPK" details on the side of the packaging – you want one with roughly equal numbers for N P K (something like 5: 5: 5). I'd generally recommend avoiding anything too strong, try and choose one below 8 if you can. (The number refers to the percentage – so N 5 means 5% nitrogen). A common general purpose fertiliser is "blood, fish and bone". There are vegan equivalents, too, but you might have to look around for one.
How to use it
Mix it into the soil before planting. The fertilizer should come with guidelines on how much to add - use these as a starting point, observe the results, then add a little more or less next time. You can also add a sprinkle to the top of the soil (gardeners call this a "top dressing") to top up nutrients as your plants grow.
Where to buy
Online or at gardening stores. In the UK, Fertile Fibre is one company that does vegan fertiliser.  
ix) Biochar
Biochar is charcoal ground fine. It won't add nutrients, but will improve structure and water holding capacity of your growing mix. Biochar needs to be charged with nutrients before you add it to your pots - you can either buy it ready charged or you can add it your wormery or compost heap.
How to use it
Add 5- 15% to your pots to improve structure and water rentention.
Where to find it
You can buy biochar for growers from some gardening shops and online. Coppice workers and charcoal makers may sell raw, untreated biochar to add to your wormery. You can also use artists charcoal or barbeque charcoal, just check that the wood is from a sustainable source. You'll also need to crush it somehow so that it is in small pieces. There is more information on biochar in the video below.  
x) Rock dust
Rock dust is ground up volcanic rock that is rich in trace elements and minerals. It won't provide plants with their basic nutrient needs, but it can contribute both to plant health and flavour. Soil life also benefits from it. Ben Raskin, Head of Horticulture at the Soil Association, explains more about the benefits of biochar and rock dust in this video.
How to use
Mix 5 – 10% into your old compost.
Where to find it
Online or at some garden centres (the UK stock B&Q stock it).   As I said at the beginning, you don't need all the above ingredients by any means. I listed so many in the hope that one or two will be easy for you find. A good place to start is with what you can find locally. Also, its a great idea to start making your own worm compost or compost or bokashi, if you haven't already.  
What works for you?
If you've successfully re-used old compost, I'd be very interested to hear what has worked (or not worked) for you in the comments below.  
Enjoyed this post? You can get my tips, learning and reflections on urban container gardening by email.