Eight crops that are easy to grow, hard to buy
When you're growing in a small space, you want everything you grow to be special in some way. It might be beautiful, delicious, attractive to wildlife, or highly productive (ideally several of these!). I also like to grow a few things that are either impossible or very hard to find in the shops. You get to add new flavours to your cooking - and its fun to share something unusual you've grown yourself with friends - like a sorrel omelette, a tomatillo salsa, or a snack of Chilean guavas.
The range and choice available to the home grower is huge and rapidly growing. Here are eight I've found to be particularly well suited to container growing.
1. Sorrel
It's a mystery to me why sorrel leaves are not more widely available in the shops.  I don't recall ever seeing them for sale, anywhere. It tastes a little like spinach, but with an unmistakable and strong lemon tang to it. It's delicious chopped up and added (in moderation) to a green salad. It makes a superb combination with eggs, like in an omelette. And it forms a classic combination with salmon.
Another joy of sorrel is that it is easy to grow in a container. It only needs three to four hours sun a day (great for a shady backyard or balcony). It will produce leaves all year round - best in autumn and spring. Harvest by picking off the  outer leaves and leaving the inner ones to regrow. It's also a perennial, which means that one plant will last several years.
Two common varieties of sorrel are French sorrel (looks like spinach) and buckler leaf sorrel, which has pretty heart shaped leaves.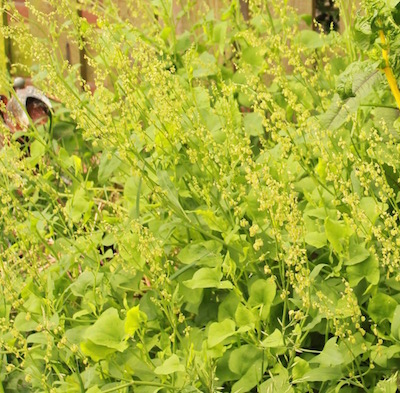 2. Lemon verbena
Lemon verbena also has a lemon flavour, but a wonderfully intense and aromatic one, completely different from sorrel. You use it, like bay leaves, to add flavour. You only need two or three leaves to make a superb herbal tea. Or it is excellent for flavouring cakes and fruit puddings. Author, Mark Diacono recommends making a fruit syrup out of it - add a handful of leaves to equal quantities of sugar and water and warm to infuse. I can't wait to try this. It also makes a vibrant sorbet, a perfect summer desert.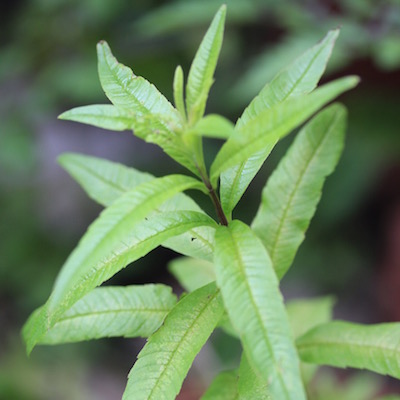 Lemon verbena does best in full sun. It will die back over winter and in cold areas it is advisable to protect it over winter with a fleece. It will then grow back in the spring - sometimes surprisingly late - the twigs can look unpromisingly lifeless but don't give up on them until late May / June.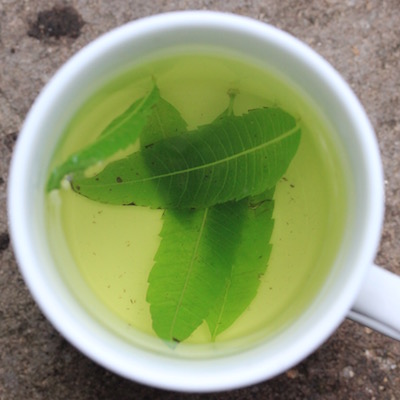 3. Cucumbers
OK, you can buy cucumbers in the shop. But the regimented, smooth and flavourless objects stacked on supermarket shelves are an entirely different beast from those you grow yourself. Home grown, they are often spiny, chubby little things. Cut them open to reveal a wonderful, almost perfumed smell. The taste is delicious and perfect for summer meals. If you've never tried a homegrown cucumber, I urge you to give it a go.
The variety Marketmore is a good one for containers. It's a good climber so makes good use of a small space. The smallest container I'd use is 10 litres - or two plants in a 20 litre container. It needs at least half a day of sun. Feed occasionally with tomato feed when it starts fruiting.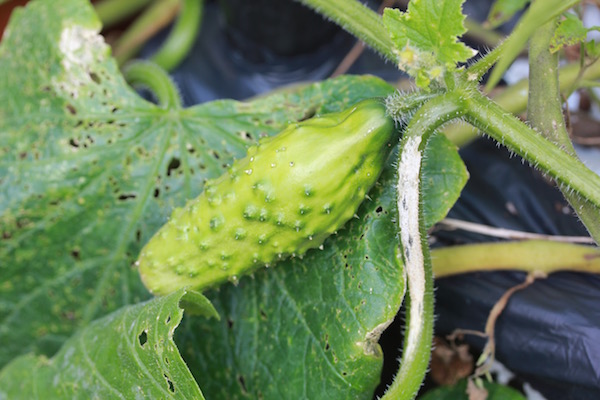 4. Tomatillos
Tomatillos are related to tomatoes, but with a slightly sharper taster and a firmer texture. They make a delicious salsa.
The plants grow big and bushy in containers (be aware!) and, if happy, will be extremely productive. They need lots of sun (more than half a day), and I'd use at least a fifteen or twenty litre pot for each plant, and feed regularly with tomato feed while fruiting. You also need to grow two plants or more as they need to cross pollinate (I nearly forgot that this year!).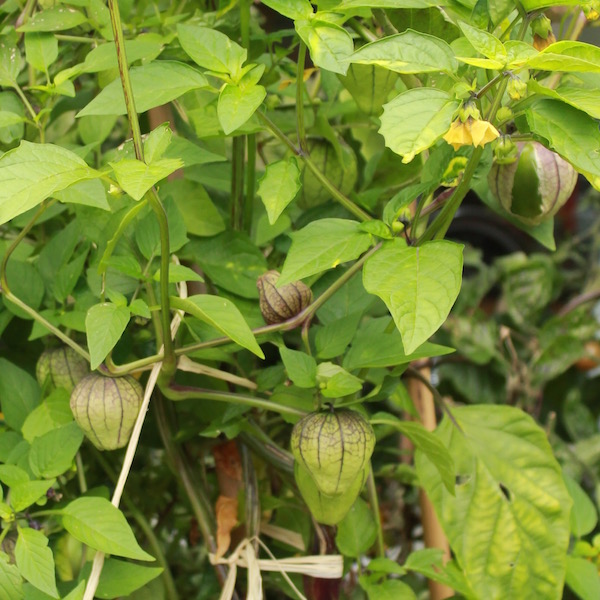 5. Fat baby achocha
Like tomatillos, this is another South American crop. It's easy to grow (as long as you have at least half a day's sun), climbs vigorously, and fruits productively. Most fun of all, it produces extraordinary, alien like fruit, that are a great talking point. Kids find them hilarious.
In the kitchen the fruits taste like a cross between peppers, cucumber and lemons. They are good in a salsa or lightly fried like peppers in tomato sauce. However, you should know that the taste is not universally acclaimed! Having said that, I like them (so does my wife) - and it's a great fun crop to grow so I think they are well worth a bash.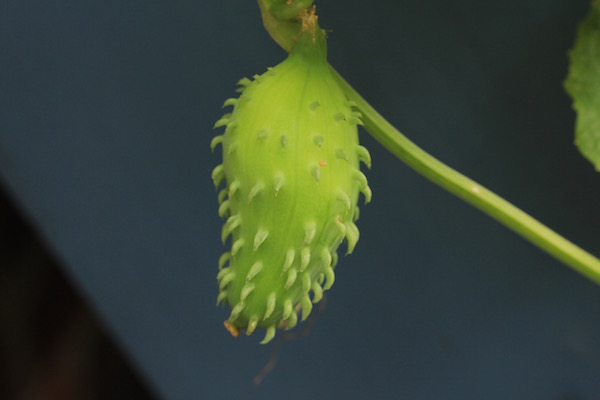 6. Chilean Guavas
This pretty shrub produces fruits that taste like peppery strawberries. Not only is it reputed to be Queen Victoria's favourite fruit, it's also Paul at Edulis Nursery's  favourite. Paul grows many different fruits he collects himself from all over the world - so he has lots to compare it with (mind you, I'm sure Queen Victoria tried a few, too).
The berries are so delicious that you'll probably find that you (and family and friends) find it hard to resist snacking on them whenever they are in reach. It's likely that few berries will get as far as the kitchen.
It does well in a container (start baby plants in five litre containers, moving up to a final pot size of fifteen litres after three years or so), and needs about five - six hours sun (around half a day). It doesn't like strong winds so is not the best choice for windy balconies. It's hardy down to about -5 or -10 degrees - so will be fine outside in winter in warmer cities like London, but will need protection in cooler places (I put mine in a home made cold frame). There is also a variegated version ('
Flambeau
') which Paul says is hardier - so the best choice for cooler places.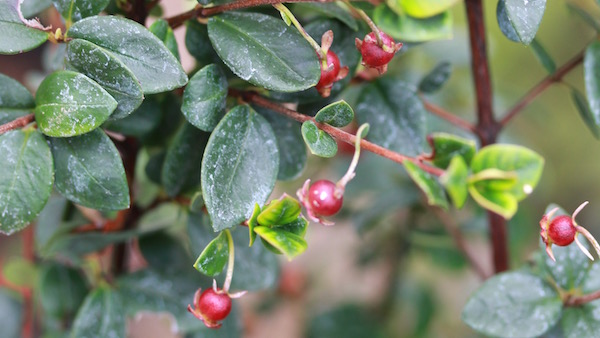 7. Red Russian Kale
This variety of kale makes a super container crop for two reasons. It's red stem and frilly leaves make it one of the most attractive kales. And, unlike most other kales, the stem doesn't go tough but remains tender - to the point where even large leaves can be chopped and added raw to salads. Or try it lightly steamed for a couple of minutes in a drop of water and sesame oil (good tip from Raymond Blanc!). Delicious - as well as being one of the most nutritious crops you can grow.
A good time to sow kale is in summer (July or August in the UK). If you harvest it sparingly (pick the outer leaves) you'll get leaves throughout the later autumn, winter and spring. It only needs three to fours sun a day to grow well.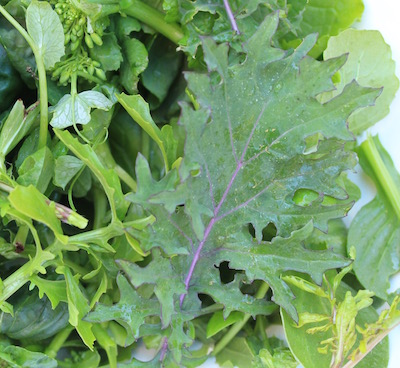 8. Edible flowers
Edible flowers can transform the presentation of almost any dish. They're almost impossible to buy so are brilliant to grow yourself - and don't need much space. The nasturtium, with its delicious spicy flowers, and edible leaves must be number one. Violas (for winter flowers) and pot marigolds are up there, too.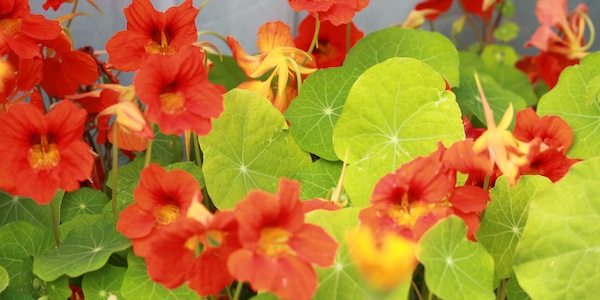 Of course growing edible flowers will brighten your container garden, too. As well as eating them, I alway pick a few each year to display in a jam jar vase. They look much nicer than most flowers you can buy, in my humble opinion.
And don't forget to eat some of your courgette / zucchini / squash flowers. In the UK chefs have to pay around £2 for each flower - so they are valuable as well as being delicious!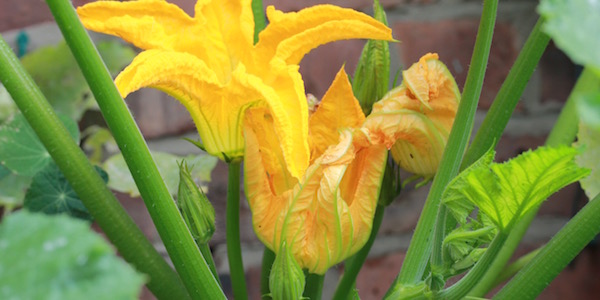 Your turn
Of course there are many other wonderful crops you can grow that are hard to find in the shops. I'd love to hear what your favourites are in the comments below.
Enjoyed this post? You can get my tips, learning and reflections on urban container gardening by email.