49 ways to use mint (and how to grow it in containers)
How would you use a surplus of mint?
I asked the question on the
Vertical Veg Facebook page
.  More people responded than ever - and with so many delicious, fun and creative ideas. Here are some of the best (thanks to all of you who contributed!).
Mint is a brilliant and easy crops to grow in containers. For tips on who to make yours thrive, see the bottom of this post.
49 ways to use mint
Invite friends to a Mojito Party (Darja Fišer); Mojito! What do you mean SURPLUS mint? (Mariquez Troost)
Run fresh pineapple through the blender along with mint leaves and pour into pop-cycle molds. Yum!!!! (Suzi Lindsay Vause)
Plant it in every empty lot in the neighborhood. (Maryann Wells Molina)
Make Choc Mint frozen yoghurt (Yasmin Maria El-Minyawi)
Make mint sauce (Christine Crabb)
Take it inside! It keeps the spiders away ! (Gregory Blanton)
Make a chocolate mint cake (Terry De Vivo-Locaciato)
It's good frozen into ice cubes for another day… (Vera Williams)
Minty mushy peas (Paulie Jones)
Mint jam (Fiona Joi RossiCone)
To have in Taboulleh (Petra Jenkins)
Good for colds and acid reflux, sprains, muscle soreness, or just good to look at and smell (Judy Altice)
Make mint chutney, various recipes use mint, coriander, onions, chilli, lemon (Liz Rowles)
Use it to keep rodents away (Daya Doris Hargrave)
Enjoy minty Arabian tea as often as I want! (Carol de la Haye)
Olive oil and mint ice cubes (Panos Pomonis Fresh)
Mint julep, fantastic for beating this heat!  (Leah White Stewart)
Make into a simple syrup use in drinks and cooking (Leah White Stewart)
Mint Jelly. Makes a fabulous, much appreciated Yule gift. (Kecia Sparlin)
Dry it for tea this winter (Sun Enge)
New potatoes and mint. (Helen Warner)
If u don't want to use toothpaste because it has chemicals in it . U can brush with baking soda and chew a mint leaf after. (Donna Baggett Van Atta)
Put a few in your glass of water… (Phyllis Martin Wolff)
I use mine to make dog biscuits. Help with the dog breath and my pup loves them! (Meleco Arts)
Make sugar-mint syrup and pour over cold melons or fresh fruit salad! (Inbar Maayan)
Blitz them with coriander, green chillies, salt onion and tomato for chutneys. (Mridula Rani Sharma)
Bunches hanging up as room fresheners, and when they get stale use as mulch. (Sandra McHarg)
Fresh peas cooked with a mint leaf. Yummy! (Glenna James)
When you've run out of ways to enjoy it take it to a food swap and swap it with a neighbour for something you don't have. (Tiffany Westphal)
Well I made two different marinades/salad dressings, once was an apricot dressing w/ mint, the last was a lemon mint quinoa "salad". (Lisa Brady)
Give it to my friend, her lizard loves the stuff. (Kenney Hodson)
Minted spaghetti sauce (Carol Gernon Hunter)
Mint tea is great for settling a tummy ache (Patricia Smith)
Dry and than make Thatziki (Ak Alp)
Give it to a Vietnamese restaurant for their rolls they roll in lettuce and mint. So wonderful! (Abby Robinson)
Juice it and drink it you will smell amazing! Freeze any extra juice. (Scott Muirhead)
I'm using it fresh in dolmades and chocolate mint in watermelon salad. (Catherin Gregory)
I had so much last year - apple, chocolate, ginger, grapefruit, pineapple and peppermint - I took great armfuls of it to the local cafe bar where they had great fun experimenting with it for future dishes/drinks. (Saffron Gardenchild ).
I dry it and sell the *tea* at the farmers market. (Patricia Smith)
Offer it to an old peoples home so they can use it in fresh mint teas…….. (Gigi Camille Llewellyn Navana) ·
I have made mint pudding by soaking mint in milk overnight, then straining and cooking with that milk. (MaryAlice Denson)
Lovely couscous with chopped mint, raisins, harissa, sumac, pine nuts and cranberries - whatever you like! (Matt Dolman)
Make Mint jelly with either apple or gooseberries (Linda Ridsdill Smith)
Put it in spring rolls, with avocado and other veggies and a peanut sauce, it's the best! (Émilie René-Véronneau)
Make a mint tincture - great for upset stomachs & wind (Mark O'Sullivan)
Give it to friends and neighbors (Didi Steen)
Use it as a garnish (Terry De Vivo-Locaciato)
Dry & Give as Christmas gifts for tea. (Tricia Hensley Marks)
Give a empty large yogurt container with a mint planted in to anyone i knew in a basement suite to help them avoid unexpected guests of the furry and six-legged kind (Sam Esmeralda)
How to grow healthy mint in a container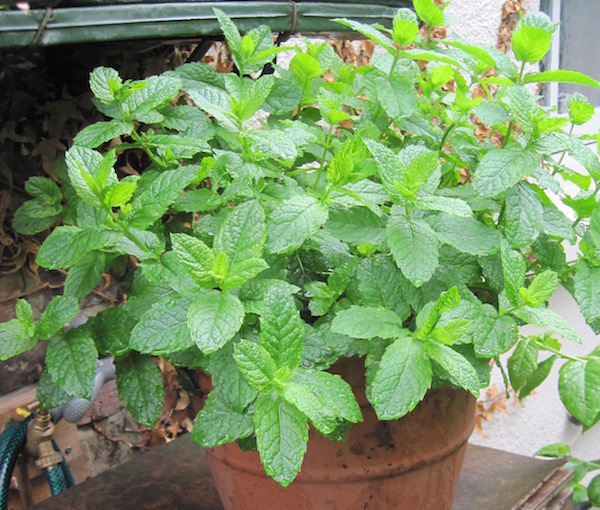 Pot size
Mint will struggle along in a half litre pot, but it'll be happier and more productive in something bigger - like a 2  or 5 litres. I grow mine in five litre pots with small water reservoirs, where they do great.
Sun
Mint will grow fine with just a couple of hours sun a day - so an excellent one for a shady window sill or balcony.
Feeding
Mint is a hungry plant and can become unhappy in a container if not fed. Feed it every week or two in spring and summer with a liquid feed - seaweed is perfect, if you have it, or worm wee or nettle tea (if you don't mind the whiff). Or, alternatively, add a few chicken manure pellets or a handful of worm compost to the top of the pot every six weeks or so.
Water
Mint likes plenty of water - another reason to grow it in a bigger pot as it will dry out less quickly.
Maintenance
Mint may become a bit sad if left in the same pot for more than a year. The roots can fill up the container and it runs out of energy. To rejuvenate it, take the mint out of the pot and divide it into half or quarters. Repot each bit into its own pot, add some fresh compost, and, hey presto, your mint should be happy again. As a bonus, you'll have extra extra mint plants for your container garden - or to give away to friends (lovely present, particularly if you can find a particularly tasty or unusual variety of mint).
Which mint?
There are many varieties of mint, with different tastes and different uses. Try them to find one you like. My favourites include Moroccan mint (be aware: not all mint sold as 'Moroccan' has the full mint kick of proper Moroccan mint) for tea and cooking, garden mint for salads, and chocolate mint for tea and deserts. Ginger mint and pineapple mint are lovely, too.
Your turn
What's your favourite way to use mint? I'd love to hear in the comments.  
Enjoyed this post? You can get my tips, learning and reflections on urban container gardening by email.