Food Security: Can small space growing feed us in the future?
Can growing food in small urban places make any meaningful contribution to a sustainable food supply in the future?
I'm inspired to write this post by BBC Radio 4's Costing the Earth programme, Can Britain Feed Itself, (listen on BBC Iplayer) - in which Vertical Veg had a small cameo.
Let's start by acknowledging that small space growing can probably never meet all - or even a major part - of our food needs. Most of our high calorie, cereal crops like wheat, for example, require acres of space.  They will probably always need to be grown outside the city.
The value of crops from small urban spaces
However, many small urban spaces are highly suitable for growing salad leaves, herbs and soft fruit. The good news is that these crops are both high in value and nutritional content. By growing these at home, there is potential for large numbers of people to supplement their diets with super fresh, affordable, nutritious food.  These crops are also highly perishable - so growing them at home can impact on food waste and the need for temperature controlled transport and storage.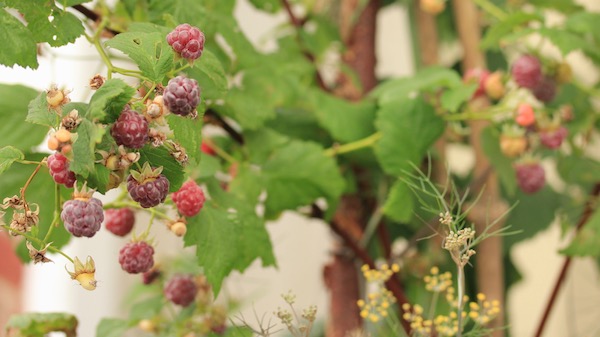 How much can actually be grown at home in the city?
To give you some examples of what can be achieved in small spaces. On my balcony and window sills in London, I grew nearly £900 of food in a year. This included the equivalent of 242 packs of salad and stir fry leaves (24.2 kg), 165 packs of herbs (3.3kg), and 113 cartons tomatoes (28.4kg). In my Newcastle concrete backyard I grew over £500 of food in six months. This included 110 packs of salad and microgreens (11.3kg), 82 punnets of cherry tomatoes (20.5kg), and 70 packs of herbs (1.4kg).
What % of the annual food bill is this?
What proportion of my family's (two adults, two small children) food do these harvests represent? As a rough back of the envelope calculation, my family spends about £100 a week on food, or £5,200 in a year. So, in financial terms, the £900 balcony harvests equates to 17% of our annual food budget. No doubt it represents significantly less than 17% of our calories, but perhaps a higher proportion of other essential nutrients.
It is probably worth pointing out that my family might never have bought all the £900 of food we grew if we had to pay for it - particularly the 165 packs of herbs. But having herbs on your doorstep has other knock on affects. Home grown herbs enable you to cook tasty meals with cheaper ingredients. For example a simple bowl of brown rice or lentils can be transformed with a few handfuls of fresh herbs. 
What is the potential of small space growing?
Of course not everyone has the time or inclination to grow food at home. And not all homes have a balcony, patio, yard, roof terrace or other space that is suitable for much growing. But if, for example (in my dreams!), 20% of people grew 10% of their food, that could equate to 2% of a cities food supply. And then if other small, disused spaces in the city (like industrial rooftops and old council greenhouse like OrganicLea) were converted to organic food growing, this figure could be increased further, without any need for high-tech vertical farms. While these figures are small, they are not insignificant. Imagine if we needed 5 - 10% less land outside the city to grow all our food - or if we needed to import 5 - 10 % less…
The opportunity to reshape our food system
These figures are conjecture, of course. But whatever the precise figures, small space urban growing offers us an exciting opportunity to help reshape our food system, to grow more food closer to where we eat it, and to reconnect more people in cities to their food. There is evidence to suggest that part of our current food health crisis is due to our disconnection from our food - touching, smelling, picking the plant is important it turns out. Processed and plastic packaged food in supermarkets simply do not stimulate the senses in the same way.  One consequence is that people who grow food are more likely to eat the recommended number of vegetables, for example.
As well as the health benefits, edible plants green our concrete streets, support pollinators and bring people from diverse communities together.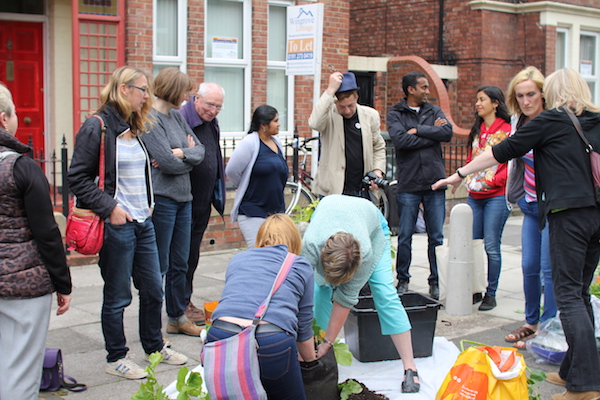 We can all be farmers
The brilliant thing about small space growing is that most homes have a window sill or a balcony or even a bit of space inside where a little food can be grown. Even just a few herbs or microgreens can give a lot of pleasure, supplement a supermarket diet, and reconnect more of us with the experience of eating fresh, homegrown food. And even make a small contribution to a sustainable food supply.
Enjoyed this post? You can get my tips, learning and reflections on urban container gardening by email.