How to grow year round flavour in a small space
One of the exciting things about container growing is that, even in small spaces, it's possible to grow enough to transform most of your meals with highly flavoured leaves and herbs.
In my front yard I have a couple of home made growing ladders (pictured above) that I think of as a "flavour cabinet". These are plants that I can pick leaves from for most of the year, and that can lift staple foods like rice and potatoes, home made soups or salads, into delicious meals. Most of these plants are perennial (will last for three years or more), and easy to grow and look after. Many are hard to buy in the shops, and will add valuable diversity to your diet. (Most nutritionists seem to agree that we need to eat a wider range of fruit and veg!).
Create a Flavour Cabinet
Below are  some of the plants in my 'flavour cabinet' today, along with some of the ways we use them. I can honestly say that growing like this has changed how we eat. 'Healthy' ingredients just taste so much better with a whole heap of herbs! By using ladders like this, you don't need much outside space to grow your own living herb larder. It's one of the best ways to make the most of a small space, and enjoy your own home grown ingredients for most days of the year.
Oregano
This has a super summery flavour that I add to salads two or three times a week.  It's also nice with tomato sauces and other Mediterranean dishes.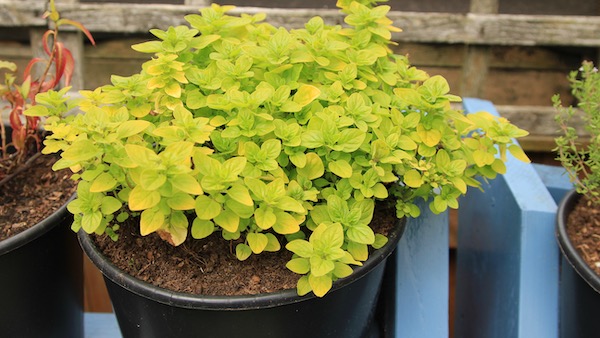 This variety or oregano has vibrant yellow leaves that look very pretty in salads.
Sorrel
Has a sharp lemony flavour. Add in small quantities to lift salads. It also goes fantastically well with eggs (try a sorrel omelette) and fish. I have two varieties: French sorrel (large leaves that need shredding, best variety for cooking). And Buckler leaf sorrel, with smaller leaves, ideal for salads.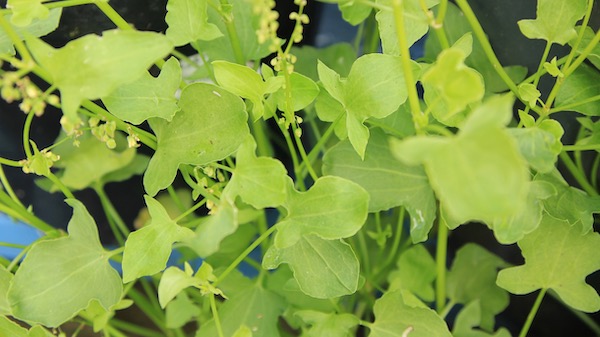 Buckler leaf sorrel: the heart shaped leaves are pretty in salads.
Mint
Essential! Add it to grain and green salads (lovely with pea shoots for example), new potatoes, in huge handfuls to pea soup, or use it for tea, smoothies and cocktails- and in many other ways.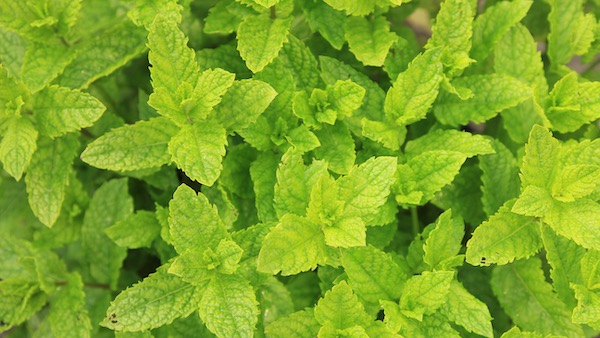 Few plants have more uses than mint!
Tarragon
Pungent, aniseed flavour, and superb in salads, with eggs, mushrooms, fish and chicken.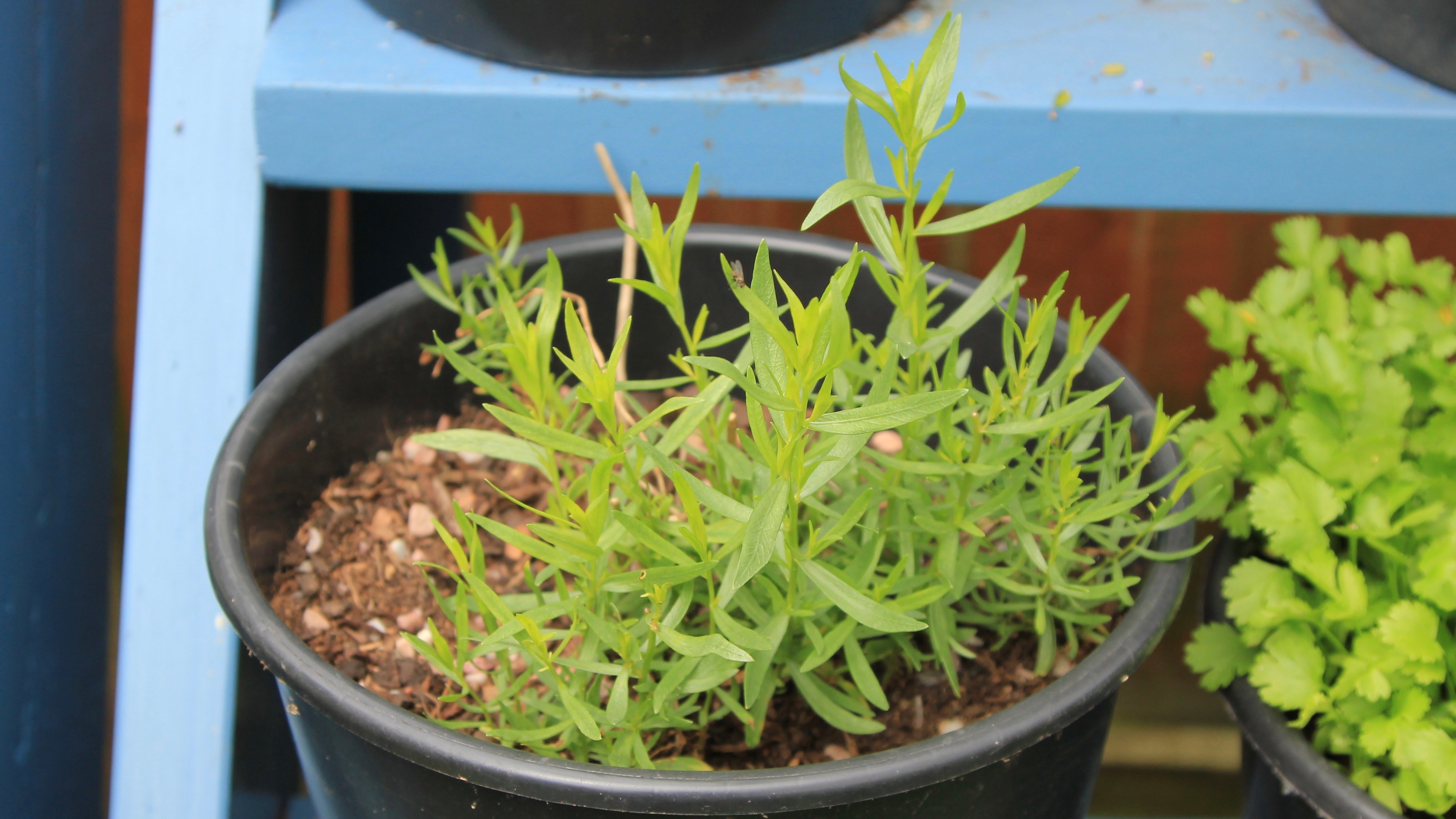 Tarragon - highly flavoured, and just getting established again after winter.
Parsley
Another one we use several times a week in soups, in grain salads, with potatoes, and many other ways.
Coriander
Is brilliant for salsas and curries, and adds zip to salads.
Scots lovage
A smaller version to common lovage (which grows into a huge thug!), Scots lovage (Ligusticum scoticum) is more suitable for pots. It does have a slightly different flavour, but I love it. I use it all the time as background flavouring for soups (similar to celery) and risottos, and occasionally finely shredded in salads (add in small quantities). The flowers are edible and have a beautiful perfumed flavour.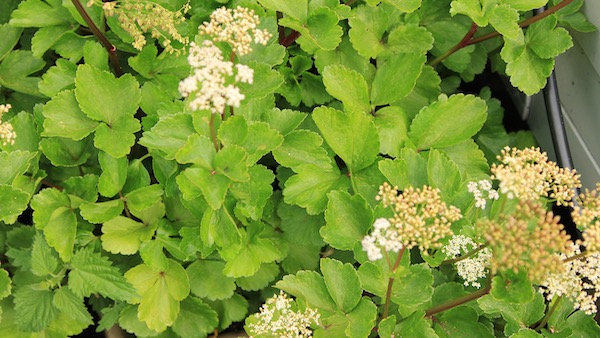 Pretty and great for making stocks, Scots lovage has edible flowers, too.
Tulbaghia fairy star
Tulbaghia fairy star is similar to society garlic (tulbaghia violacea) and I prefer it. It produces beautiful, garlic flavoured edible flowers for six months or more. The flowers add flavour and beauty to salads or can be used as a garnish.  The leaves are also edible - use them like chives.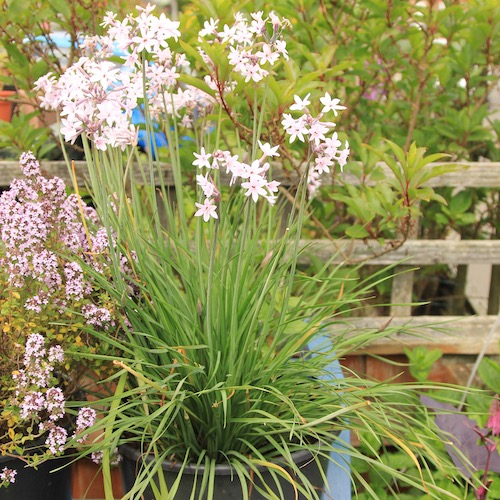 Tulbaghia fairy star has edible leaves and flowers - and flowers for months!
Thyme
An essential flavouring for most soups. Herbs like this make home made soups such an enjoyable part of our daily meals. There is also lemon thyme on the ladder - this is lovely with fish and also in a fruit salad with peaches and plums.
Vietnamese coriander
This is strong and spicy and great in stir fries, spicy soups and salads. It has completely different flavour to normal coriander and is much easier to grow. This one is still recovering from the cold winter, but I anticipate it will take off soon.
Watercress
For adding a tasty, peppery flavour to salads.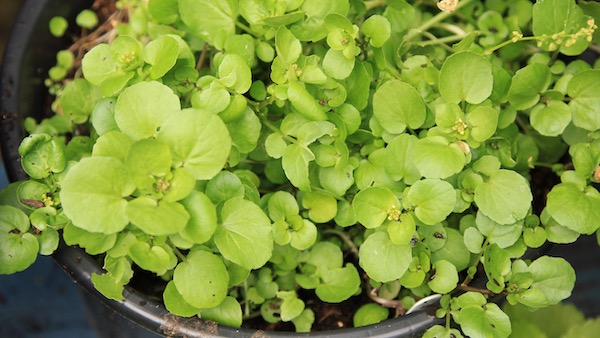 Surprisingly, watercress does not seem to need especially wet soil, and grows well in containers.
Oyster leaf
A native to Scotland, this really has a flavour reminiscent of oysters. Add it to salads or use it as a garnish to fish dishes.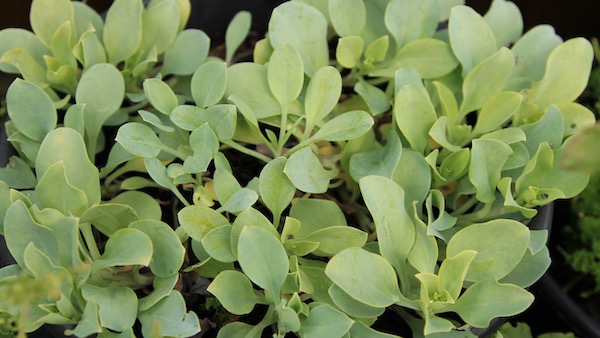 An unusual salad plant with a taste of the sea is Oyster leaf. It has pretty purple flowers in summer, too. 
Lemon grass
Quite easy to grow from supermarket lemon grass stalks. Use the leaves to make tea and the stalks for Thai and Vietnamese dishes.
Garlic chives
Similar to normal chives but with a garlic flavour, good in salads, as a garnish on soups, and an alternative to spring onions. It also has pretty flowers in late summer.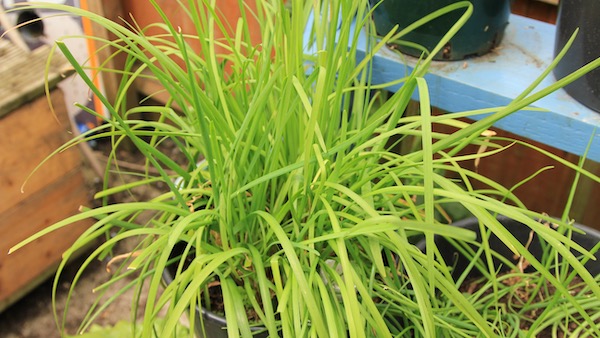 Garlic chives are a nice alternative to common chives - and the flower later in the year, too. Grow both! 
Other options
The above is just a small selection of the wide range of highly flavoured plants that you can grow in containers. Other herbs I have dotted round in containers in my front and back yard include: bay, sage, rosemary, lemon verbena, chervil, myrtle,  basil, savory, lavender, chives and scented pelargoniums.
Your turn
What are your favourite highly flavoured plants to grow in your container garden - and how do you use them in your kitchen? I'd love to learn from your experience.  
Enjoyed this post? You can get my tips, learning and reflections on urban container gardening by email.