Podcast: Nepal - Rajendra's rooftop
Rajendra Lamichhane grows food and flowers on his rooftop in Kathmandu, Nepal. He kindly recorded this podcast in two parts for us
Part 1: Growing in Kathmandu
Rajendra tells us all about his rooftop growing: the local climate, how he gets containers and seeds, what he uses for soil, and how he waters and feeds his plants. We learn about the pests (some very familiar to us in the UK!) that visit his rooftop. Finally he offers some top tips for anyone starting to grow in containers in Kathmandu - or anywhere! [audio mp3="/wp-content/uploads/2019/08/Nepal-Rajendra-part-1....mp3"][/audio]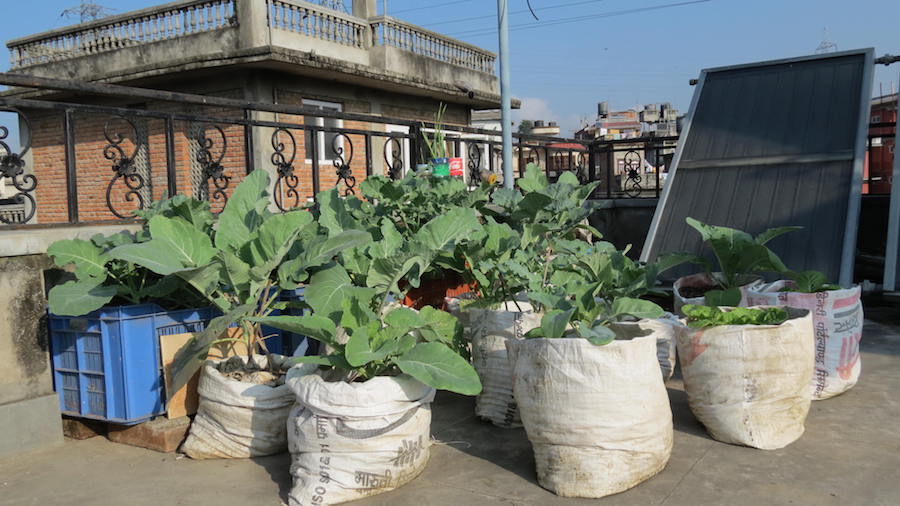 Using rice bags as containers. Rajendra fills these with soil from the garden, some with added coco peat (coir). He feeds them with home made worm compost and sometimes mustard cake meal.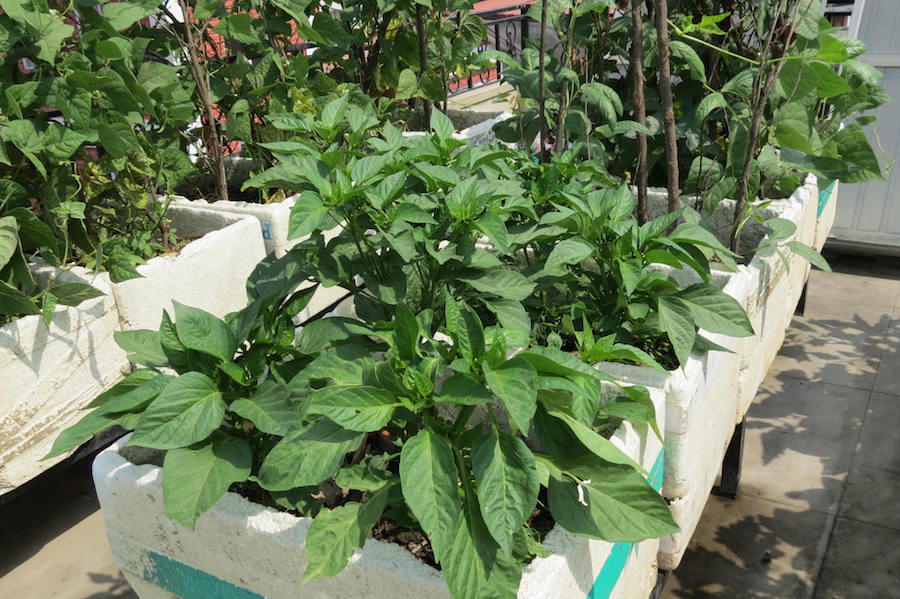 These boxes make excellent recycled containers. They are raised up to prevent soil collecting and damaging the roof.
Part 2: The joys of growing and how it can make a wider difference
Rajendra shares why he enjoys looking after his garden, harvesting his own fresh produce, and watching wildlife that visits. He explains how home growing cuts waste (a huge issue in Kathmandu and other large cities) because people can recycle it in compost. And how it also enables people to eat more food without pesticide residues. Then he shares ideas on how to encourage more people to start growing, including providing people with containers and seeds, and offering an annual prizes for the best rooftops gardens. He finishes by saying that although many people perceive growing food like this to be a small thing it can actually make a very big difference to the city. Because it adds greenery, provides healthy food, supports wildlife and helps people feel happy. [audio mp3="/wp-content/uploads/2019/08/Nepal-Rajendra-Pt-2....mp3"][/audio]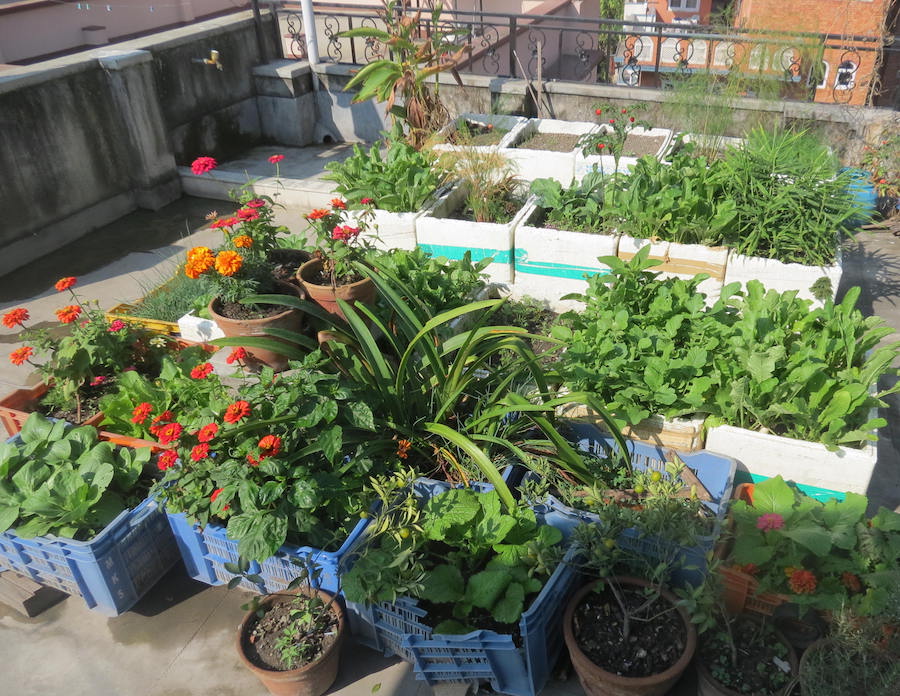 Rajendra grows a mix of veg and flowers. The flowers add colour and beauty and attract pollinators and other wildlife.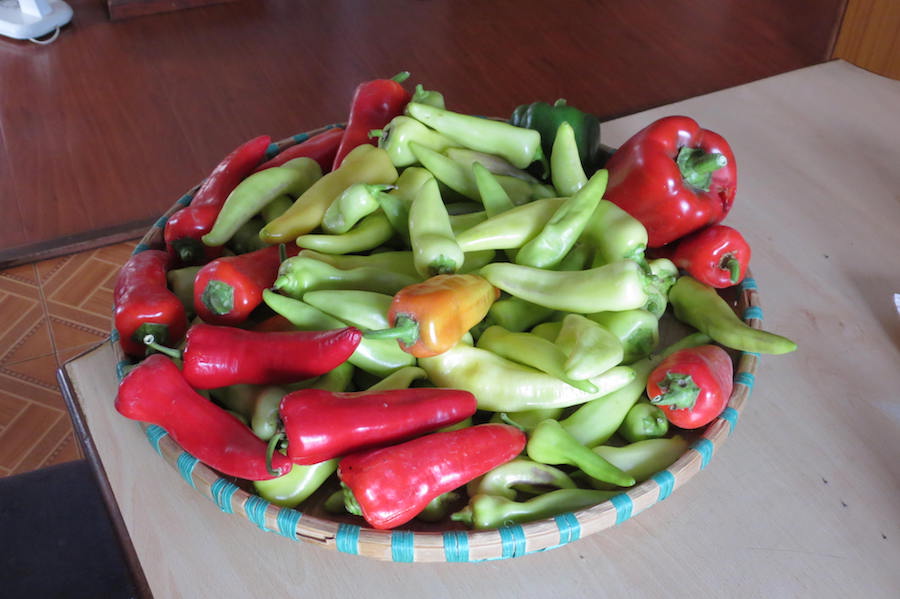 A harvest of banana sweet peppers from Rajendra's containers.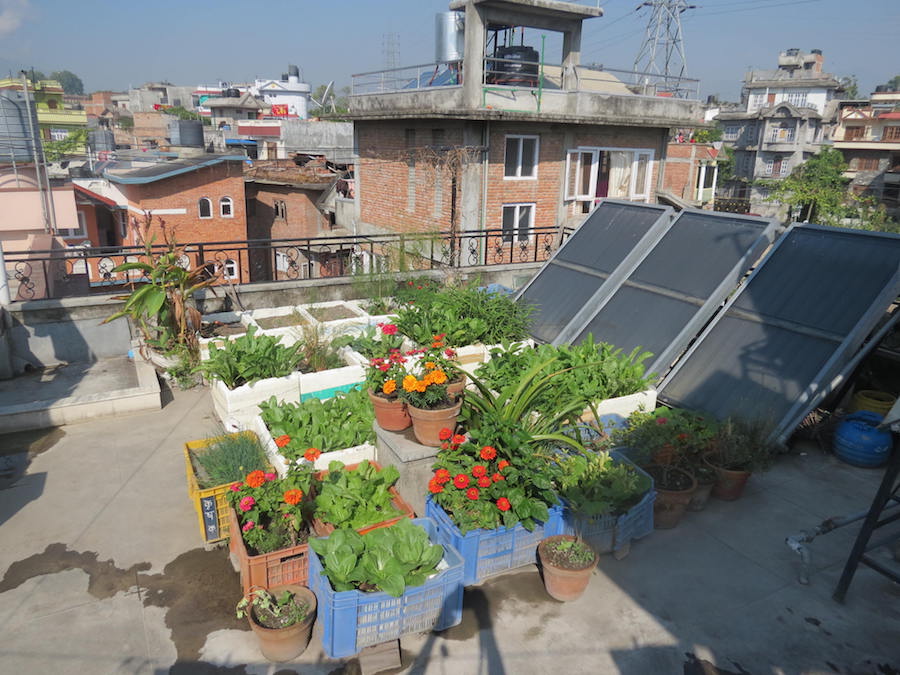 Many people perceive rooftop growing as a small thing - but it actually has potential to make a big difference to the city, says Rajendra.
Enjoyed this post? You can get my tips, learning and reflections on urban container gardening by email.