Which containers with reservoirs are best for food growing?
Containers with water reservoirs (sometimes known as SIPs or Sub Irrigated Planters) have some big advantages for food growing, including higher yields and being easier to water. Thirsty crops like tomatoes and runner beans do particularly well in them. If you don't have the time or tools to make your own, this post reviews some of the models you can buy.
DIY or Shop bought?
It's possible to make your own containers with reservoirs. This can be time consuming but it will save you money, and you can re-use waste materials. You'll find a variety of different DIY models on the web, including this and this that I've written about. While DIY containers can be very good, the best commercial models tend to be better designed, longer lasting and easier to look after and maintain. For keen growers they can be a good investment and are worth considering.
Commercial models
Disclosure: I do not receive commission on sales of any of these products. I also purchased them all at full price, except the Noocity one, which I was given to test. 
The Earthbox
Pros
The Original Earthbox was one of the first containers to be made with reservoirs. Clearly a lot of thought and work went into the design. It's strong, a good size for most vegetables (15 gallons / 60 litres), and very durable. I have some over ten years old and they look as good as new. Full of soil, it is heavy, but removable wheels make it easy to move around. It comes with a guide on how to set up and use it, including a very handy  planting plan for different crops (few other manufactures make the effort to do this). The reservoir holds 3 gallons / 15 litres. This is enough to give most crops a plentiful water supply for at least for 24 hours. Fully grown tomatoes will still need watering nearly every day, however, particularly in hot or windy weather. The Earthbox has an innovative way of feeding - the fertiliser is buried under a plastic mulch. This gives excellent results and saves time liquid feeding.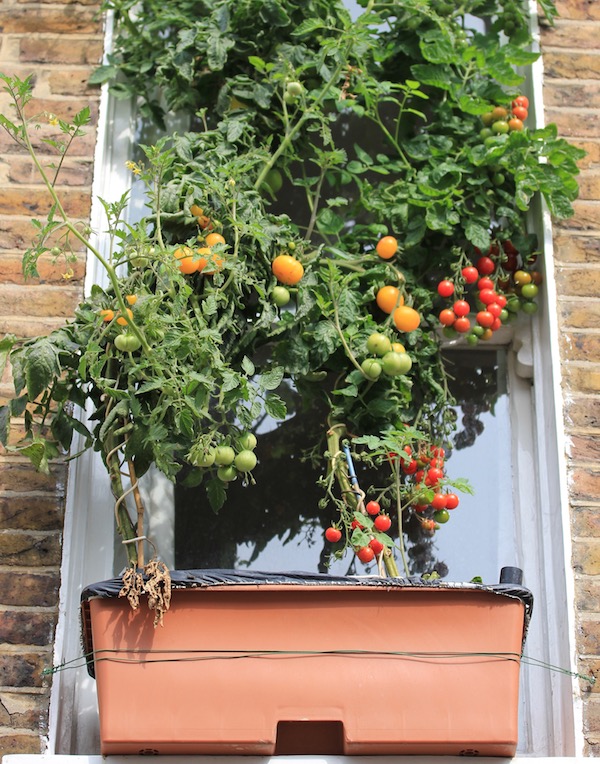 Earthboxes are well designed for growing high yields of vegetables. These were on my windowsill in London. You can see the plastic mulch on the top and the fill tube to the right.
Cons
The looks are functional rather than beautiful. Replacement fertiliser kits and plastic mulch kits are costly - but luckily unnecessary, as you can use any balanced fertiliser and make your own plastic covers (I use old compost bags). The other drawback for UK growers is that there no longer seems to be an official Earthbox distributor in the UK. This means they can be hard to find or sold at inflated prices.
Summary
The Earthbox is a brilliant, all round, long lasting container, highly recommended if you can find them at a reasonable price. I use the Original Earthbox, but a smaller Junior Earthbox and one for root veg are also available.
The Quadgrow
Pros
The Quadgrow consists of four individual pots that sit on top of a huge water reservoir. Each container has a strip of capillary matting that draws water up from the reservoir.  The water reservoir holds 30 litres / 6.5 gallons of water, which is usually enough to keep tomatoes in water for at least a week, sometimes two. This makes them an excellent choice if you want to grow tomatoes or chillies on your balcony or patio but are unable to water regularly. A simple holiday watering system is also available separately to further extend water holding capacity. I've grown in two Quadgrows for five years and find them to be reliable and to give excellent results.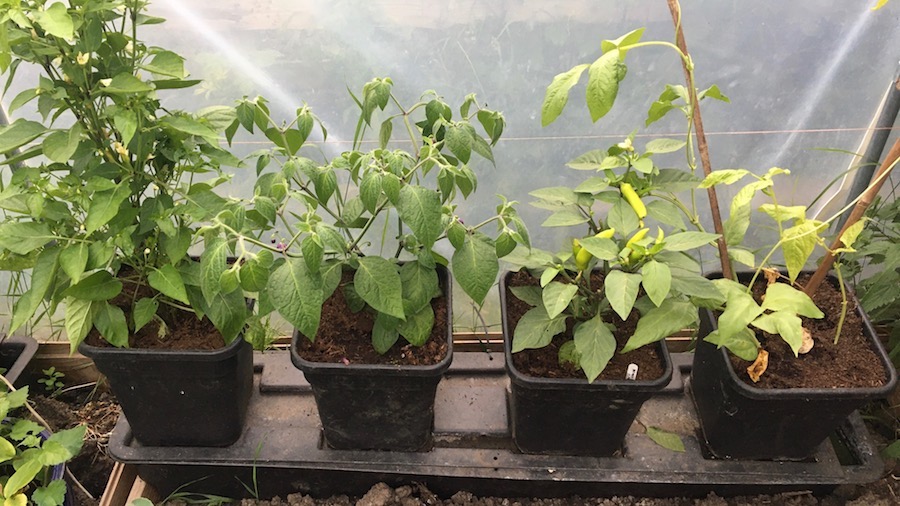 Young chillies and yard long beans growing in a Quadgrow.
Cons
The four containers that sit on the reservoir are quite small, making them less versatile than the Earthbox. However, if you want to grow cherry tomatoes, cucumbers, chillies or aubergines the size is fine.  The growing system relies on a special liquid fertiliser that is added to the reservoir. This works well, but my personal preference is to grow in a larger volume of soil and use more natural fertilisers like worm compost.  The size and length of the reservoir makes it a bit unwieldy but there are smaller models available (see summary). The capillary matting wicks need changing every year or two - you can buy these or they are easy to make yourself.
Summary
I've shared a fair few cons but the Quadgrow is a very good product - and particularly if you are unable to water regularly. The manufacturer, Greenhouse Sensation also make smaller versions including the Duogrow and two sizes of Salad Planters.
Stewart Balconniere Planters
Pros
Stewart make a range of 'Balconniere' planters with reservoirs - the small (30cm) size is good for herbs that like plenty of water (eg mint, Vietnamese coriander), the larger ones (40cm) for fruiting veg like tomatoes. The trough is useful for growing salads on a hot balcony or other sun trap. They are lower cost, quite long lasting, and perfectly functional.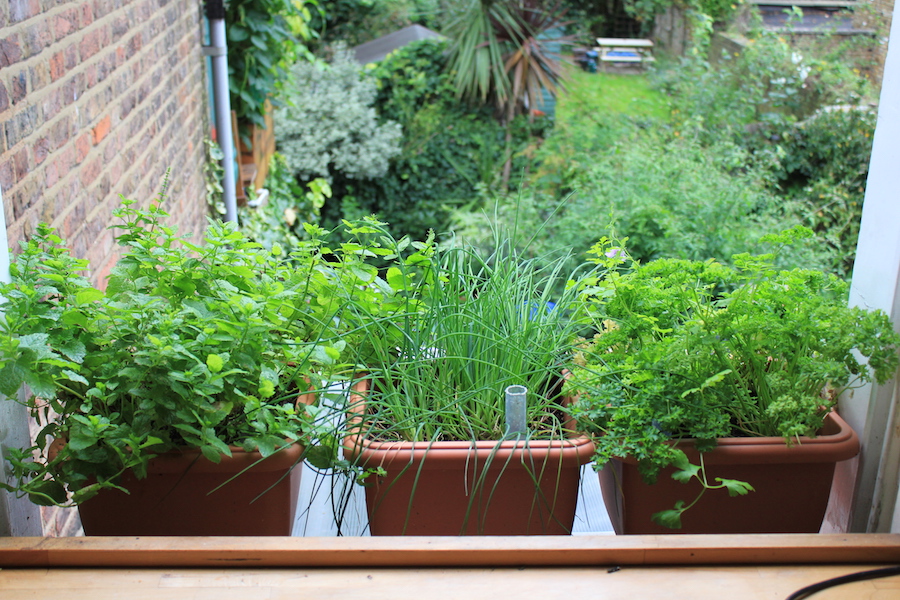 These 30 cm Stewart planters with reservoirs are a convenient size for herbs and chillies.
Cons
Not as durable or as well designed as the Earthbox or Quadgrow, and the reservoir is small (but still better than no reservoir).
Summary
This is a significantly lower spec container than the Earthbox and Quadgrow, but, for the price, still a reasonable planter - and the range of sizes is useful.
Noocity
Pros
Noocity is a small Portuguese company, passionate about growing and sustainability. They gave me one of their first containers to try about five years ago. At 65cm x 125cm, it's the largest container with reservoir I've used. The large size makes it easy to grow in, and very flexible as to what you grow in it - almost any veg would do well. The reservoir holds enough water to last a few days, even a week or more before it needs refilling. Despite it's size, the materials (canvas and steel) are lightweight and strong and it is relatively easy to set up. It seems well made and durable - mine is still going strong after five years.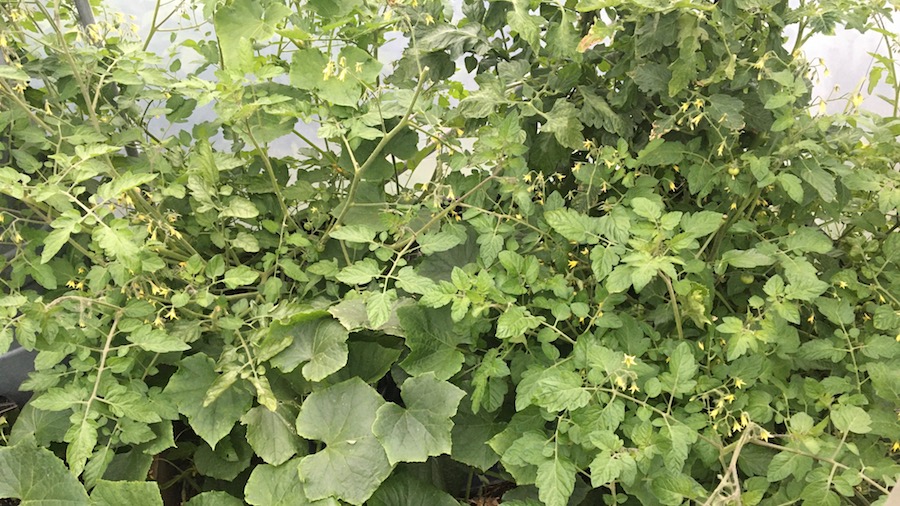 Buried under this mass of foliage is a Noocity planter! For more pics see the Noocity website.
Cons
Once full of soil it is heavy and not easy to move. A lot of potting mix is needed to fill it. The model I have is too large for some small spaces, but a smaller model is now available. It's also not a low cost option.
Summary
A great choice for serious food growing - if you have the space and budget. The large reservoir also makes it suitable for those who are unable to water regularly.
Other Brands and budget models
There are many other brands on the market that I haven't tried yet - if you have, I'd love to hear how you found them in the comments. For example, Lechuza make stylish models, not cheap, but they look great quality. Some of the Elho range also have reservoirs and look worth checking out. For budget models, keep an eye out in discounts stores and supermarkets that increasingly stock them. But be wary of cheap plastic that may only last a few years, and poor design (I've seen models without overflow holes which makes them prone to waterlogging).
Your Turn
I'd love to hear about your experience of containers with reservoirs. How do you find them and do you buy or go DIY? And if you've tried a specific model, I'd love to hear how you found it.
Enjoyed this post? You can get my tips, learning and reflections on urban container gardening by email.