Starting an edible garden in containers - what to grow first? 
It can be hard to know what to grow first when you start a container garden - there are just so many possibilities! Exciting but also sometimes a bit overwhelming. I hope the ideas below will help.  
Many people find it works well to start off with the easy and fast crops - to build confidence and gain experience. And it's rewarding and motivating to get your first delicious harvest quickly. Luckily, many of these also make any list of best crops for small spaces, regardless of how easy they are to grow. 
While I am going to share some of the easiest in this post, bear in mind that you can grow almost anything you want in containers - few things are actually that difficult! Just follow the simple steps in my free pdf guide and you'll be successful more often than not. So don't be dissuaded from trying anything you are excited to grow! Give it a go with an open mind and don't worry if it doesn't work.    
When choosing what to grow, it's also important to take into account how much sun your growing area gets. Again, there are more details in my free guide - but in summary, fruiting crops like tomatoes, squash and chillies need at least six hours sun a day. Root vegetables like potatoes and carrots and peas and beans need at least 5 hours sun a day. And leafy crops like salads, kale, spinach and most of the herbs will usually grow fine in just 3 - 4 hours sun a day. Observe your space first to find out. Bear in mind that the number of hours sun will usually increase as spring turns to summer.
Here are some ideas for the easiest and most rewarding things to grow, easiest first. Follow the links in the text for more info on how to grow them. I'd love to hear about any other suggestions for what to grow first in the comments. 
1. Microgreens
The best microgreens include pea shoots, sunflower shoots and radish, and are amongst the very easiest things to grow. They are also one of the fastest and they taste fantastic! Use them in salads or as a garnish. Chefs pay a fortune for them. You can read how to grow pea shoots here.  A great first crop to grow - and all you need is a tray, some compost and bag of dried peas from the supermarket.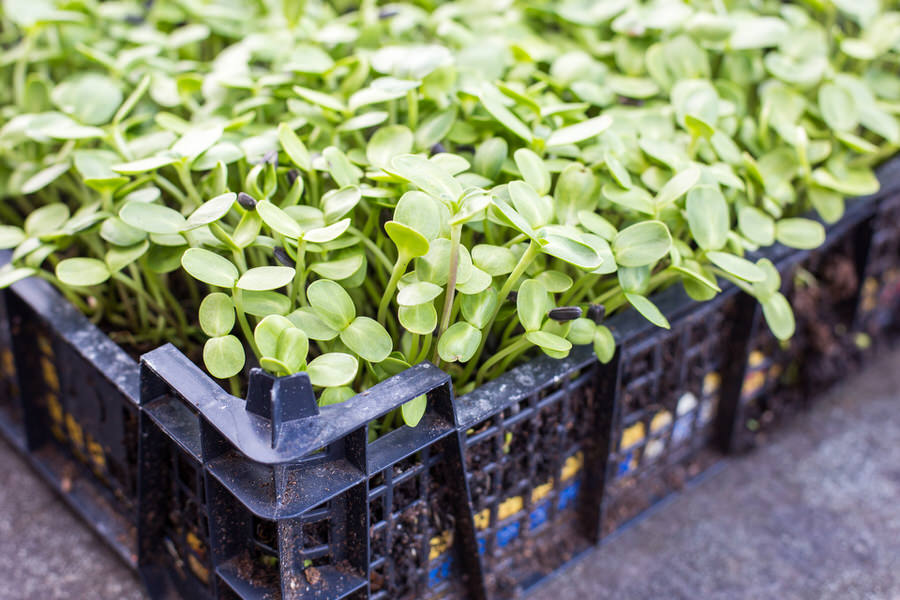 Sunflower shoots are also easy to grow and taste fantastic. Pick them before the second set of leaves appear (or they can taste rather tough and bitter). Grow them in the same way as pea shoots.
2. Supermarket herbs
Supermarket herbs are easy to get hold of and mint, in particular, is very easy to grow.  Mint is also  one of the most versatile and useful herbs and can be picked for around 6 - 8 months of the year.  The reason supermarket herbs don't last very long when you bring them home is that the pot is too small. So all you need to do is move the plant into a bigger pot. Check out this video of a community project where we gave away supermarket mint plants - and showed people how to pot them up. Other supermarket herbs can be grown in the same way - parsley and basil (keep the basil inside in the UK) are two good ones to try.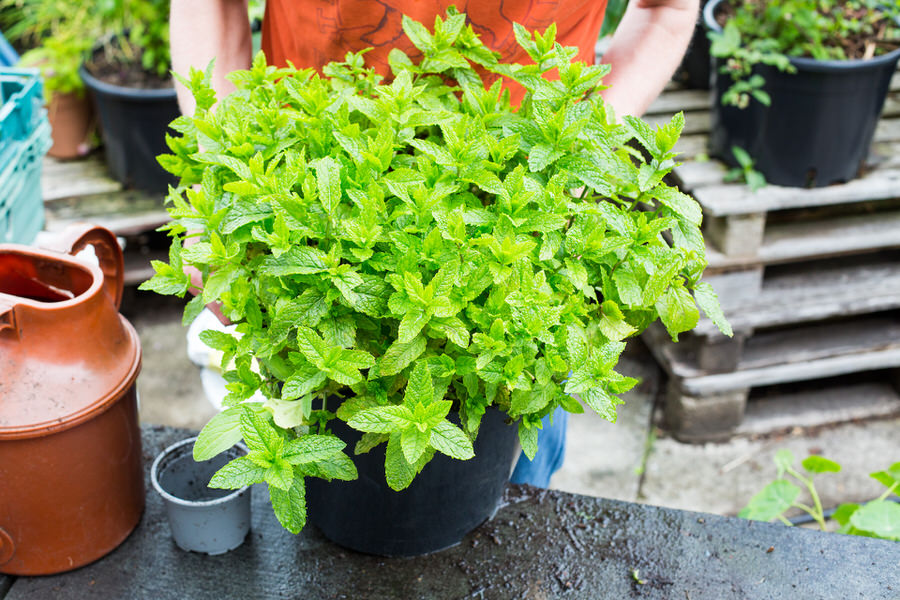 Here's a supermarket mint that was moved into a larger pot - as you can see it has grown a lot!
3. Easy veg
The great thing about starting with the microgreens and herbs listed above is that you'll be able to pick delicious leaves in just a few days or weeks. Most vegetables, on the other hand, aren't difficult in containers but they take several weeks - or more often months - to grow.  If you're happy to make a longer commitment, I'd definitely recommend giving them a go. The easiest (but still rewarding) vegetables to start with include the following. Try any that appeal to you!
Potatoes (particularly if you have children - they love harvesting them) - give them a go in a bucket or an old bag for life (with holes cut in the bottom).
Runner or French beans.  It's very satisfying to grow a wigwam of beans, and they can be very productive and really pretty, too.

 

Rocket or rucola - and most of the other salad leaves.

 

chard - go for a pretty variety like rainbow or bright lights chard to add a splash of colour to your container garden. Sow it in June and it will produce leaves for twelve months - just pick the outer leaves and leave the inner ones to regrow.

 

Tomatoes - tomatoes need more sun the others in this list and they take longer to mature. But homegrown tomatoes taste so delicious.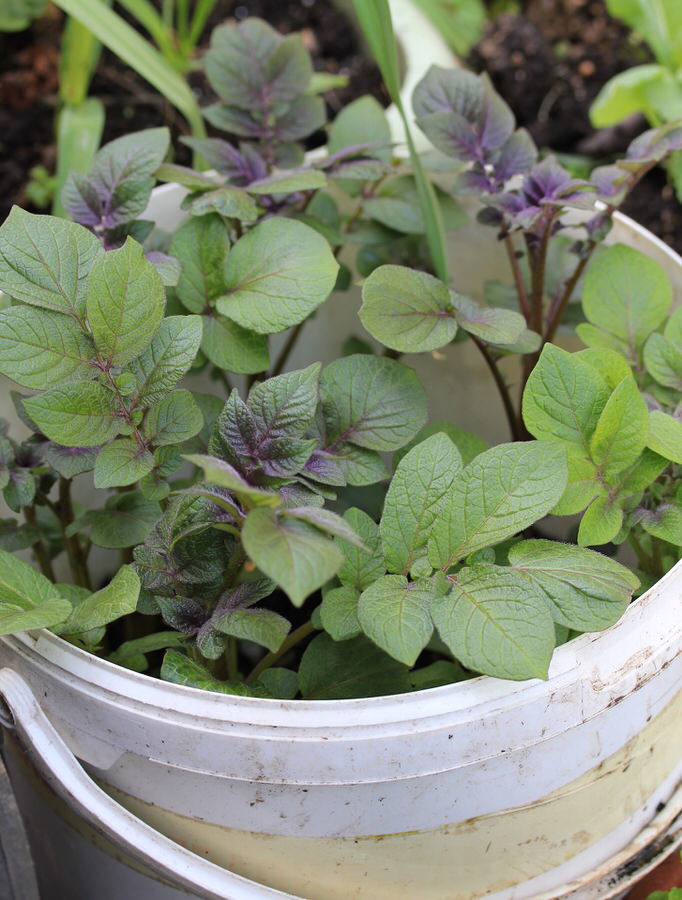 Potatoes in a plastic bucket - one of my very first attempts about 12 years ago. One seed potato is all you need in a container this size.
One last word of advice. Even 'easy' crops occasionally don't work out.... If you're starting out, this can be quite confusing and demoralising - but often it is not your fault. You may have been unlucky and got a bad batch or seeds or a bag of poor quality compost or potting mix. So don't be disheartened - it happens from time to time to all of us. Try and work out what went wrong if you can - and try again. In general though, if you grow any of the above and follow the simple steps in my PDF fact sheet, you WILL be successful most of the time.
Your turn
I'd love to hear what you decide to grow first and how it works out. Or if you are already growing, what did you grow first and how did it do? And, do o you have any other suggestions for good plants to grow first?
Enjoyed this post? You can get my tips, learning and reflections on urban container gardening by email.