How to grow LOTS of spring onions / scallions in one pot
I'm always on the look out for edibles that are super productive and worthwhile in very small spaces. A new one (for me, at least) to add to the list is spring onions / scallions. To get a brilliant harvest they need to be sown close - check out the video below for a more visual account of my adventure with spring onions!
Scallions / spring onions are an excellent crop to grow in containers at home. You can pop out and pick however many you need, whenever you want. This is infinitely better, in my opinion, than buying a bunch from the supermarket. Not only is the flavour and texture superior, but I often only need 2 or 3 for a dish. So, if I buy them, I rarely use a whole bunch in one go, and the rest languish in the fridge. When I pick them fresh, I also love how the stalks are a bit squeaky when cut! For us, they are an essential ingredient in many salads and stir fries - so we often eat them two or three times a week.
The benefits of close spacing
In the past, when growing spring onions in containers, I spaced them about 1 - 2 cm (1/2 to 1 inch) apart. They did fine, and each pot gave a few bunches. But they weren't particularly productive.
This year, I thought I'd see if they will grow more productively in a container if sown close together, and then 'thinned' (the small ones picked out) as they grow. The first few pickings looked and tasted a bit like chives. We added these to salads and they were delicious. Then came small, tender spring onions, and finally a steady supply of full sized spring onions.
I'm not sure exactly how many bunches I picked. I took photos of each picking when I had time and remembered, but I know I missed a few along the way (including several before 29 June). Here are the ones I photographed. Not bad from one (not very big) pot!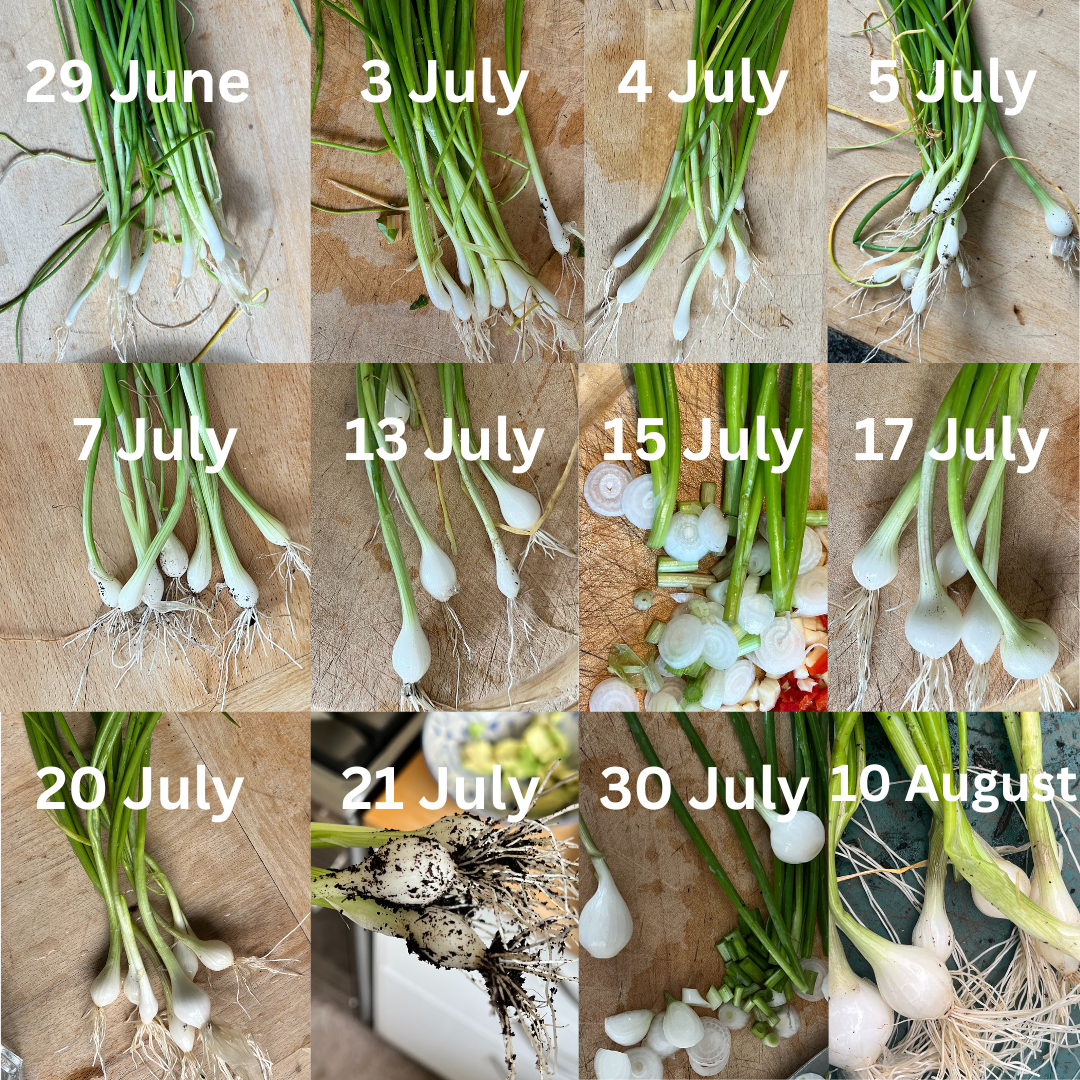 These are the spring onion / scallion harvests from the one small pot over several weeks.  I photographed most of them when I had time - but there were a few I missed.
Today, nearly 20 weeks later, I still have a few left! They have now have large tasty, onion bulbs, but thinner and slightly less tender (but still edible) stems.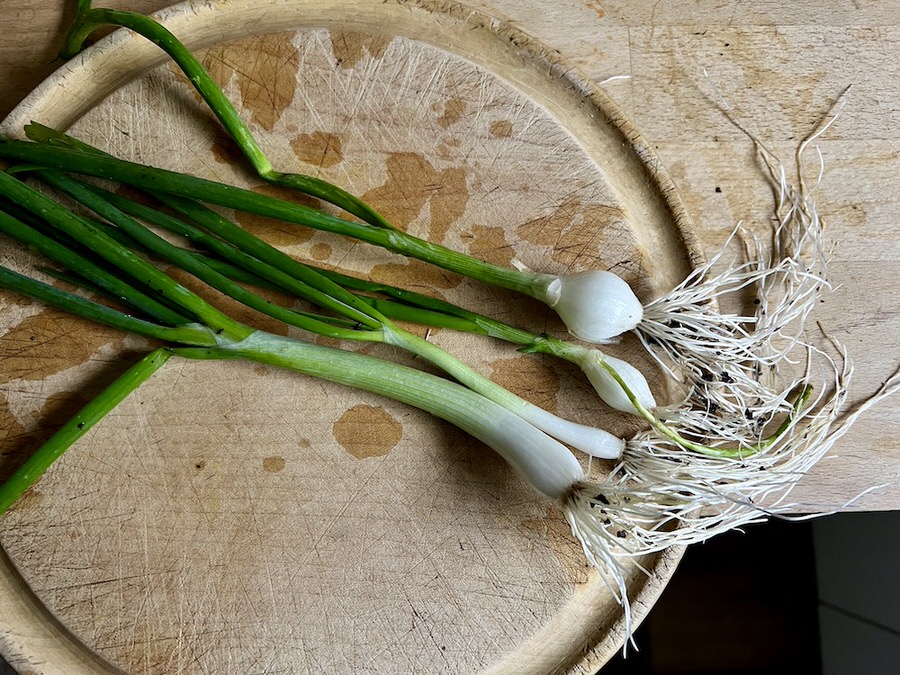 Todays's harvest on 15 September, about 20 weeks after sowing. And still a few more left!
The conclusion? If you like spring onions / scallions, close sowing can give you a regular supply over many weeks. All in all, an excellent and productive choice to make the most of a small space!
Check out the Video
Your Turn
Would love to hear from you if you already grow spring onions like this - of if you give it a go, please do share your experience in the comments. I'd also be really interested to learn if there are any other crops you find are very productive in one smallish pot?
Enjoyed this post? You can get my tips, learning and reflections on urban container gardening by email.