Why chillies are such a great choice to grow in containers
If you like chillies - and you have enough sun to grow them in - they are a brilliant choice for containers and small spaces. In this post you can find out why I find them so good, my three favourite varieties (the choice of variety makes a big difference), and four wonderful sauces / pickles to make with your harvests. I'd love to learn about your favourite chilli varieties and homemade chilli sauces in the comments below.
Chillies are brilliant to grow when space is limited because:
The best varieties have more subtleties of warmth and flavour than any you can buy. You can grow very hot chillies, too, if you like them. But it is the flavour difference that, for me, makes home grown chillies stand out.

They are so versatile in the kitchen. They will add depth of flavour to a wide variety of dishes: curries (of course), tomato sauces, soups, salsas... Almost anything. Warning: they are addictive!
They preserve so well. You can dry them, freeze them, or make them into all manner of delicious condiments.  This means you can eat homegrown chillies all year round, even when you can't pick them fresh.
A few homegrown chillies go a long way. A big handful of tomatoes will make a delicious tomato sauce. But the same size handful of chillies will transform many meals. With some of the hotter chillies (like Alberto locoto), only half a chilli - or even a quarter - is enough to lift a dish. A whole chilli can sometimes make it far too hot! (If you are not used to cooking with hot chillies, it is important to learn to how use them in moderation. Too much heat will ruin a dish).
Chillies are very productive in containers .  I usually grow four to six plants. This is enough to keep us in fresh, dried and frozen chillies - and chilli condiments - all year. I even have a huge surplus of dried chillies at the moment. To be productive, however, chillies do need sun, warmth and shelter to grow in. I'm lucky to have an allotment with polytunnel where I grow mine - almost essential here in the north of the UK. When I lived in London, however, they grew outside fine. The photo at the top of this post is of Ring of Fire chillies growing outside my London flat.
They are rich in vitamins and antioxidants, such as vitamin C and beta-carotene. Some studies also link them to other health benefits, for example lower blood pressure. Overall, they make a great part of a varied, balanced, healthy diet.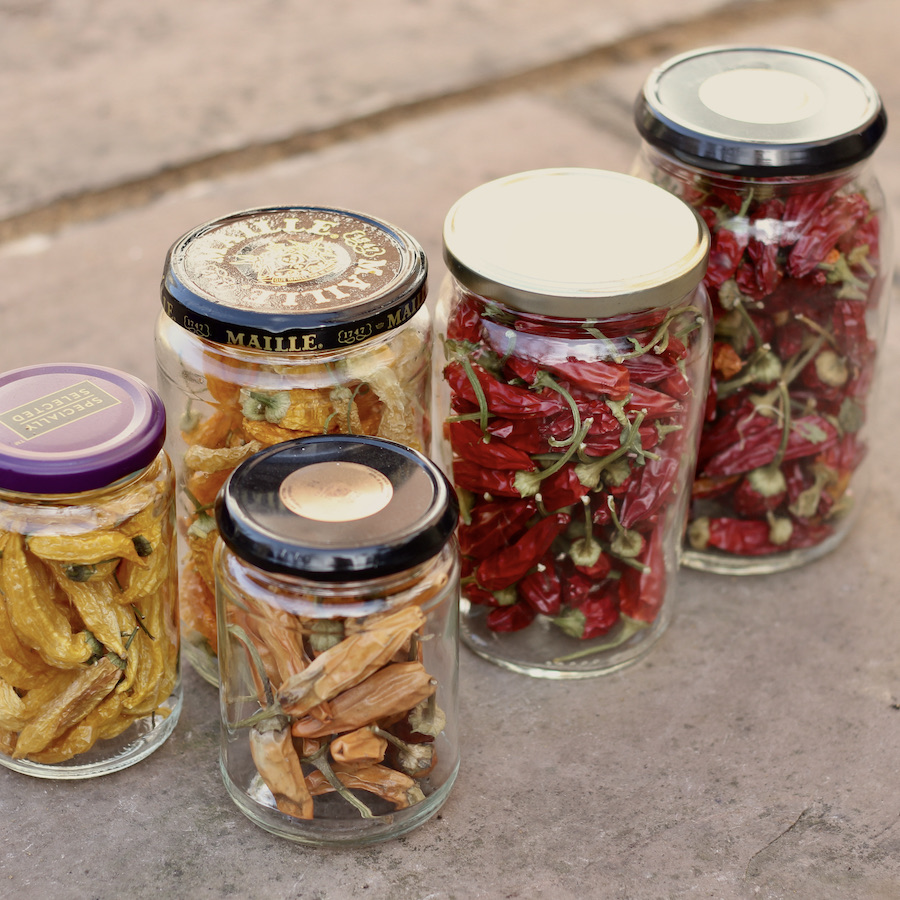 Chillies with thin skins dry easily - and add warmth and fruitiness to dishes. This is a harvest from one year - many more than I need! 
While chillies are not the easiest thing to grow, they are not difficult either. The key is warmth, shelter and a sunny place. In the right conditions they will flourish and produce a bumper crop. For tips on how to grow them, check out these videos I made with Steve from South Devon Chilli farm. (One of the aims of my work is to share and transfer learning to professional growers so those of us growing at home can all benefit from their experience).
Choosing the right variety for your tastes
The variety of chilli you grow will have a major influence on the pleasure you get from eating them. They all have such different flavours and levels of heat! Indeed, it's hard to think of any other vegetable that exhibits so much variety. So do choose carefully. I also recommend trying a few different ones to compare. I like to try at least one new chilli each year. My three favourite chillies, and ones I can highly recommend, are currently:
Alberto's locoto is a hot, thick, fleshy red chilli. It adds heat and a wonderful depth of flavour to almost any dish.  Often, just a quarter of an Alberto's locoto is enough to add the warmth and flavour I look for, transforming a dish without making it too hot. So a few go a long way. Due to its intense flavour, this is also my chilli of choice for making my favourite chilli condiments, see below. By the way, when I say 'hot', I don't mean anything like as hot as a Carolina Reaper or Trinidad Scorpion. But half a chilli is often plenty for a reasonably hot curry for two. Equivalent, perhaps, to two or three standard shop chillies. Adding a whole Alberto's locoto chilli will often make a dish too hot for our tastes.
Mathania is a chilli variety revered in India for its flavour - and is an essential curry ingredient. I grew this for the first time this year and love it. I was kindly donated the seeds by Adam Alexander, the Seed Detective, but it is available commercially, too. It has less heat than the other two but a wonderful flavour. I always like to grow at least one milder chilli like this. This is my new favourite to add to dhal and fish curries.
An unknown hot and thin skinned variety from South America. Some friends brought these back with them from a trip - they don't even remember which country they found it! I loved the flavour, saved some of the seeds and have been growing it ever since. One of the benefits of thin skinned varieties is that they dry easily. Cayenne chillies are widely available and another one that dries well. (The thick, fleshy skin of Alberto's locoto or Jalapeños don't lend themself to drying).  When chillies dry, their flavour profile changes, adding more warmth and fruitiness rather than heat. So, if you like chillies, a drying chilli is essential, too.
To find the varieties you want to grow again and again, it can be fun to try at least one new one each year. In the past, I've grown Padron, lemon drop, Ring of Fire, Havana gold, Espelette, Hot lemon, Aji lemon, Hungarian hot wax, cherry bomb, jalapeño, and purple princess.  I've liked them all - but it is the three above I keep coming back to.
Once you get a taste for chillies, you will probably need a range of spicy condiments you can pull out of the cupboard to satisfy your taste buds at short notice. There are so many possibilities! And I'd love to hear about any that you have tried and rate highly.  Homemade pickles will usually taste excellent with any fresh chillies - but a flavourful homegrown chilli like Alberto locoto will lift them to a different level. I've tried quite a few and here are the four we've enjoyed the most so far.
Lime pickle
The combination of fresh limes, garlic, spices and chillies is a marriage made in heaven. Delicious with dhal and most curries, also with cheese. I've tried a few recipes and this one from the Curry Guy, where everything is lightly fermented for a few days first, is my favourite so far. I substituted his dried chilli powder with fresh Alberto's locoto chillies :).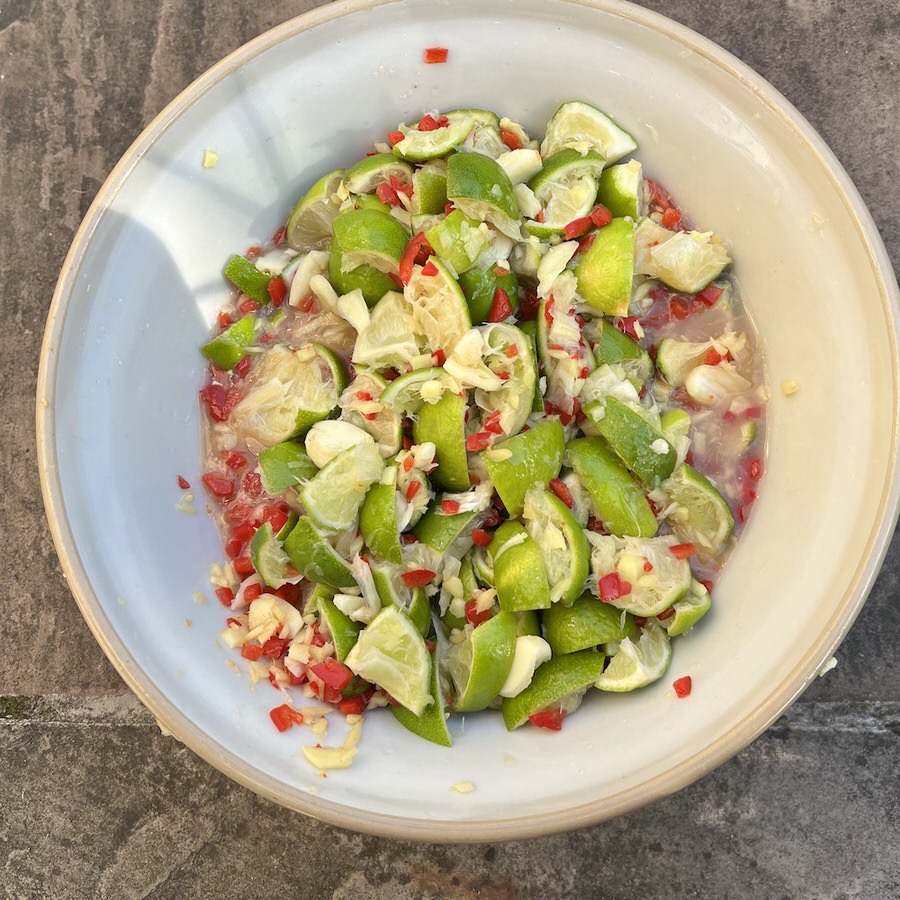 Making a lime pickle with Alberto locoto chillies. Fermenting it for a few days adds to the flavour.
Harissa
Roasted peppers, paprika, spices and chillies make another magic combo. We love it with humus for lunch, and, added to roasted vegetables and chick peas, it makes a wonderful couscous dish. It's also really easy to make. I often shove a pepper or two into the oven when I'm cooking something else (like the kid's pizza). Then it is just a case of whizzing up the roasted peppers with the spices. Again, I've tried a few recipes, and this one from the Mediterranean Dish website is the one I've liked the best. Again I use fresh Alberto's locoto instead of dried - but any spicy chilli would work I think.
Kimchi
The health benefits of fermented foods are now well known, but kimchi is also delicious and addictive when you get the taste for it. I don't get round to making this as often as I should. The recipe I use is an easy version (from a Kilner leaflet) and probably not very authentic. However it is still delicious and much tastier than those little overpriced pots of kimchi sold in the supermarket. Traditionally it is made with Korean chilli flakes called, Gochugaru. I substitute Alberto's locoto with excellent results.
Lacto Fermented Chilli Sauce
This recipe, from the Great British Chefs website, is a close relative to Sriracha. Sriracha chilli sauce seems to have risen from obscurity to fame in just a few years. My wife eats it at three meals a day!  This homemade version, with homegrown chillies, takes it to another level. As always, it is also nice to know exactly what is in the food you put on your table. This sauce needs a lot of chillies and I am trying to increase my chilli production so that I can make larger batches of it. When making it with hot chilli varieties, I sometimes add in a sweet pepper or two to bulk it up. Having said, very hot sriracha, made with full flavoured chillies, is also a thing of wonder.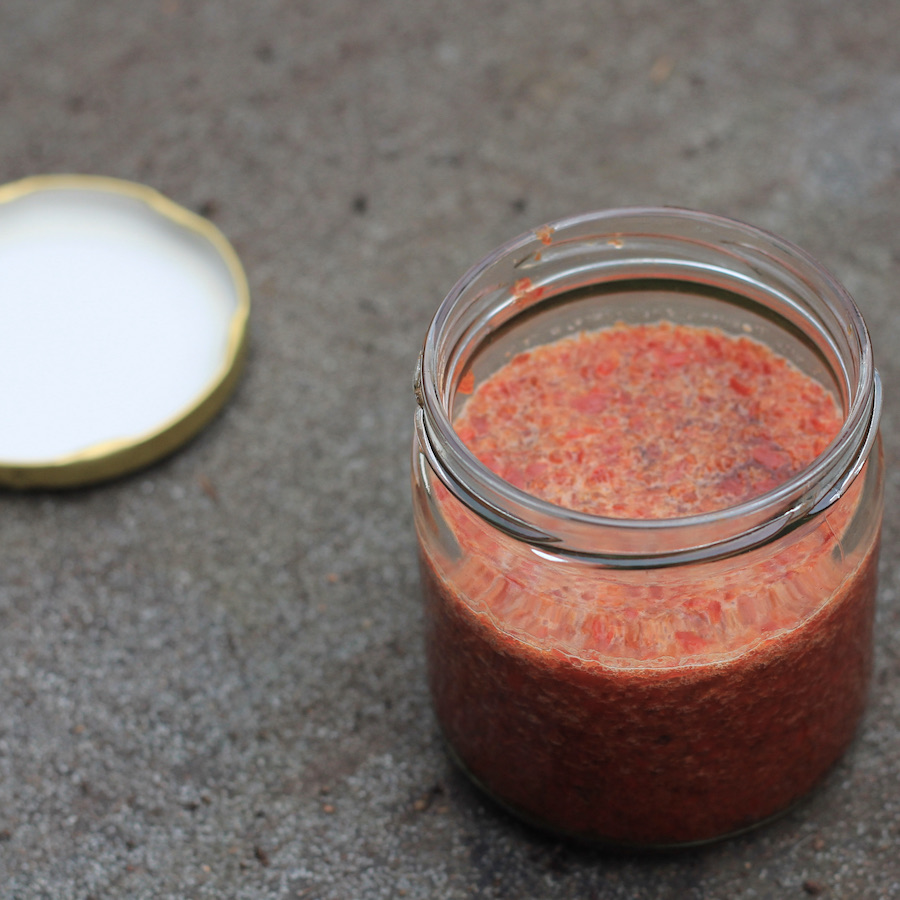 Homegrown chillies can lift sauces - like this fermented sriracha variant  - to a new level. Delicious and addictive!
Your Turn
I'd be really interested to learn about which chilli varieties you like to grow most - and any chilli sauces, pickles or condiments you particular like to make.
Enjoyed this post? You can get my tips, learning and reflections on urban container gardening by email.